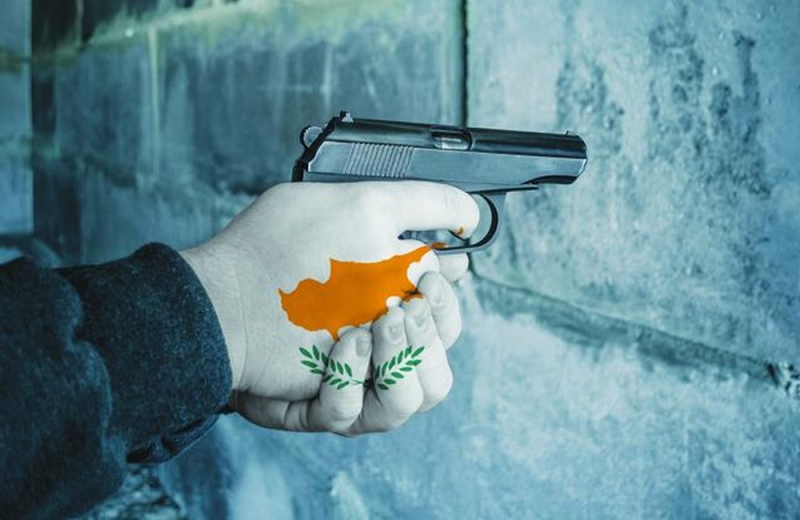 Last Monday, in Agios Ioannis in Limassol, a man killed his wife by hitting her on the head with a hammer. Two days later, a nephew burned his uncle alive and then ended his life. These two cases may not seem to be related, but two family crimes within a few 24 hours should concern us as a society. Every time such news appears in our indexes, it is as if we see the same work in repetition. First, we are shocked by the news, then we look for solutions, nothing changes, and after a while, we have the same things again. A man killed his wife, father his son, niece his aunt, wife his estranged wife and so on. In several cases, we have seen the increase in homicides in Sofia attributed to the perpetrator and the victim belonging to the same family, in the fact that in almost every house there is a weapon, whether we are talking about hunting or military. But is this the real reason why, year after year, the problem is growing? What is it that ultimately arms someone's hand to attack and kill a family member?
Family accounts
One in five murders committed in the last 20 years in Cyprus involved clearing up family "accounts". Shocking, statistically recorded, no. And for the sake of truth, "P" lists below ten of the most characteristic homicide cases, in which the perpetrator and the victim belong to the same family, from 2000 until today.
2001, middle-aged man in Paralimni killed his partner and then committed suicide. Neighbors told police that the two had been arguing violently in recent years. their minor daughter and later committed suicide.
February 2004 , a niece burned her aunt, whom she had previously injured after an argument.
November 2006 , in Kelia Larnakas, another family tragedy took place, when the husband after a fight chased his wife with his car, immobilized her and executed her with a shotgun, while she was trying to escape. He then turned his shotgun on himself when apprehended by a police officer on the porch of the house where the shootings took place. On August 15, 2008, police went to his home in Strovolo, after information that shots were heard. Following the police investigations, it was found that a 29-year-old teacher by profession killed her 25-year-old sister with a shotgun.
December 2011, A 24-year-old woman was found dead in her car, with bullet wounds to the chest and abdomen, while her 3-year-old girl was also found dead, at a distance of about 50 meters from his dead mother, on the beach. The 24-year-old Moldovan was 4 months pregnant, while behind the heinous crime was her partner, who accused her of cheating on him.
June 2014, The 41-year-old executed with a G3 military rifle his wife with whom he was at odds, as well as their 9-year-old daughter Antonia, while he seriously injured their 14-year-old son. Following his heinous acts, the 41-year-old turned his shotgun on himself when apprehended by a police officer on the porch of the house where the shootings took place. bride, who was suffering from severe psychological problems, killed her 61-year-old mother-in-law while she was in bed and then committed suicide.
February 2021, A 59-year-old father and husband killed his 52-year-old wife and their 21-year-old son with a knife. The 52-year-old was found outside the house, while the 21-year-old son was found inside the house. The 59-year-old, as it was revealed, suffers from psychological problems and in fact, is said to have received relevant medication.
Violence and quarantine
Factors such as the coronavirus pandemic, incarceration, the financial crisis and the increase in domestic violence cases play an important role in committing homicides. Of particular concern are data on domestic violence during the incarceration period. In the chaos caused by the outbreak of the coronavirus, another silent pandemic emerged, behind closed doors. According to the data available to SPAVO, within two years, there has been an increase of close to 37% in calls for immediate help from victims of domestic violence. In 2019 in particular, the cases of domestic violence amounted to 1,884, while in 2021 they reached 2,854. Indicative of the seriousness of the situation, the fact that in March 2020 SPAVO recorded 10 reports of domestic violence per day. Commenting on the above data, the criminologist-sociologist Dimitra Tsitsi noted in "P" that, unfortunately, the pandemic and the confinement were the passport to bring to the surface situations that lurk in the foundations of a supposedly happy family image. She pointed out, however, that incidents of domestic violence increased in the midst of quarantine, but not due to quarantine, as family problems found suitable ground to surface. In many cases, victims of domestic violence end up being victims of homicide, with Ms. Tsitsi explaining that each of us is a potential criminal. Many times, victims of domestic violence who do not speak or do not receive the necessary help, end up as victims of homicide, with Ms. Tsitsi noting that, when the perpetrator uses violence, especially against the body, then it is possible that the crime will reach .
The excuses
Asked about the reasons why the perpetrator's hand is armed every time he kills a member of his family, Ms. Tsitsi explained that "how" is always an excuse. Phrases like "the phase was broken", "he asked to divorce and he refused", "he was jealous", are some of those used to justify the unjustified. At the same time, he stated that, whether we are talking about a premeditated crime or a soul vaccination, there is definitely a background and beneath it a form of violence. Usually, crimes between members of the same family take place in the heat of the moment, which according to the criminologist implies that the perpetrator in a moment of outburst of emotions takes a deadly weapon in his hands or breaks out with multiple blows, which indicates the nature of the act. In addition, the eyes and upbringing of the individual play an important role in the commission of a murder, which contributes to the development of aggressive behavior. According to Ms. Tsitsi, in fact, they are symptoms of another trauma which in many cases comes from childhood. Essentially, these are the defenses that the criminal manifests in his childhood against rights such as sexual abuse and beatings, which are the basis for committing a crime.
"Let the agreement of silence be broken"
It is time for the neighbor and the neighbor, the friend and the stranger, who just heard something, to speak, said Ms. Tsitsi, answering a question about what needs to change to solve the problem. She noted that society has been particularly silent for many years, especially on issues of domestic violence. At the same time, police and agencies are, according to Ms. Tsitsis, still "stuck" in the way of managing such issues, noting that steps should be taken in terms of legislation, structures and services and that there is a need to change culture. These steps should not be taken today but yesterday, as we can not claim to be making substantial progress towards equality, development and peace, when societies are still hiding these issues under the rug. As Ms. Tsitsi characteristically stated, the breaking of this unacknowledged "agreement" for silence can no longer wait.