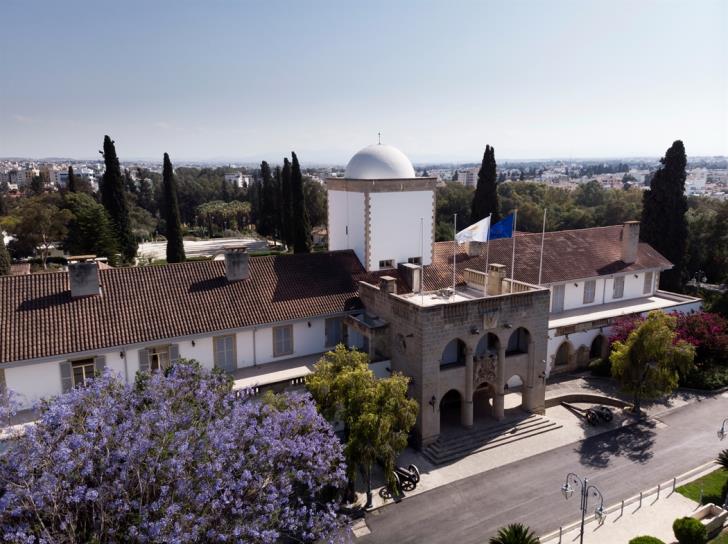 Insider / ΚΥΠΕ
The "Laboratory of Energy and Environmental Design of Buildings" of the Polytechnic School of the University of Cyprus coordinates the new European cross-border cooperation program "Energy upgrade of the historic buildings of the Presidential Palace of the Republic of Cyprus and the Loggia – City Hall of Heraklion".
According to an announcement by the University of Cyprus, the implementation of energy upgrading interventions in historic buildings, not only needs special attention to maintain their form, but is difficult due to the lack of relevant standards and good practices.
That is why, as the University points out, an important innovation of this project is the creation of standards for addressing this difficult issue on the basis of "overall energy planning", through an interdisciplinary and cross-border approach and cooperation.
The choice of buildings
Two iconic historic buildings have been selected to achieve the project's goals, the announcement said, which host central public functions. The Presidential Palace of the Republic of Cyprus was completed in 1936, while the Loggia that houses the main building of the City Hall of Heraklion (Crete) is estimated to have been built, in the form that survives today, around 1628.
The purpose, according to the University, is for these iconic historic buildings to become active communities of best practice for citizens, professionals, the scientific community and policy makers.
The program is implemented over a period of 24 months and has a total budget of € 2,196,629.50, according to the announcement, an amount co-financed by the European Union (ERDF) and national resources of Greece and Cyprus.
The project is implemented in the framework of the cross-border cooperation program INTERREG VA Greece – Cyprus "2014-2020" and is called to face the challenge of energy upgrading of historic buildings.
The main goal of the project, he adds, is to contribute to achieving the goals of the European Union and the Member States for the transition to a low CO2 economy by increasing energy efficiency and the use of Renewable Energy Sources (RES) in public infrastructure, including public buildings and the housing sector.
The project is coordinated by the University of Cyprus with the academic assistant of the Assistant Professor of the Department of Architecture Emilio Michael and project director Dr. Apostolos Michopoulos while participating, in the form of a corporate group, the Department of Electromechanical Services Of the Republic of Cyprus, the Presidency of the Republic of Cyprus, the Municipality of Heraklion and the Special Account of the Hellenic Mediterranean University.