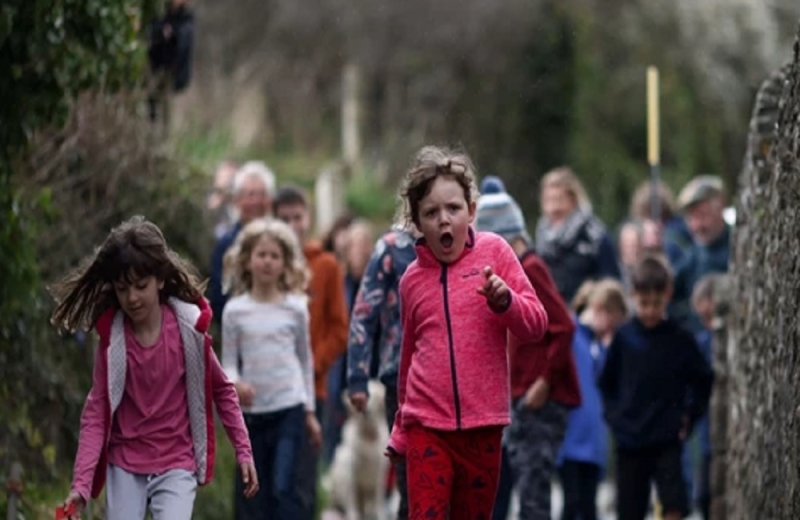 On alert is the scientific community for acute hepatitis cases reported in children in recent weeks.
According to the ECDC, cases have already been identified in Britain, Denmark, Ireland, the Netherlands and Spain and the etiology is still being investigated.
Concerns are growing that as of April 8, 74 cases had been identified in the UK (49 in England, 13 in Scotland and 12 between Wales and Northern Ireland) and some cases needed to be referred to specialist pediatric hepatology units, while six children underwent a liver transplant.
On April 15, the World Health Organization issued a statement stating that on April 5, the WHO was informed of 10 cases of severe acute hepatitis of unknown etiology in children under 10 years of age in Scotland. Hepatitis viruses (A, B, C, E and D as appropriate) have been ruled out after laboratory testing, and further research is ongoing to understand the etiology of these cases.
What is acute hepatitis
Hepatitis is divided into two types, acute and chronic, and is most often caused by viruses that specifically infect the liver causing similar types of hepatitis, for example hepatitis B or type A. Inflammation of the liver can be caused by other causes. The condition may not cause any severe symptoms, but it can get to the point where the patient no longer needs a liver transplant.
Clinically, the course of acute hepatitis varies considerably. The initial symptoms may resemble those of the flu but without the cough, ie the patient may feel malaise, general malaise, musculoskeletal pain, fever, nausea or vomiting, diarrhea and headache. Also, anorexia, sudden aversion to smoking, gastric upset, etc. He may also have dark urine, yellow eyes and skin – jaundice.
A small percentage of patients with acute hepatitis have liver failure, meaning that their liver can no longer process the harmful substances that are now circulating in the body, so the only treatment is a liver transplant.
Most Inflammations of the liver, both in acute and chronic hepatitis, are usually due to specific viruses, A, B, C, D, E. Inflammation of the liver can also be caused by the herpes virus, cytomegalovirus, Epstein-Barr virus and others.
Hepatitis can also be caused by other infectious agents, such as toxoplasmosis. Rarely hepatitis can be caused by food toxins as well as medicines that may contain paracetamol, amoxicillin, and medicines that burden the liver.
What's responsible
One of the Possible causes under investigation are that a group of viruses called adenoviruses can cause the disease. However, other possible causes are being thoroughly investigated, says LSE professor Elias Mosialos.
Adenoviruses are a family of common viruses that usually cause a number of mild symptoms and most people recover without complications. They can cause colds, vomiting and diarrhea. They usually do not infect the liver (to cause hepatitis), but this has also been reported as a known but rare complication of the virus.
& # 8220; Adenoviruses are usually transmitted from person to person, from infected surfaces, and through the respiratory tract. This is why the most effective way to minimize the spread of adenoviruses is regular hygiene measures, such as good hand washing, and being careful when coughing or sneezing or someone coughing/sneezing near us. Younger children need both learning and supervising during thorough hand washing.
The guidelines of the World Health Organization are a priority and a priority in determining the etiology of cases so that there is coordination of further clinical actions and public health measures & # 8221; notes.
& # 8220; Any epidemiological links between cases may provide clues as to the etiology of the disease. The temporal and geographical information of the cases as well as their contacts should also be considered. While some cases have been found to be positive for SARS-CoV-2 and/or adenovirus, genetic characterization of viruses should be performed to determine possible correlations between cases. Health authorities should identify, investigate, and report possible cases that match the symptoms of hepatitis.
At the same time, parents should be wary of peculiar reactions – including jaundice. If they notice any strange symptoms, it is a good idea to contact their pediatrician & # 8221 ;.
THETOC.GR