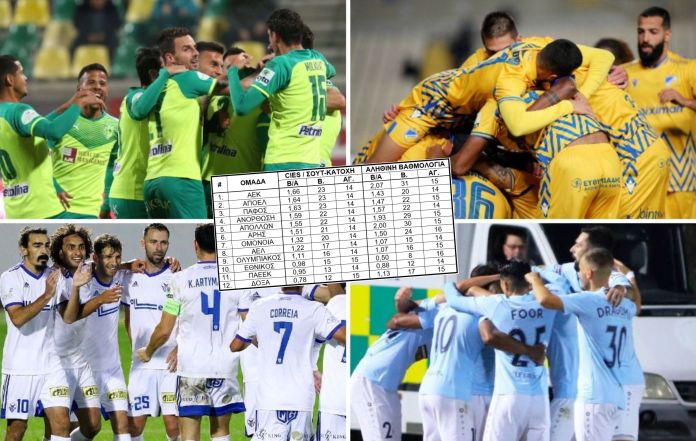 Yesterday (10/1) we presented the results of the latest CIES survey which ranked the teams of 32 European championships based on the difference between the points they won and the points they were "expected" to get based on a specific statistical model, based on shots. (attempted and accepted by the teams) and ball possession.
It is noted that the CIES research concerns the games that took place before January 5, therefore it does not include Paphos-Omonia of the 15th game and the three games that took place for the 16th, Aris-Ethnikos, AEK-Apollon and Omonia-Olympiacos.
The most interesting data in relation to the Cypriot championship was on the one hand that Apollon, in the 14 games that were calculated, actually won seven more points than those assigned to him based on the above statistical model, while Ethnikos and APOEL got seven and three ( respectively) fewer points than expected based on shots and possession.
Today, we present what the score would be based on the CIES statistical model, ie if it was determined only by the possession of the ball and the shots that our teams attempt and receive.
The scene at the top is completely different, where APOEL and Paphos are equal at the top with AEK (remains the leader), while Apollon "falls" in fifth place as it is overtaken by Anorthosis which is at -1. Omonia is in seventh place but just three points away from the top, while Ethnikos is out of the relegation zone as it throws down Doxa and PAEEK.
In the table below, the first columns present the points that our teams were expected to receive based on the CIES statistical model based on shooting and possession (points per game – points – games) while the following columns present the data of the actual scores (including the last four matches, not counted in the CIES survey).
It is noted that CIES in its research does not give the total points but the points per game that the teams were expected to win, an element that we used to get the total points. This is why some teams in the CIES column have the same number of points but a different number of points per game.