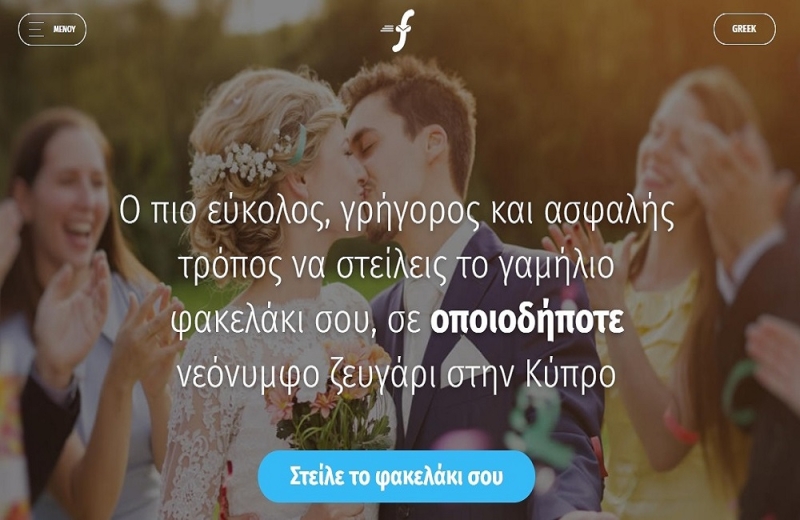 A pioneering web application that offers solutions to the growing social obligations, in terms of wedding receptions, has entered the life of Cypriots for good.
Fakelaki.com is a simple, short and safe process that aims to maintain and facilitate the traditional practice of wedding gifts and wishes, while encouraging the transition to the digital age, giving the opportunity to every wedding guest from Cyprus or abroad to send the wedding gift and wish to any newlywed couple easily, quickly and safely. The fakelaki operates under the brand name "Fakelaki Gifts", with the European trademark "Fakelaki" and is governed by EU laws and regulations. The manager of this private company is Andreas Mandilas from Larnaca.
In fact, the only thing a guest needs in order to send his gift and wish through this application, is the wedding invitation. After connecting to the website www.fakelaki.com, he follows a simple and short process of filling out a form, recording the necessary details regarding the wedding to which he wishes to send his gift. These details concern the date of the wedding, the venue and the names of the newlyweds. In addition, the interested party fills in his details and the amount of money he wishes to send as a wedding gift along with his wishes to the couple. It also records the name of the person who wishes to receive the SMS immediately regarding the wedding gift he sends (guest details, amount, wishes), either to one of the newlyweds or to their parents. Upon completion of the process, the interested sender pays online using his credit card through the 3D secure system of the company JCC Payment Systems. The guest has the opportunity to send his/her wedding gift and wishes in the above way two weeks before or two weeks after the sacrament.
The operators of this pioneering web application get in touch with the family who performed the wedding for confirmatory information and consultation in relation to the sending of the gift. An insured check is then issued and mailed to the newlyweds, along with the sender's details and wishes. The newlyweds receive an envelope with an insured check, accompanied by the details and wishes of the guest. The check is monitored electronically and the service is completed with its redemption by the couple.