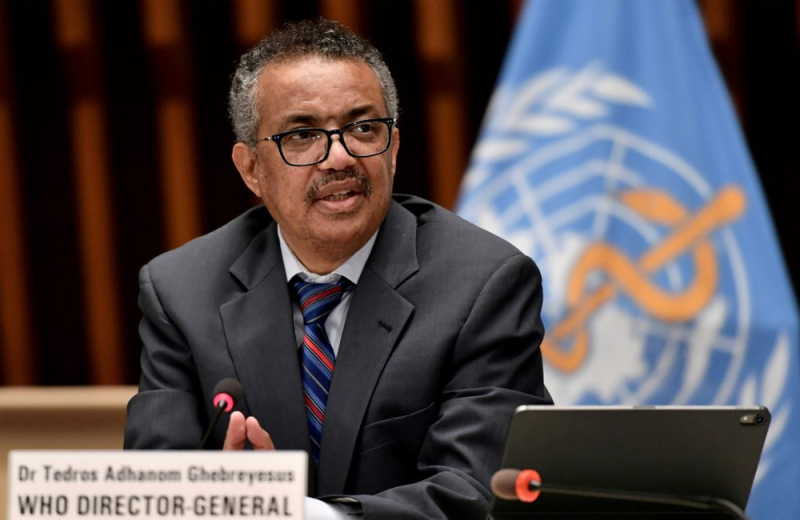 The Omicron variant, which is spreading at an unprecedented rate, "remains a dangerous virus" even if it causes milder symptoms, the World Health Organization warned today.
"Although Omicron causes less severe symptoms compared to Delta, it remains a dangerous virus, especially for those who have not been vaccinated," WHO Director-General Tentros Antanom Gebregesus told a news conference.
The milder symptoms, especially in those who are fully vaccinated or those who have received the booster dose, lead some to conclude that the disease is less severe. But, as Tentros put it, "greater transmissibility means more hospitalizations, more deaths, more people who can not work, including educators and health workers, and more risks of another variant being even more contagious and deadly" than Ομικρον.
"This is not a mild illness, it is a vaccine that can be prevented," said Mike Ryan, head of the WHO emergency department. "Now is not the time to give up, this is not the time to say that this virus is welcome, no virus is welcome," he said. The hope of some is that Omicron will replace the most dangerous variants and thus the pandemic will turn into an endemic, manageable disease.
The Center also called for pregnant women to be included in clinical trials for new treatments and vaccines for Covid-19.
Cases in America have doubled
The spread of Covid-19 on the American continent, due to the Omicron variant, has reached levels never seen before. Cases doubled to 6.1 million last week, according to the Pan American Health Organization (PAHO).
Omicron has been found in almost every country in America and is expected to become the dominant variant in this region very soon. Most cases are reported in the United States, especially in the Eastern and Midwestern States. According to the CDC, hospitalizations increased by 33% and deaths by about 40% last week.
Rosell Wallensky, director of the Centers for Disease Control and Prevention, explained that the increase in deaths appears to be due to the surge caused by the Delta variant. The wave caused by Omicron is expected to peak in the coming weeks and "we will have to wait and see what effect" this variation will have on deaths.
Bolivia, Ecuador, Peru and Brazil are also facing big waves, while in Argentina and Paraguay infections have risen by almost 300% in one week. "One of the characteristics that makes Omicron stand out seems to be the less serious symptoms. "Even so, Omicron infections can be fatal, especially to the immunocompromised and the unvaccinated," PAHO director Carissa Etienne told a news conference in Brasilia.
That is why he urged all citizens to be vaccinated. Nearly 60% of people in Latin America and the Caribbean have been fully vaccinated against Covid-19. The highest vaccination rates are in Chile, Cuba and Argentina.