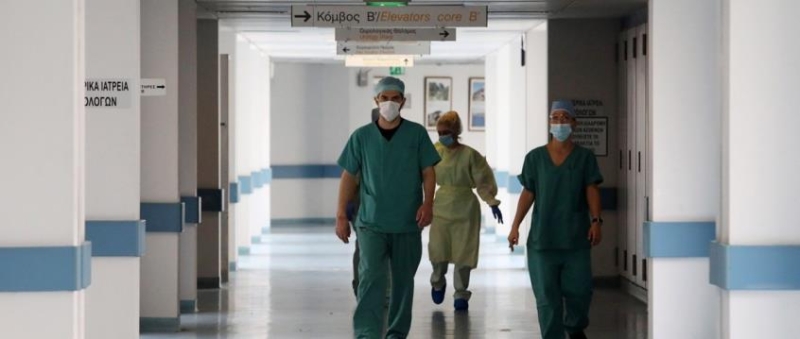 White smoke came out of today's meeting held by the nurses' unions with a representative of the State Health Services Organization (OKYpY), focusing on the serious issue of understaffing, in the wake of the reactions from patients, for those who are ill in public hospitals.
Driven by the interest of the patients and the change of the general picture presented through publications of facts and complaints, both the Organization and the nurses put their differences behind.
After putting their disagreements back on the table and discussed in a good atmosphere, the two sides ended up staffing departments in hospitals that had a problem of understaffing, with about 100-150 new nurses, but also the immediate replacement of the people who have retired.
Although the unions did not expect this outcome, therefore they express pleasure that the Management of the OKYpY accepted, almost in their entirety, the outstanding issues they had with the nursing staff.
As he explained speaking to the REPORTER the President of the PASYDY Nursing Branch, Prodromos Argyridis, the Organization, accepted the differences they had regarding the staffing of non-clinical areas, which in total are around 50-60 nursing staff.
At the same time, OKYPY and nurses agreed to begin as soon as possible the replacement of those out of service, while in consultation with each other, PASYDY and PASYNO will submit a proposal on how to implement and strengthen the hospitals with the number of nurses that have been decided to staff them. The proposal, will be sent to OKYpY and a new meeting will be set.
Mr. Argyridis also said that they agreed as soon as possible to replace the retired staff.
At the same time, OKYpY and nurses decided to enter into a dialogue about what spoils the image of public hospitals and the work done by the nursing staff, with the aim of considering improvement measures. "We will develop a continuous dialogue and together we will agree on some measures that we must take, to avoid the incidents that occur every day, which do not represent the big picture of the work done by the staff of public hospitals", said Mr. Argyridis.
Finally he commented that, "not all hospitals have people naked, not all hospitals have poor care, but changes should be made regarding these individual incidents".
They are looking to find solutions to understaffing in the wake of the backlash
The family of the elderly woman who was left naked – "She does not have dementia" vacates OKYPY
Hadjipantela asked for an investigation into the naked woman in the room – OKYPY is calling out
Complaints that they are intubating patients outside the Intensive Care Unit due to a lack of beds