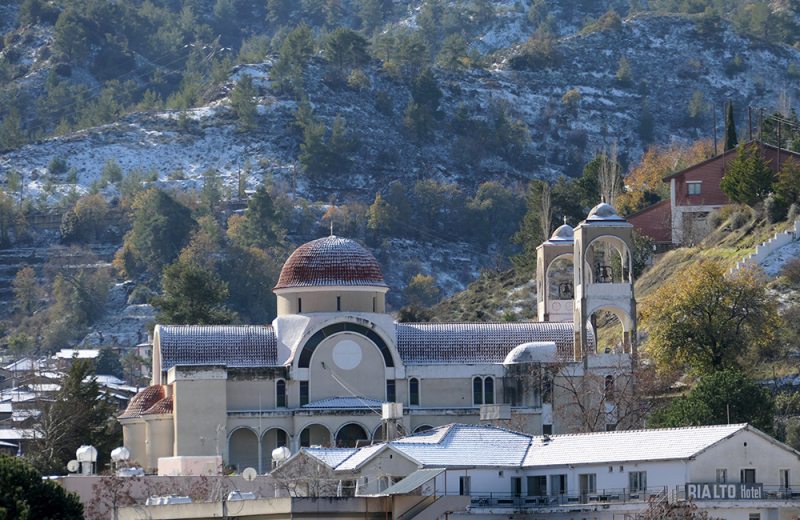 * file photo
Heavily cold and light snowfall prevails in the mountainous communities of Paphos Province, among which Kathikas, Miliou and Panagia. The bitter cold remains in the mountain villages, with strong frost in places in the morning and sub-zero temperatures. Mountain community leaders said the cold does not seem to be bothering them any time soon, and lighting a fireplace is their only solution. Besides, strong winds were blowing all over the province of Paphos yesterday and in some communities there were problems with electricity, as well as problems with transportation.
The president of K.S. Kathika Menelaos Tourvas told KYPE that in the mountainous community of Kathikas, which is the thinnest community of Akamas, the residents lit their fireplaces for a little warmth. Mr. Tourvas noted that the cold this year, especially on the plateau is more than last year, while in the morning there was light snowfall in his village. He added, however, that at this time even farmers remain in their homes, as they do not go to their vineyards. Kathikas continued to be inhabited by both the elderly and the young, as its community has eight restaurants that operate alternately, while everything is expected to open in March.
The president of the Community Council of Mili, Evanthia Chrysanthou, in her statements to KYPE, stated that this year the cold in her community is unbearable, -4 degrees. He called on the government to support the communities and their inhabitants who today are not included in either the mountain or lowland communities, as in the case of Mili. Ms. Chrysanthou noted that as the situation is, there is no incentive to tell young people, their children and grandchildren to return to the community. The heaters do not stop working, families with children do not turn them off at all, but the elderly are also by their fireplaces. He added that the weather conditions have changed a lot and an air conditioning system is needed, as well as heating for the cold winter days. He also said that there are residents in Miliou who do not have wood and who are forced to buy it.
The community of Panagia wore its "white. After the snowfall that occurred in the early morning hours while the cold is bitter with a low temperature – 1 degree, according to the president of the community council Panagia Savva Nikolaou. In his statements to KYPE, Mr. Nikolaou stated that all the residents remain in their homes by the fireplace in an effort to warm others and others with the stoves. Tonight continued, and tomorrow the cold will be greater.
In the meantime, yesterday morning the Argaka dam with a capacity of 990 thousand cubic meters of water overflowed, while the overflow of the Pomos dam with a total capacity of 860 thousand cubic meters of water is expected.