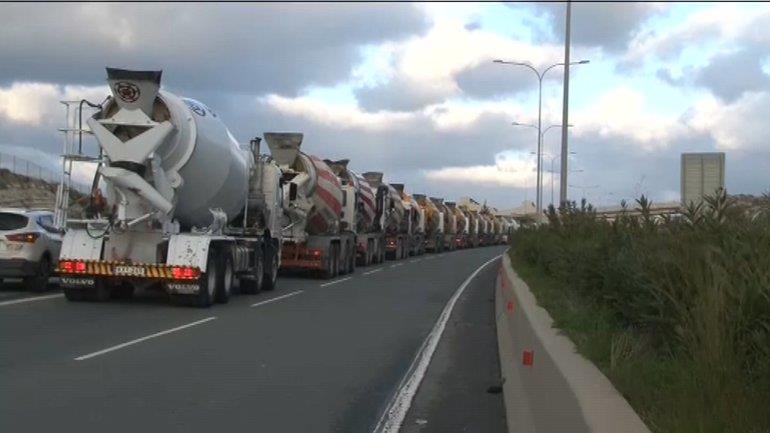 With their concrete mixers, outside the Presidential Palace, the quarries of the Pafos district will be present, with the aim of showing their opposition to the Akama Local Plan, which is expected to be put before the Council of Ministers from the Ministry of Agriculture.
Specifically, since early in the morning the quarries had gathered on the Paphos-Limesos highway and from there they started a march with their concrete mixers, which will end up outside the Presidential Palace and they will protest the way the Akama Local Plan was drawn up.
The quarries of the Paphos district as well as the concrete companies served by the quarries are protesting the looming publication of the Akama local plan, which apparently will not include a new quarry zone in Androlykou.
Their position is that the outgoing cabinet should not go ahead with publishing the plan to allow the new cabinet to reconsider the matter.
Quarries argue that they have run out of quarry materials and are forced to to import some of them, mainly boulders, from abroad, raising the costs.
Speaking in Trito, the president of the All Cyprus Association of Concrete Builders, Antonis Latouros, said that the members of the sector do not accept the assurances from the government, that after the publication of the Akamas Local Plan, studies will be carried out for the new quarry zone in Androlykou.
Also speaking in the third, the president of ETEK, Konstantinos Constantis, stated that expansion is not a solution of the quarrying zone in Androlykou.
Mr. Konstantis said that a characterization study of a new quarrying zone in Paphos must be carried out. He noted, in fact, that areas have been assessed, which can be characterized as quarries.
At the same time, he underlined that the recyclable inert materials resulting from demolitions must also be exploited.