Huge qualification for the final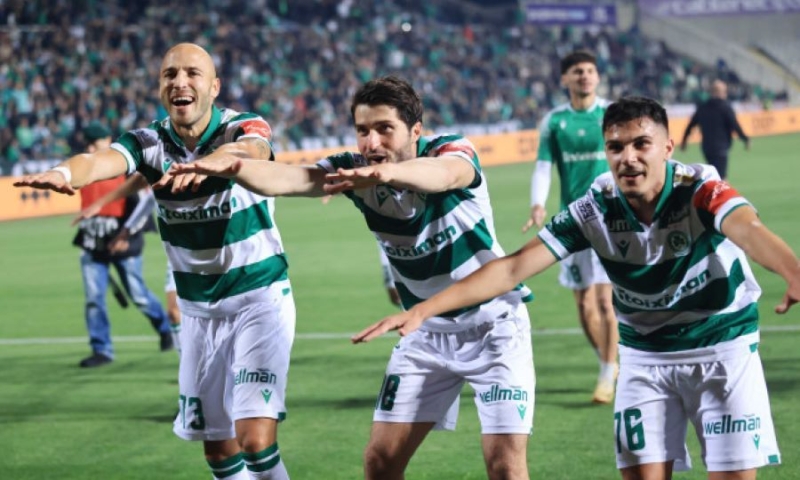 Magnificent qualification for Omonia. A victory with huge ramifications, since it boosts the morale of the entire Omonia family at a crucial moment and gives a title perspective in a year that has so far been going from negative to nightmares.
It also paves the way for a different ending. A finale that the world needs so much that tonight pushed the team with great force towards the great victory. Unthinkable – especially – was the atmosphere created after 1-1. Craze. Continuous seismic tremors shook the stadium, caused by thousands of excited fans. The…vibrations showed again the enormous power of this people who had a part in the great qualification. Omonia is in the final for the second consecutive year and is aiming for…back to back! If this happens, it will win the 16th cup cup in its history.
Inconceivable – especially – was the atmosphere created after the 1-1
The shamrock won rightfully over Paphos FC in the GSP with 3 -1 and even with a twist, now having the opportunity to end the year very differently than it has been until now. That is, by winning a trophy but also a European ticket! An opportunity to be seized.
Paphos FC took the lead with Valakari in the 13', (nice combination with Abdourahimi), Omonia equalized with Diskerud in the 34', (pass from Ansarifard), took the lead with the footballer who replaced Diskerud, Kasama, who after shot (on a pass again from Ansarifard and against the ball to an opponent) sent the ball into the net in the 79th minute, while Charalambous in the 90th+7th minute shaped the final result, benefiting from a counterattack. It is typical that two of the players who entered as a change scored.
Omonia shone as a whole tonight. Not with her performance. But, I also showed in practice what it has. The heart of the great team. Part of this quality is certainly the reaction he showed after the goal.
The football players reverently applied the game plan of Sofronis Augustis – of course there were some wrong passes at the beginning of the match – showing patience and discipline , keeping closed lines, concentration, clear mind, asking for the goal with vertical mostly long passes. They did not come forward often, because they were aware that the opponent had the possibility with the speed of their central attacking line to surprise them. In no case did we see the aggression we saw in the first match in Paphos during the first twenty minutes.
The presence of Fabiano, who showed his class again in difficult moments in the first half, certainly comes into the equation. The save on Zairo's shot in the 29th minute was extremely … useful for Omonia.
Omonia had 52 percent possession and 5 final attempts.