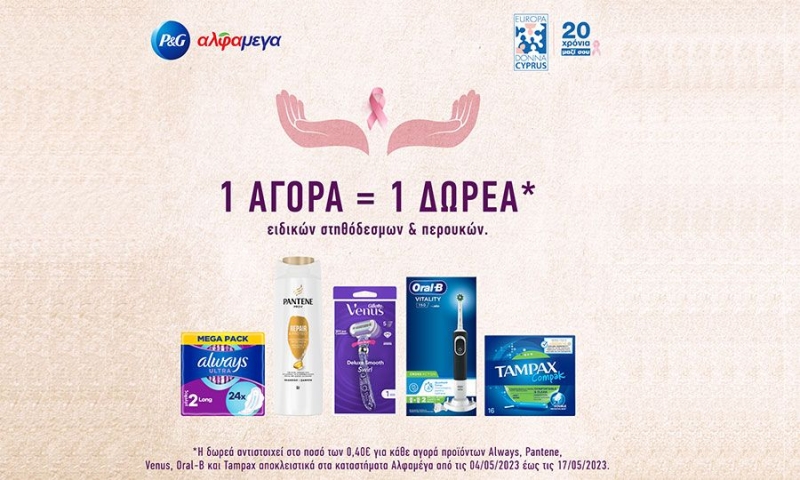 In the fight against breast cancer we are all together! One forehead, one fist, one mighty power! We leave no woman alone in her struggle.
We all fight together, each one in her own way, with her own strengths and capabilities. And thanks to P&G's new caring movement, we are all empowered to join this mighty force and contribute, empower, support and support every woman going through her ordeal.
< p class="Body">How can we do this? But, in the simplest way, slightly differentiating one of our shopping habits: in the supermarket, we choose Alfamega hypermarkets and in the feminine hygiene and care products markets, we choose the products from the brands Always, Pantene, Venus, Oral-b and Tampax.< /p>
And how do we, with these purchasing choices, help women in their fight against breast cancer? Simple: With every purchase of these products, P&G makes a donation to Europa Donna Cyprus, equivalent to 40 cents, towards the purchase of special bras and wigs, items that when worn by women undergoing treatment, boost their confidence them, their optimism is strengthened and their positive energy is strengthened! Because we all know how important a role good psychology plays in health!
So, let's all come together with this P&G initiative and prove how "together" has power and effect in the fight against breast cancer.
A small gesture of care of ours has the power to make a difference for women with breast cancer.
< iframe width='300px' height='500px' src='https://www.adstorebluebird.cy/api/banner/ServeBanner?zoneId=2734' frameborder='0' scrolling='no'>