See materials and process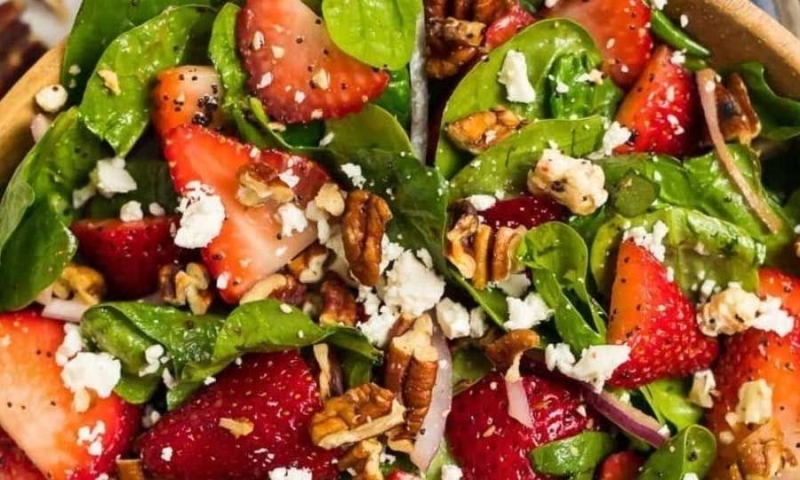 photo by @wellplated
Maria Savva
In recent weeks and with the start of summer, one of the chilled salads has been making the rounds on the internet, the main ingredients of which are neither tomatoes nor cucumbers but… strawberries.
More below. you can see the ingredients but also the process you have to follow to achieve it:
Ingredients:
Fresh strawberries, cut into slices
Salad leaves (eg lettuce, arugula, spinach)
Grilled cheese, chopped
Caramelized walnuts or almonds, crushed
Thinly sliced ​​red onion
Fresh basil or mint, chopped
Homemade vinaigrette (balsamic vinegar, olive oil, mustard, salt, pepper)
Instructions:
In a large bowl, add the salad leaves and toss to create the salad base.
Add the strawberry slices, cheese, caramelized walnuts or almonds and red onion slices to the bowl.
Sprinkle basil or mint over the salad ingredients.
Prepare the homemade vinaigrette by mixing the balsamic vinegar, olive oil, mustard, salt and pepper together.
Before serving , pour the homemade vinaigrette over the salad and toss well to incorporate all the ingredients.
This strawberry salad offers a perfect combination of flavors such as the sweet freshness of the strawberries, the tangy flavor of red onion, the rich texture of cheese and the crunch of caramelized walnuts or almonds. This salad is perfect for summer or as a cool and light option for a meal.