POWERED BY:
00:26 Sunday
13 March 2022 INSIDER • GOAL • IN-CYPRUS • PROPERTY • CYPRUS-IS • CAREER LIKE • GOING OUT • XRYSES SYNTAGES • ACTIVE • PHILGROUP ΕΙΔΗΣΕΙΣ & nbsp; SOCIETY & nbsp; INSIDER & nbsp; OPINIONS & nbsp; GOING OUT & nbsp; CULTURE & nbsp; SPORTS & nbsp; AUTO & nbsp; GOOD LIFE & nbsp; USEFUL & nbsp; PRINTED EDITION & nbsp;
p>
ARCHIKIEIDISEISPOLITIKITOPIKAPARASKINIOMEDIAELLADAKOSMOSEPISTIMIPERIVALLONTECHNOLOGIASYNENTEFXEISCHRYSES ETAIREIESKOINONIAEIDISEISKYPROS OF CHTHESANAGNOSTI HAVE LOGOEPISTOLESSYNENTEFXEISDIMOFILI IN INTERNETVIDEOSAFIEROMATAADVERTORIALINSIDEREPICHEIRISEISKYPROSBRAND VOICECAPITALFORBESBLOOMBERG OPINIONPROTAGONISTESKAFTI GRAMMICHRYSES ETAIREIESKARIERAAPOPSEISARTHRA IN "F" INTERVENTION IN "F" MESSAGE YOUR SKITSAO WORLD TWITTERGOING OUTTHINGS TO DOCINEMAMOUSIKIESTIATORIABAR/CAFETV ODIGOSTILEORASIPOLITISMOSKYPROSKOSMOSKRITIKESEKDILOSEISPROSOPAATHLITIKAPODOSFAIROMPASKETPARASKINIAELLADADIETHNIALLA SPORAPOPSEISSKITSOVIDEOSAUTONEAPAROUSIASIAPOSTOLESAGONESKALI ZOIFGEIADIATROFIEF ZINASTRACHRYSES SYNTAGESSYNTAGES SEFVIMA VIMACHRISIMAFARMAKEIAGIATROIAERODROMIALIMANIATILEFONAOPAPKAIROSSYNALLAGMALACHEIAAPPSPROSFORESENTYPI EDITION POLITIKITOPIKAPARASKINIOMEDIAELLADAKOSMOSEPISTIMIPERIVALLONTECHNOLOGIASYNENTEFXEISCHRYSES COMPANIES EIDISEISKYPROS OF CHTHESANAGNOSTI HAVE LOGOEPISTOLESSYNENTEFXEISDIMOFILI THE INTERN ETVIDEOSAFIEROMATAADVERTORIAL EPICHEIRISEISKYPROSBRAND VOICECAPITALFORBESBLOOMBERG OPINIONPROTAGONISTESKAFTI GRAMMICHRYSES ETAIREIESKARIERA ARTICLES IN "F" INTERVENTION IN "F" MESSAGE YOUR SKITSAO WORLD OF TWITTER THINGS TO DOCINEMAMOUSIKIESTIATORIABAR/CAFETV ODIGOSTILEORASI KYPROSKOSMOSKRITIKESEKDILOSEISPROSOPA PODOSFAIROMPASKETPARASKINIAELLADADIETHNIALLA SPORAPOPSEISSKITSOVIDEOS NEAPAROUSIASIAPOSTOLESAGONES YGEIADIATROFIEF ZINASTRACHRYSES SYNTAGESSYNTAGES SEFVIMA STEP FARMAKEIAGIATROIAERODROMIALIMANIATILEFONAOPAPKAIROSSYNALLAGMALACHEIAAPPSPROSFORES ENTERPRISES LTD BRAND VOICE CAPITAL FORBES BLOOMBERG OPINION PROTAGONISTS HOT LINE GOLDEN CAREER COMPANIES
EXCLUSIVE COOPERATION
ΜΑΖΙ ΜΕ
Powered by
Next , cereals and stagnant inflation are the concerns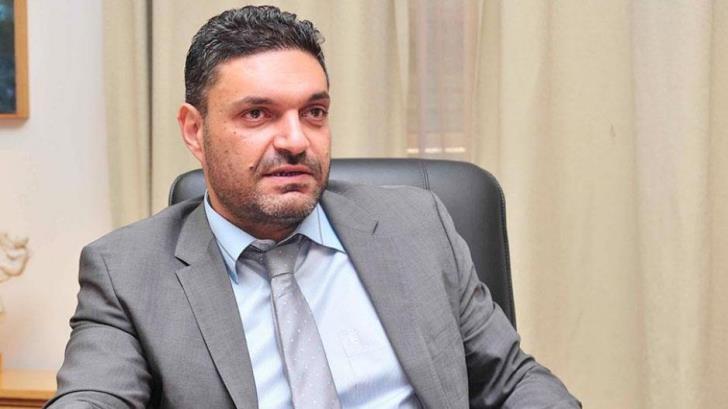 & nbsp & nbspInsider/ΚΥΠΕ & nbsp; & nbsp;
The level of energy and grain prices will eventually rise due to the war in Ukraine, but also the possibility of stagnant inflation, said Finance Minister Konstantinos Petridis as his biggest concerns, stressing that due to the developments will affect public finances and are subverted. The plans of the Ministry of Finance, however, rule out the possibility that the Cypriot economy will slide into recession.
At the same time, the Minister of Finance stated that next Monday and Tuesday he will be at the Eurogroup and ECOFIN meetings where the effects on the European economies will be discussed and announced that he will support "some thoughts" made at EU level to create a fund similar to SURE which had supported employment, "in order to tackle energy poverty somewhat". & nbsp;
Asked on the sidelines of the presentation of the work of the Office of the State Aid Supervisor held at the Ministry of Finance, to state whether public finances are affected by the continuation of the war in Ukraine, Mr. Petridis answered in the affirmative and noted that next Monday Eurogroup meeting and on Tuesday at the ECOFIN meeting where they will discuss "and the effects on European economies in general from the data so far and we will have a more overall picture".
Stating that among the issues to be discussed in the Eurogroup and ECOFIN are energy and grain prices and stagnant inflation, Mr. Petridis said that so far only sanctions against Russia have been discussed and added that "soon we will discuss some measures to addressing or mitigating the effects on the economy ".
Regarding the EU support to the Member States, Mr. Petridis expressed the belief that "an extension will be given in the context of state aid, something that will depend on our own forces", while announcing that "there are "some thoughts on setting up a fund similar to SURE that had supported employment to tackle energy poverty somewhat." & nbsp;
YPOIK said that "it is very fast to know the exact impact", emphasizing that "it is a given that there will be an impact and that the plans are overturned".
"My big concern is where energy and grain prices will go, something that no one has predicted yet," he said, "but also the possibility of entering a stagnant inflation situation in Europe that will affect unemployment for so many years. "The pandemic was declining," he said.
"Public finances are definitely being affected. "They are affected by the reduction of revenues, first of all, by the reduction of the tourist flow", he underlined.
He added that "there may be a reduction in revenue due to reduced corporate profits due to the war", but also reduced revenue, as he noted, "from VAT or excise taxes due to the measures we have taken."
Mr. Petridis assured that the Ministry of Education and Science will manage "this crisis seriously", adding that "we have come out of the pandemic and where we thought everything was over, this also happened"./p>
However, the Ministry of Foreign Affairs stressed that "this crisis is very different from the crisis of the pandemic" and explained that in this crisis "there is a lot of inflation" and to deal with high inflation, as he said, "you can not use the tools a major recession and loss of income that created deflationary trends such as the pandemic. "
Asked whether he is worried about the possibility of the Cypriot economy slipping into recession, Mr. Petridis said that "the job of the Ministry of Foreign Affairs is always to worry and especially that such geopolitical developments are taking place", stressing that he does not believe the Cypriot economy will enter a recession. "The growth rates (of the economy) will be affected, but I believe they will be positive," he said, adding that "we are starting to build over 80% of the tourist flow and this will bring revenue which we did not even have last year when the tourist flow was at 50% ".
In addition, YPOIK said that "there may be some positive effects from some companies in Cyprus", adding, however, that "there will certainly be these profit losses that will affect GDP somewhat."
"The main concern about how the economy is going is where inflation will go, which is already enough as a result of the pandemic and the measures taken to deal with the pandemic, but also the gas supply disturbances," he said. "There are no easy solutions and that is why, alternatively, alternative sources of supply of natural gas and fossil fuels must be found or some detoxification measures must be taken more quickly in order to alleviate this issue somewhat." He noted, however, that due to the EU's heavy dependence on Russian gas and oil, "this will not be without consequences" and added that "there are also divergent views at European level. how things should go ". & nbsp;
Asked to say whether Russian companies are leaving Cyprus, Mr. Petridis answered in the negative, saying that "there has been an interest especially for high-tech companies for years and several have already come." "For what we did and the program to attract investment with tax and other benefits," he said, adding that "because of this program and the current situation there seems to be increased interest and this will be a positive impact on the Cypriot economy ", he added.