POWERED BY:
22:56 Tuesday
19 April 2022 GOING OUT • XRYSES SYNTAGES • ACTIVE • PHILGROUP NEWS & nbsp; SOCIETY & nbsp; INSIDER & nbsp; OPINIONS & nbsp; GOING OUT & nbsp; CULTURE & nbsp; SPORTS & nbsp; AUTO & nbsp; GOOD LIFE & nbsp; USEFUL & nbsp; PRINTED EDITION & nbsp;
ARCHIKIEIDISEISPOLITIKITOPIKAPARASKINIOMEDIAELLADAKOSMOSEPISTIMIPERIVALLONTECHNOLOGIASYNENTEFXEISCHRYSES ETAIREIESKOINONIAEIDISEISKYPROS OF CHTHESANAGNOSTI HAVE LOGOEPISTOLESSYNENTEFXEISDIMOFILI IN INTERNETVIDEOSAFIEROMATAADVERTORIALINSIDEREPICHEIRISEISKYPROSBRAND VOICECAPITALFORBESBLOOMBERG OPINIONPROTAGONISTESKAFTI GRAMMICHRYSES ETAIREIESKARIERAAPOPSEISARTHRA IN "F" INTERVENTION IN "F" MESSAGE YOUR SKITSAO WORLD TWITTERGOING OUTTHINGS TO DOCINEMAMOUSIKIESTIATORIABAR/CAFETV ODIGOSTILEORASIPOLITISMOSKYPROSKOSMOSKRITIKESEKDILOSEISPROSOPAATHLITIKAPODOSFAIROMPASKETPARASKINIAELLADADIETHNIALLA SPORAPOPSEISSKITSOVIDEOSAUTONEAPAROUSIASIAPOSTOLESAGONESKALI ZOIFGEIADIATROFIEF ZINASTRACHRYSES SYNTAGESSYNTAGES SEFVIMA VIMACHRISIMAFARMAKEIAGIATROIAERODROMIALIMANIATILEFONAOPAPKAIROSSYNALLAGMALACHEIAAPPSPROSFORESENTYPI EDITION POLITIKITOPIKAPARASKINIOMEDIAELLADAKOSMOSEPISTIMIPERIVALLONTECHNOLOGIASYNENTEFXEISCHRYSES COMPANIES EIDISEISKYPROS OF CHTHESANAGNOSTI HAVE LOGOEPISTOLESSYNENTEFXEISDIMOFILI THE INTERN ETVIDEOSAFIEROMATAADVERTORIAL EPICHEIRISEISKYPROSBRAND VOICECAPITALFORBESBLOOMBERG OPINIONPROTAGONISTESKAFTI GRAMMICHRYSES ETAIREIESKARIERA ARTICLES IN "F" INTERVENTION IN "F" MESSAGE YOUR SKITSAO WORLD OF TWITTER THINGS TO DOCINEMAMOUSIKIESTIATORIABAR/CAFETV ODIGOSTILEORASI KYPROSKOSMOSKRITIKESEKDILOSEISPROSOPA PODOSFAIROMPASKETPARASKINIAELLADADIETHNIALLA SPORAPOPSEISSKITSOVIDEOS NEAPAROUSIASIAPOSTOLESAGONES YGEIADIATROFIEF ZINASTRACHRYSES SYNTAGESSYNTAGES SEFVIMA STEP FARMAKEIAGIATROIAERODROMIALIMANIATILEFONAOPAPKAIROSSYNALLAGMALACHEIAAPPSPROSFORES ENTERPRISES LTD BRAND VOICE CAPITAL FORBES BLOOMBERG OPINION PROTAGONISTS HOT LINE GOLDEN CAREER COMPANIES
EXCLUSIVE COOPERATION
TOGETHER
Powered by
Next YPOIK: Protection of economy with growth and not taxation HOME • INSIDER • CYPRUS • YPOIK: Protection of economy with growth and not taxation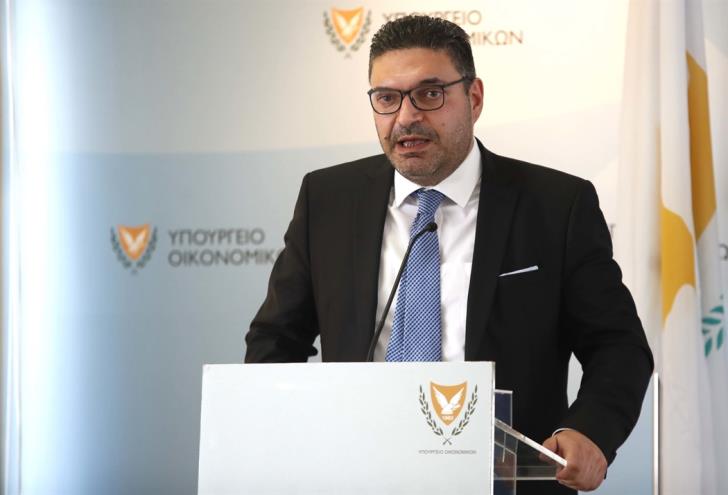 The answer to inflation and the preservation of public finances is to invest in growth and not in the imposition of taxes, said the Minister of Finance, Konstantinos Petridis, noting that Cyprus is not as "over-exposed" to the Russian factor, as some believe abroad .
In a statement on the sidelines of the IMH conference on "Europe in Crisis: Dynamics and Impact on the Cypriot Economy", the Minister of Finance was asked to comment on an article in the Financial Times, that the impact of the war in Ukraine on Cyprus is great, indicating that "There is no study that shows how much each country has been affected."
"What I do know is that our banking sector is not as dependent as some people abroad might think, so there are no consequences. in the banking sector ", he stated and expressed his disagreement with the perception that Cyprus is over-exposed to the Russian factor, as he said.
He noted, however, that "we will certainly have some influence on tourism and we have said it many times, but there are too many attempts to enter new destinations", while expressing the belief that "to a large extent we will cover this loss" "This crisis," continued the Minister of Finance, is an international crisis and a particularly European crisis, and inflation, at the moment, is a pan-European phenomenon that will continue, as he estimates.
"The answer to inflation is, first of all, to safeguard the vulnerable groups of the population and to target more investments, which will create and increase incomes, will protect the purchasing power of the population, in the medium and long term." completed.
That is why, he continued, that we have a new development model, which includes more than 200 actions, that is why we made a program to make Cyprus an international business center.
Saying that "this program really works "Even in this very difficult period, several companies have moved to Cyprus", Konstantinos Petridis noted that "through development we will try to protect the economy without imposing, as in other countries, additional taxes, which have The main concern internationally at the moment, he pointed out, is that with inflation, there may be an increase in interest rates, which will create difficulties in repaying high debts, either public or private. "For this reason, too many countries may increase taxes to shield their public finances," he said, stressing that Cyprus is not one of those countries and does not embrace this philosophy.
"As we did in 2013, instead of raising taxes, we want to aim for growth," the Minister of Finance concluded in his statement.
KYPE