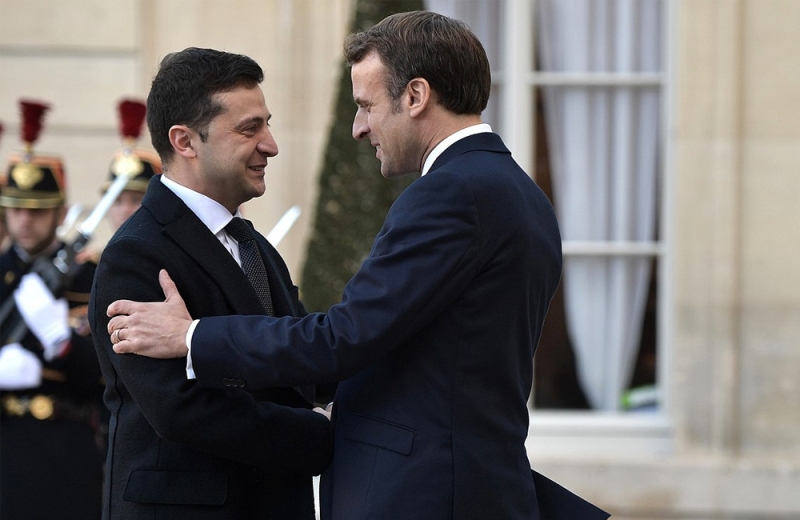 * file photo
Ukrainian President Volodymyr Zelensky announced on Thursday that he had discussed with his French counterpart Emanuel Macron the French military assistance to Ukraine, "including heavy weapons", as later clarified by the French presidency. European Union.
Through Twitter, Mr. Zelensky assured that he informed Mr. Macron about the "situation on the front" with the Russian forces. "We discussed further defense support for Ukraine," he said, adding that "special attention was paid to Ukraine's accession to the EU."
Paris confirmed in a press release that made public the telephone conversation between the two heads of state. Mr Macron was briefed by Mr Zelensky on "the latest developments in the field, as well as on the needs for military equipment, political support, financial support and humanitarian aid".
The French president assured his Ukrainian counterpart that Paris "will continue to mobilize to meet Ukraine's needs, including for heavy weapons." have agreed to stay in touch, in particular with a view to the European Commission's opinion on Ukraine's accession to the European Union, and to the debate at the European Council on 23 and 24 June. "
The meeting followed a wave of criticism from Kiev to Paris following Mr Macron's call not to "humiliate Russia".
Mr Macron, whose country the rotating EU presidency until July 1, has been under recent pressure from Kyiv, which is also awaiting a visit after the start of the Russian offensive on February 24.
Significant losses daily
"Up to 100 Ukrainian soldiers" are killed and "500 wounded daily" in fighting with the Russian army, Ukrainian Defense Minister Oleksiy Reznikov said on Thursday.
The minister gave these Fighting continues in the eastern Donbass region, particularly in the Sheverodonetsk and Lysitshansk regions.
Ukrainian President Volodymyr Zelensky said on June 1 that the army was losing 60 100 soldiers a day.
According to a new report by the secret services, which presents the image on the front line, and quoted by The Independent newspaper, the Ukrainian forces are suffering massive losses as the Russian forces are in a ratio of 20 to 1 in artillery and 40 to 1 munitions.
The report, compiled by Ukrainian and Western intelligence officials, also shows that Ukrainians are having great difficulty responding to Russian bombing as well as artillery fire. Their range is limited to 25 kilometers, and Russian forces can strike from a distance 12 times longer.
The report, seen by the Independent, states that the deterioration situation in Donbas, with up to 100 soldiers being killed daily, has a "serious discouraging effect on Ukrainian forces, material effects and cases of insomnia are increasing every week ".