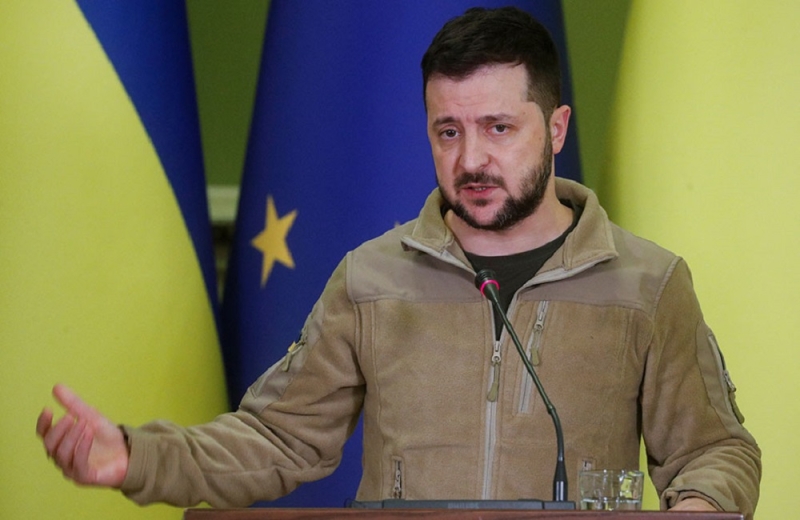 About 100,000 people remain in the besieged city. He added that the situation was deteriorating as the war continued, with hundreds of wounded considered to have no access to medical care.
The Ukrainian president also referred to the siege of the Azovstal steelworks, saying he believed 1,000 civilians remained on the spot along with the remaining Ukrainian forces. The Ukrainian president went on to claim that Kyiv had not seen or heard of a case A document that the Kremlin says it has sent to Ukraine in connection with the peace talks.
"Our side handed over a draft to the Ukrainians, which includes clear terms," ​​Peshkov told reporters, according to Sputnik, stressing that the ball is now in Ukraine's court. "We are waiting for their response."
Peshkov also stressed that the Ukrainian side does not seek to "strengthen" the negotiation process.
The accusations from Moscow >
"Last Monday, Peshkov accused Ukraine of constantly changing its position on issues already agreed in the peace talks.
" Contacts are continuing at the level of experts in the negotiation process, "he said. "Unfortunately, the Ukrainian side is not consistent with what has been agreed," Kremlin spokesman Dmitry Peshkov told reporters in a teleconference.
Kyiv Charles Michel – The message he sent
"It often changes its position and the tendency of the negotiation process leaves a lot of room."
Russia sent troops to Ukraine on February 24 in what it called "a special military operation." Ukrainian forces have put up fierce resistance and the West has imposed sweeping sanctions on Russia.
It is recalled that Moscow once again called on the last defenders in Mariupol to stop the "irrational resistance", promising that "the lives" of the fighters who are fortified in the Azofstal complex will be saved if they surrender.
The Mariupol is under "constant" bombardment
Russian forces have continued to bomb Mariupol incessantly, Major Serhiy Volina, commander of Ukraine's 36th Separate Marine Brigade, told CNN.
"Strikes by the Russian air force and heavy artillery continued on Wednesday," Volina said, adding that "Ukrainian defenders had suffered heavy casualties." He added: "We need international support. There are still hundreds of civilians here. We do not trust the Russians, we need other countries for guarantees. Mariupol can still be saved. "
In recent weeks, the parties have been blaming each other for undermining efforts to evacuate civilians from war zones. Moscow has repeatedly accused defenders in Mariupol of using civilians as human shields.