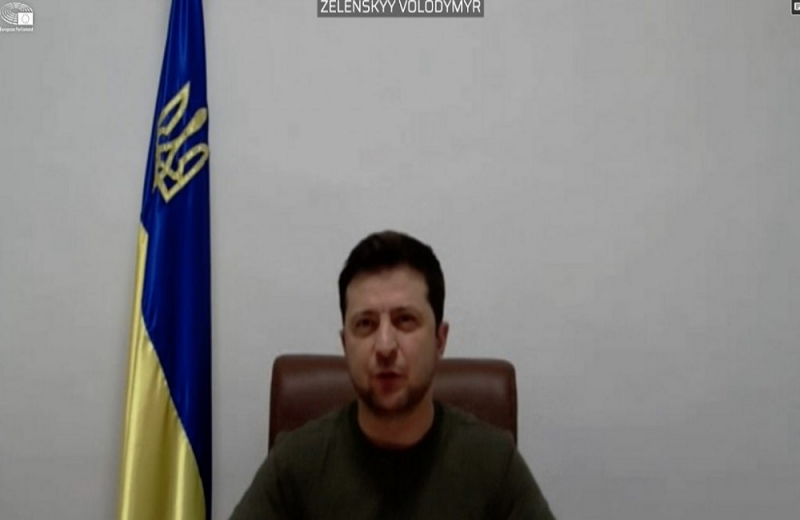 Zelensky stressed that he can not read what he has written on paper, while at some point he even said that he can not hear well as bombs are heard.
"Every day is not good, you know that for some people "This is their last day," he added. "These people are defending their freedom." We did not know the price we had to pay. It is a tragedy. We have gone through two revolutions, one war and five days of invasion.
I can not read what I have written on the paper in front of me, because we have to face reality. I believe that today we give our lives for our values, for our freedom, for our equality. We are sacrificing the strongest, the bravest Ukrainians. "
The Ukrainian president pointed out that" we often like to say that we will win and that we will succeed. We will overcome everything and we will win ".
In a message to European leaders, he said: "I would like to hear from you that Ukraine is a worthy member of the EU. We have proved our worth and we have shown that we are the same as you. Please prove to us that you are with us. Life will always defeat death. Light will always defeat darkness. Glory to Ukraine ".
It is characteristic that the translator at some point in the speech bent down and cried.
The Zeleski speech
I no longer know how to greet people – every day can be the last and it is the last for many people. I speak on behalf of my fellow citizens who defend freedom at a great price. I am glad that we can unite all the EU countries. "This has a price, a very high one, a tragedy," said the President of Ukraine.
He continued: "Thousands of people lost their lives. Two revolutions, one war and five days since the invasion of Russia. You know, I'm not reading any paper .. we're done; here we live with life and death. Today, lives are lost for our values, our principles, our freedom. Our best people are leaving, the strongest, the most remarkable. We often say that we will succeed, we will win and I am glad that we can now say that we are doing it. We will make it. We will win against everyone. "
" I am glad that you are embracing the European choice of Ukraine, that is the goal. I would also like to hear from you that this choice we have made towards Europe is welcome. This morning two cruise missiles hit the center of Kharkov. Where so many Russian-speakers live, more than 20 universities are there.
The city with university institutions, with young, smart people with friendly relations with each other. This is the largest square. Two cruise missiles hit the large square with dozens of dead. We fight for our land, our country, our freedom. Although all our countries are under attack, no one can stop us. All our squares will be called squares of freedom. No one will bend us. We are strong. We want our children to live. And Putin will tell us that this is an operation that hits military infrastructure. What does he mean; Children work there. Our people have high morale, we are fighting for our rights, our freedom, our lives, our survival. This pushes us. But we also want to be equal members of Europe. I believe that today we show everyone what we are. That the EU will be much stronger with us. Without you, Ukraine will find itself alone. Prove that you are on our side. That you will not leave us. That you are indeed European. Prove that light will defeat darkness. Long live Ukraine. Honor and glory ".