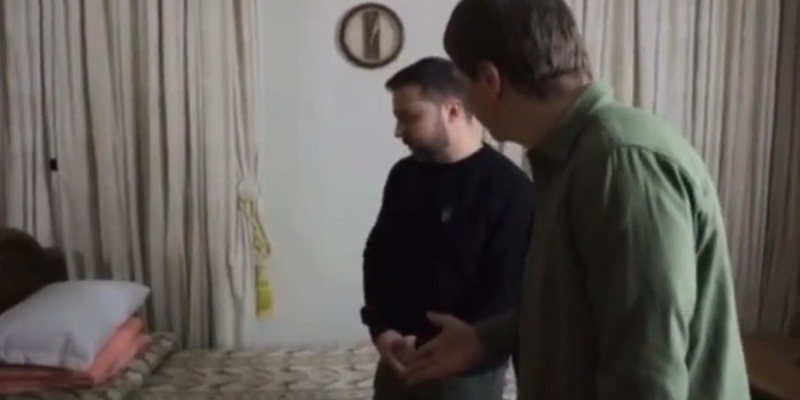 The room in his office, where he has been living since the Russians invaded Ukraine, Volodymyr Zelensky showed, speaking to Ukrainian journalist Dmytro Komarov.
"I have been living here for a year," says Ukrainian President Volodymyr Zelensky, revealing the room he has been staying in during the war.
As seen in the video, Zelensky shows his wardrobe and clothes he wears, from his military uniforms to his suit. "I don't wear suits anymore", explains the Ukrainian president.
In fact, he showed a suit saying: "This is a symbol that the war will soon end, we will win. It is a symbol of victory, waiting for victory.
Watch the video:
"This is where I've been living for a year" – @ZelenskyyUa showed Ukrainian journalist Dmytro Komarov his wartime living conditions and his wardrobe. pic.twitter.com/0McF8EEHUf

— Anton Gerashchenko (@Gerashchenko_en) February 25, 2023
Zelensky did not hide that during the Russian missile attacks, both he and his family were taken to shelters several times in order not to endanger their lives. "I love my family, but for me, as president, being here was a priority," he said. on the occasion of the first anniversary of the Russian invasion, stressing that "we will beat everyone".
In the video, released under the title "The Invincible Year", 45-year-old Zelensky is seen sitting at his desk. He remembers how he addressed the Ukrainians a year ago in a hasty announcement as Russia's invasion of the country began. "One year ago, on this day, from the same place, at about 7 in the morning I addressed you with a short announcement that lasted only 67 seconds," Zelensky says in the 15-minute video.
«… we are strong We are ready for anything. We will beat everyone. So it began on February 24, 2022. The longest day of our lives. The most difficult day in modern history. "We woke up early and haven't slept since," he points out. "Someone who won't answer the SMS 'what are you doing?'. Two simple words that acquired a new meaning during a year of war».
Source: First Theme