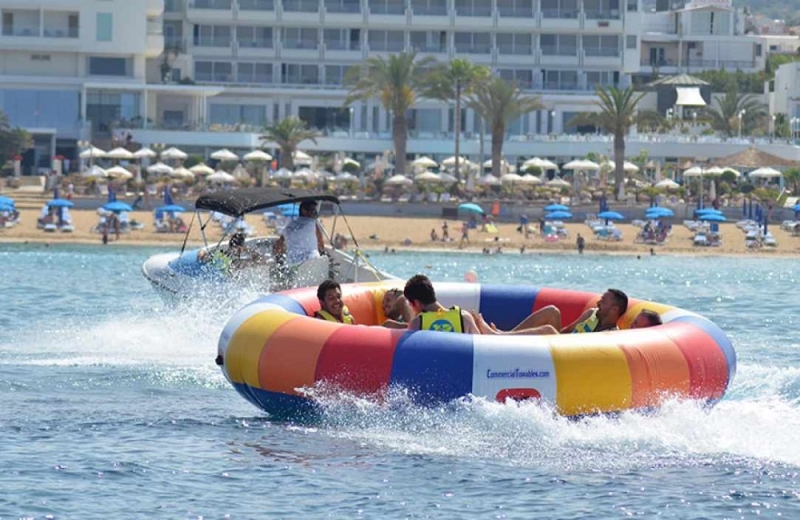 A proposal for a law on the management of beaches and especially for water sports, was discussed on Wednesday by the Parliamentary Committee on Interior, with deputies and guests referring to the risk of not offering water sports in Protaras.
>
DISY MP Kyriakos Hatzigiannis stated after the session that until today the local authorities have not been able to proceed with the licensing of water sports, in order for the tourism sector to work without any gaps.
"Since the middle of the tourist season we have beaches without water sports, this is something that is not allowed, we really express our regret because for so many years specific problems could not be overcome", said Mr. Hatzigiannis, adding that the deputies have submitted a specific bill in order to put an end to the case and how it welcomes any decision to finally make water sports work.
"We must be clear and unequivocal that any proceedings that will lead to further legal avenues and lengthy proceedings and in the event that the beaches remain closed, some will bear full responsibility. "It is not a question for us to pass legislation, but for our beaches and water sports to function as required in the context of our tourism operation", he stressed.
Asked if there is a case Protaras to be left without water sports this summer, the DISY MP replied that given that the legal procedures have not been implemented yet, there is a risk through appeals that any decisions taken will not work.
The Mayor of Paralimni, Theodoros Pyrillis, was also invited to the discussion of the committee, who called on all parties to allow the regulations and legislation of public procurement to operate as they are institutionalized in the Cypriot state and the European Union.
"The question is whether some people want through this decision to actually restore the facilities provided in the middle of the beach and people to smell fuel at the risk of their safety, to remain in the center of the beaches so that they have their own & # 8220; title & # 8221; property. The specific amendment behind everything is aimed at this effort, that is why 2019 is mentioned and not any later year ", he stated in this regard.
Finally, the President of the Pancyprian Association of Water Sports Dimitris Hatzidimitriou stated that the beaches must offer the product that for 40 years they provide safely and with respect to every word of the Law on Beach Protection.
In addition, he noted that if If the deadline for submission of bids is not extended, the area of ​​Protaras will not be able to serve the visitors due to the appeals to be submitted as specific procedures for the announcement of bids and the use of approved forms have not been respected, which according to with him renders these offers invalid.