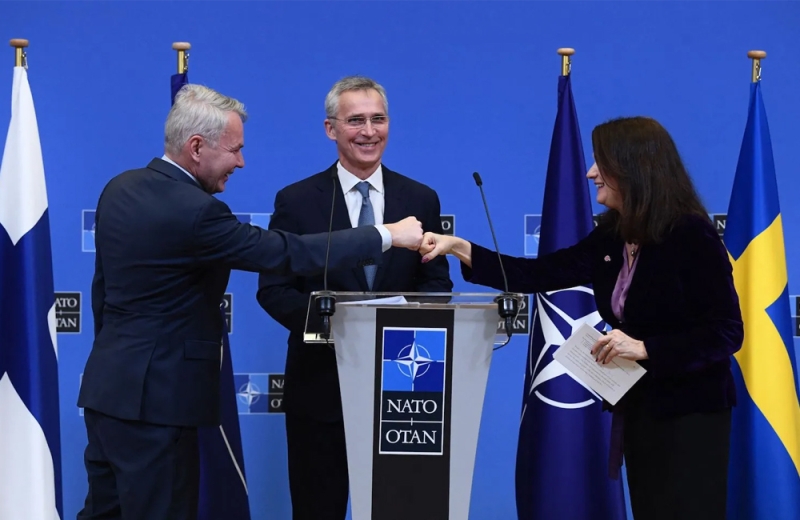 Finland's intention to "join NATO without delay" paves the way for a historic expansion of the Alliance that could deal a serious blow to Russia and Vladimir Putin himself, as several analysts now believe that the war in Ukraine is ultimately leading to the opposite effect on one of the Russian president's main aspirations: to halt NATO expansion to the east.
Finland has the largest border with Russia compared to any other country in the European Union, about 1,300 kilometers, while its neighbor Sweden is expected to decide whether to seek NATO membership in the coming days.
"Sweden will take into account Finland's position on NATO when deciding whether to seek membership in the Alliance," the Swedish Foreign Minister said today, with Expressen saying in a statement today that the Swedish government was planning to to apply for NATO membership next week.
"Finland is Sweden's closest partner in security and defense and we need to take into account Finland's assessments," Swedish Foreign Minister Anne Linde wrote on Twitter.
In 2017, Sweden and Finland joined the Joint Expeditionary Force (JEF) under Britain, an alliance of armed forces seeking a more flexible and rapid response than NATO. The JEF – in NATO standards and doctrine – is fully operational since 2018, the force has conducted a series of exercises both independently and in cooperation with the North Atlantic Alliance.
The Russian invasion of Ukraine, which began on February 24 and lasted 78 days, prompted Finland and Sweden to reconsider their neutrality status and consider joining NATO. Public opinion in both countries quickly began to favor integration. The latest poll conducted by the Finnish public broadcaster YLE showed earlier this week that 76% of Finns are in favor of joining NATO. This is a big change in public opinion compared to previous years, when only 20% -30% of respondents were in favor of such a military alignment.
According to European diplomatic sources, the two Nordic countries are expected to apply for membership on May 17, and if that happens, the Accession Protocol will be signed by the end of the month at the latest. This means that Finland and Sweden will have the status of observer country and will be able to sit at the table of the NATO Summit on 28-30 June in Madrid, as well as at all subsequent meetings of the North Atlantic Alliance. >
Western countries have welcomed Helsinki's intention, as both French President Emanuel Macron and German Chancellor Olaf Solz have already reaffirmed their full support for Finland's forthcoming bid for NATO membership.
In the United States, Sen. Bob Menendez, who heads the Senate Foreign Relations Committee, said the commission was "already working to ensure a speedy review" for both Finland and Sweden. The leader of the Republican Party, Jim Rees, called the announcement by the leaders of Finland "a huge step forward in the future of transatlantic security".
For his part, NATO Secretary-General Jens Stoltenberg said that Finland's accession process would be "smooth and fast".
Nuclear threats from Moscow /Russia warned on Thursday that Finland's possible membership in NATO posed a threat, saying it was ready to "balance the situation".
In the Kremlin's first reaction to Finland's intentions, Dmitry Peshkov described Helsinki's steps as a clear threat to Russia, warning of a "symmetrical response" without elaborating. In particular, when asked whether Finland's accession to NATO would pose an immediate threat to Russia, the Kremlin spokesman replied: "Certainly. "NATO expansion does not make our continent more stable and secure."
Peshkov warned that Moscow's response would be determined by "how NATO expansion is being played, the extent to which military infrastructure is moving closer to our borders." The Russian Foreign Ministry later warned that if the Finns joined NATO, it would force Moscow to "retaliate militarily, technically and otherwise." one of Vladimir Putin's closest allies and current Vice President of Russia's Security Council.
Underscoring the Kremlin's position that Western countries are waging war on Medvedev said a possible direct conflict between Russia and NATO "risks turning into a full-scale nuclear war."
"NATO countries are sending weapons to Ukraine to use Western equipment, send mercenaries, and the exercises of the Alliance countries near our borders increase the possibility of a direct and open conflict between NATO and Russia. Such a conflict always carries the risk of turning into a full-blown nuclear war. That would be a catastrophic scenario for everyone, "said Medvedev