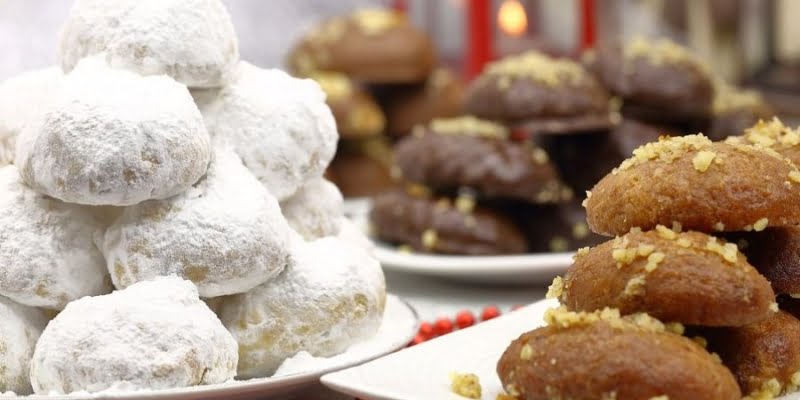 Melomakarona and kourabiedes are already starting to test our self-restraint because the calories they have are not few.
You will eat what you like, which many times you may like both. As we grow older, however, things get more complicated and the criteria increase. Health, calories, fat, carbs… every year the same dilemma, kourabiedes or honey macaroons?
The answer is not easy and certainly not simple. So it is good to examine all the facts.
What do honey macaroons contain?
The classic recipe for honey macaroons includes flour, sugar, olive oil, orange juice , honey, walnuts, cognac, cinnamon and cloves.
What do kourabiedes contain?
Accordingly, the classic recipe for kourabiedes includes flour, fresh butter, almonds, sugar.
The ingredients one by one
Flour
Due to the processing it has undergone, white flour lacks high nutritional value. It is, however, an excellent source of carbohydrates which are the body's main source of energy.
Olive oil
With its particularly high caloric content, olive oil is one of the most beneficial oils for the body due to its high content of monounsaturated fats, while it is a good source of vitamin E.
Sugar
It is one of the best sources of direct energy. However, it has no nutritional value and as is well known, sugar and its large and frequent consumption are associated with many health problems and the addition of several calories.
Honey
With a low content of vitamins and minerals, honey is known mainly for its antimicrobial and antibacterial properties, due to the antioxidants it contains.
Being a sugar, it does not differ from sugar in terms of its caloric content and action of it, but gives flavor to the foods and drinks to which it is added.
Walnuts
Excellent source of magnesium and phosphorus as well as vegetable protein. They contain a sufficient amount of selenium and vitamin E, elements which are distinguished for their antioxidant activity.
Walnuts are rich in monounsaturated, omega-3 and omega-6 fatty acids, but like most nuts they are high in calories.
Orange juice
It is a good source of vitamin C but also of sugars.
Fresh butter
Fresh butter is one of the most controversial foods when it comes to its consumption. It contains a lot of saturated fat for this reason and is considered particularly harmful especially for the health of the heart, while its caloric content is also particularly high.
However, fresh butter is an excellent source of CLA (conjugated linoleic acid) which is linked to many health benefits and butyric acid which contributes to the good functioning of the digestive system. In addition, it is a good source of fat-soluble vitamins A and D.
Almonds
They are an important source of calcium and magnesium, while they contain sufficient amounts of phosphorus and potassium. Particularly important is their fiber and protein content. Almonds are a very good source of monounsaturated fatty acids and, like most nuts, are high in calories.
How many calories are in a melomakarono and a kourabies
If we compare a 30g honey macaroni with a 30g courabie we will see that the differences in calories are ultimately small.
A honey macaroni (30 grams) has approximately 165 calories, 6.5g of fat of which 0.8g saturated and 1.5g of protein.
Accordingly, one kourabies (30 grams) yields approximately 180 calories, 8g of fat of which 3.8 are saturated and 4g of protein.
Which is better nutritionally?
Based on the caloric burden that we will have from eating them, melomakarono is better since it provides fewer calories than courabier.
Based on the fat content of melomakarono it is again better since it contains relatively lower amount of fat and has much less saturated fat.
Here it is worth noting that now most people replace the olive oil in melomakaroni with various seed oils for a lighter taste, which reduces the nutritional value of melomakaroni in terms of fat.
Based on the protein, kourabies is clearly better since its protein content due to the butter and almonds is greater.
In terms of glycemic load, kourabies fares slightly better due to the presence of large amounts of butter and almonds (honey macaroons contain oil and nuts, but usually the amount of walnuts per honey macaroon is quite small).
Both honey macaroons and kourabies however, they have a negative impact on sugar levels since they contain large amounts of flour and sugar.
Honey macaroons contain cinnamon and cloves which are said to help with normal sugar levels, although their quantity is small enough to make the difference.
In conclusion
Melomakaron and kourampies, favorite Christmas sweets. Both contain both beneficial and harmful components. Both can burden our health, like all sweets, if they are consumed in large quantity or frequency.
To enjoy the holidays with the least possible burden on our health, we can also enjoy two but with moderation and prudence.
A melomakarono or a kourabies par′ anything that has enough calories as a snack one afternoon will not hurt us.
For those who love quantity, they are also available in bite-size, so one can easily consume 2 or even 3 pieces, depending on the size. And for those who avoid sugar and honey, there are now plenty of recipes that replace them with other sweeteners.
Also read: "Nastier" firewood prices-Up to imprisonment for illegals (VIDEO)
SOURCE: fmh, huffingtonpost