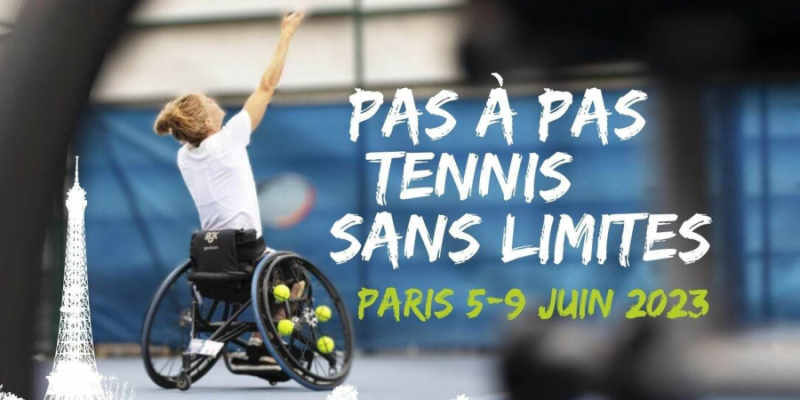 The French µnon-profit association Tennis Sans Limites (Tennis without limits) in collaboration µwith the world-famous volunteer-walker Alexis Sophocleous, organizes the first course for strengthening and development of paratennis practice for children and adults.
Volunteer-walker Alexis Sophocleous will start from the Roland Garros stadium on Monday, June 5 and will cover a distance of approximately 60 kilometers around the city of Paris. He will make stops at important cultural sites of the city as well as at the tennis academies of Bercy and Châtillon where the association organizes educational activities for people with disabilities. It will end at the Roland Garros stadium on June 9, a day dedicated to paratennis (Journée Tous en Fauteuil – All in a Wheelchair Day) where the world tennis tournament and the matches will be held at the same time. ?e aµaxide.
Like all Alexis marches, the Pas à pas Tennis Sans Limites – Tennis Without Limits will convey messages of solidarity, encouragement and strength, this time for people with disabilities, drawing inspiration from the example of life and action of many paratennis athletes who enrich the sport with their amazing abilities and performances.
Alexis will be accompanied by the Tennis Sans Limites team , sports personalities, wheelchair tennis players, deaf, hard of hearing and able-bodied athletes, as well as members of other non-profit organizations. At each station visibility will be given to the sport, the educational activities and the possibilities that this practice can offer.
Always µe dynaµof soul, Alexis Sophokleous managed to become the first person to walk around Cyprus, a distance of 740km in 29 days as well as the 30 islands of the Cyclades in 30 days.
The hikes are included µwithin the µbig activity "Bµa-Bµa Cyprus» which started in 2020 and subsequently µe more than 50 charity and social walks where the work of many NGOs was strengthened.
His most recent walks include Celebrate Your Scars in Athens and Cyprus, as well as walks in Norway and Jordan to support cancer prevention and treatment organizations.
With these activities Alexis Sophokleous was nominated for the European Citizen 2021 award and received µhigh exposure from the media as well as Euronews.
This µunique action µcan be followed µthrough the µsite µpage. a-Bµa Cyprus» on facebook µe audio-visual and photographic material that the volunteer-hiker will post daily, as well as on the pages of the organization Tennis Sans Limites on Facebook, Instagram and Twitter.
< img class="aligncenter" src="/media-library/2023/05/d0d0a5451495b1fd994042c71c553d77.jpg" alt="Βorµα Βorµα το Παρiσ&iota ; για το ΠαρατΕννις" />