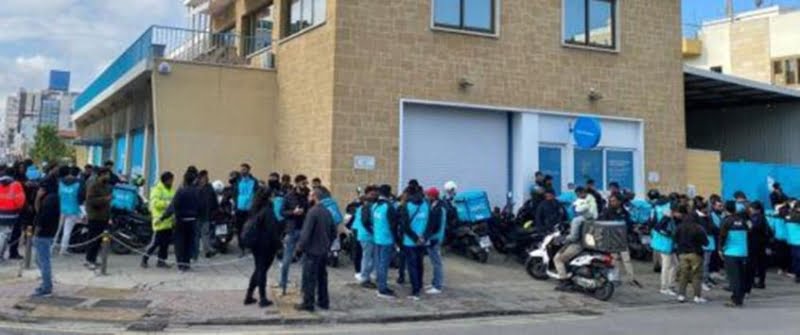 The distributors working with Wolt are on their third day of strike, and today they gathered massively outside the company's headquarters in Nicosia. About 150 distributors, who held a protest march yesterday, today found themselves early in the morning outside the company's offices, determined to continue their peaceful protest and strike, after Wolt announced its intention to further cut their benefits.< /b>
Employees of the Labor Relations Department of the Ministry of Labor found themselves at the gathering of the striking distributors, in order to record the terms of the contracts according to which each of the distributors is employed. The purpose is to establish whether the intention of Wolt, with which the distributors have a free cooperation, to reduce the earnings, conflicts with the terms of the contracts they have concluded with the companies – employers.
It is noted that, according to what the distributors reported in their statements to KYPE, the amount of €2.40 for each route, of which their employer keeps 41%, Wolt intends to reduce it to €2.26. This intention of hers was the reason for the strike of the distributors, who work anyway in adverse conditions and unfavorable conditions, as they say, they are asked to pay for their own fuel, protective equipment, bags distribution, as well as to cover any damages and repairs.
The working conditions were already unfavorable, as they told KYPE, with their incomes amounting to €400-€500 per month. They reported that for each kilometer they cover they receive compensation of €0.25 – €0.50, while for deliveries within one kilometer, they receive no compensation at all. They also noted that they had tried in the past to ask the company to cover the cost of their equipment, but without a response. As they said, moreover, even now they have not received any response regarding the requests they have submitted in writing to the company.
With a document that they have sent to the company's address, as they mentioned, they request the restoration of the amount per route to €2.60, as it was previously, as well as the restoration of the corresponding amount to €4.00 for Fridays and to €3.50 for Saturdays. They are also asking for compensation for routes within one kilometer, a single compensation of €0.50 per kilometer for all routes, as well as compensation of €1.10 for routes performed in rain. They are also asking that the percentage kept by the companies that employ them (which in turn provide services to Wolt), be reduced to 30%, instead of the current 41%.
The increase in the cost of fuel, as well as the cost of electricity and basic goods, has made their livelihood extremely difficult, workers told KYPE, prompting them to go on strike. "It was something that happened suddenly, we didn't plan it, but it shows how stressed we are and that is what has united us, because we are all suffering, even those who are not on strike now," said a distributor, speaking to KYPE. They emphasized that they intend to continue the strike, although they have also received messages that most of the striking distributors' accounts have been blocked by the company, which they are asking to be removed.
They also explained that "it is difficult for third-country nationals to find work here, even if they have an education" and added that this is the only option they have, but it is a very dangerous job, with frequent accidents, with occasional racist attacks , as they said, while noting that during the pandemic, almost everyone was infected with COVID because they were called to distribute to people who did not report being positive. They asked for the support of the world to continue to assert their demands.
@inder_brar_ #wolt #nicosia #cyprus #larnaca #woltnicosia #delivery #strike #gooffline #foody #foody #bolt #police ♬ original sound – rupinder brar
On the side of the strikers PEO declares, attending their gathering
"We are on the side of the Wolt distribution workers, who are facing a lot of labor problems, since even the legislation is not respected," Michalis Tsikkouris, PEO District Secretary, said in his statements to KYPE. Referring to the motivations of the strike, he said that "they have been informed of reductions in wages, while they are not entitled to sick leaves, nor are there holidays or working hours" and explained that, for most workers in this sector, special contracts are made through agents, the which are submitted to the Ministry of Labour, as these are usually third-country nationals and asylum seekers.
He also mentioned that from the amount attributed to the distributor for each route, Wolt deducts 41%, which is which he called unreal. "We will continue our struggle until people get justice," he said. He explained that the distributors, the vast majority of whom are nationals of third countries, either students, asylum seekers and political refugees, are not organized in guilds or unions, but noted that PEO will support their efforts, as he does with every strike of workers in Cyprus.