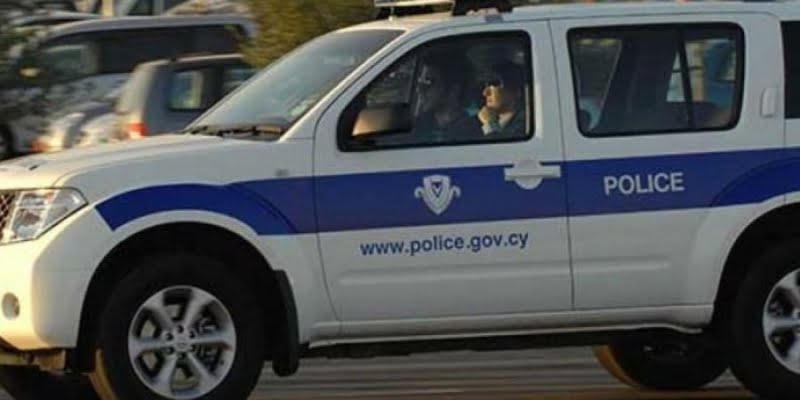 An 18-year-old man was taken into custody for an investigation into a case of failure to signal to members of the Police, traffic violations, illegal possession of property and burglary tools and theft of a vehicle.
According to the Office of the Communication Branch of the Police Headquarters, in the early hours of October 28, members of the Police during a motorized patrol in the area of ​​Mesogi street – Pafos noticed a driver driving his vehicle suspiciously.
It is reported that at the signal of the police he failed to stop, moved through various roads and reached the Pafos highway – Limassol at a point near the Timis weighing station. The driver stopped his vehicle on the highway and fled.
A search of the vehicle revealed five containers containing oil and various burglary tools including gloves and a hood.
< p>Subsequently, the vehicle was received by the Police and taken to an area for safekeeping. As it turned out, the registered owner of the vehicle is an 18-year-old man. An arrest warrant was issued against the 18-year-old and he was located at noon on Wednesday.
The 18-year-old was located near a vehicle that had been stolen earlier on Wednesday in the Morphou area. The stolen car was located, according to the Police, at around 1:30 pm on Wednesday afternoon, and when the suspect was checked, it was found that he was the person who had fled to Paphos near the Timis weighing station.
Subsequently he was arrested and taken into custody.
According to the police, the suspect allegedly confessed that earlier on Wednesday, he had stolen the vehicle that was found in Limassol. The vehicle, as he reported to the Police, had been stolen in the Morphou area in Astromeritis because, as he claimed, he wanted to go to Paphos.
The Paphos Police continue to investigate.
Source : KYPE