The national currency lost 20% of its value in a week and last month the exchange rate reached 500 pesos per dollar on the black market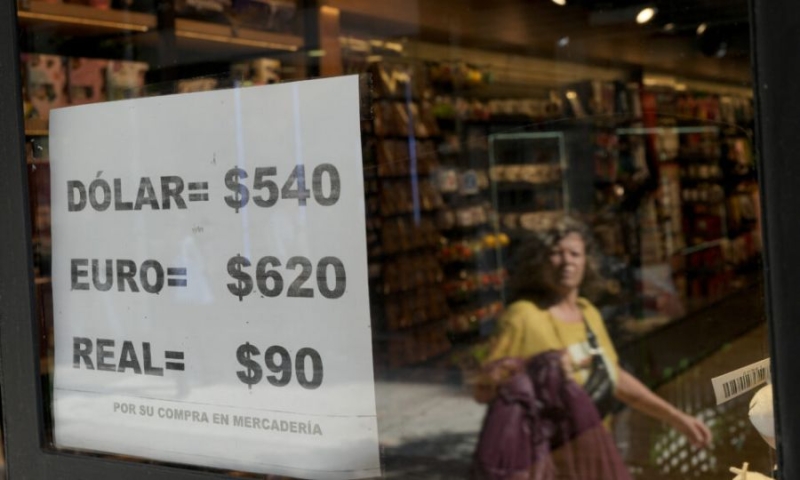 Inflation in Argentina soared to 109% year-on-year in April, the national statistics authority announced today, beating analysts' forecasts and causing despair and anger among consumers, who are forced to make ever greater sacrifices to make ends meet.< /p>
Latin America's third-largest economy recorded 8.4% month-on-month inflation in April, higher than forecasts for 7.5%, bringing it to 108.8% year-on-year.< /p>
Rising prices have pushed one in four Argentines below the poverty line. "They have turned us into a country of beggars," self-employed Carlos Andrada, 60, told Reuters as he searched for cheap vegetables at a street market in a Buenos Aires suburb. "You get desperate because you work all your life and (get to the point of) finding it difficult to even buy a tomato or a pepper," he added.
Argentina's fragile economy, which has faced 12 years of double-digit inflation, has been hit hard by the impact of recent drought on soybean, corn and wheat exports.
The national currency has lost 20% of its value. over the course of a week and last month on the black market the exchange rate reached 500 pesos to the dollar. Commodity prices climbed even higher, while the government will find it even more difficult to repay its $44 billion public debt to the IMF.
"The last time I came (to the public market), I paid 300 pesos for a kilo of peppers. Now for 300 pesos you get half a kilo," said 70-year-old retiree Olivia Maria Belbruno. Expressing disappointment with the governments that have passed in recent years, he decided that the voters should do their self-criticism: "Let's sit down and think, why we voted for them".
"I have stopped going out to eat even once a month, I haven't been on vacation anywhere for four years," says 64-year-old Salvador Paterno, who recently had to sell his car. "We use very little air conditioning and heating. Everyone breaks these habits to make ends meet, if they make it at all," he adds.
Poverty, which was gradually receding for two years, increased in 2022 and now plagues 39.2% of the population, in other words over 18 million citizens of the country.
In its most recent newsletter, Argentina's central bank predicted in early May that inflation will exceed 126% year-on-year this year.