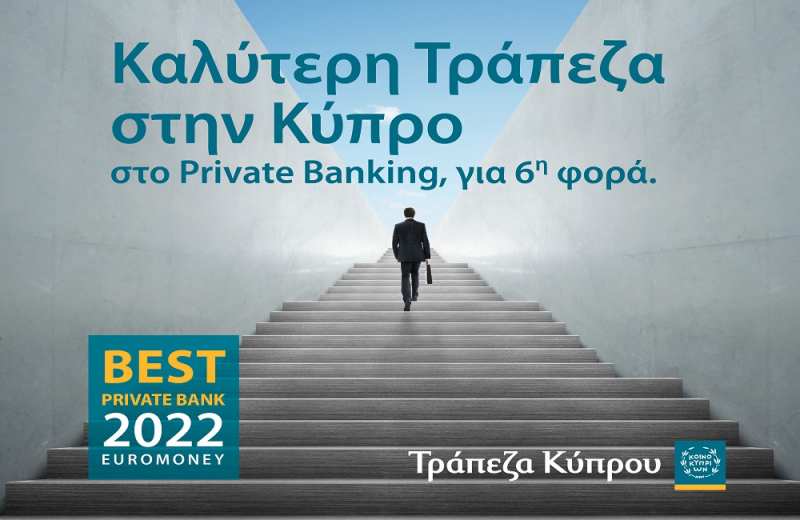 Voted for the sixth year by its clients, by the international magazine "Euromoney".
The Bank of Cyprus emerged for 2022, for the sixth year, as the "Best Bank in Private Banking & Wealth Management" in Cyprus, by the internationally recognized magazine "Euromoney", after an electronic vote of its customers.
This award confirms the professionalism, reliability, customer service and high quality services offered by the Private Banking / Wealth Management Service to its customers, as well as the effective strategy in providing personalized and integrated investment services in the field of management. assets.
The award is particularly important because it is awarded after a vote among customers, who evaluate the quality of banking and investment services as well as Wealth Management services.
The award is made after an independent analysis of financial institutions regarding the quality of service offered to high-income customers as well as their specialized knowledge and experience in the field of Private Banking.
"Reflects the successful strategy of Private Banking & Wealth Management"
Emilios Tannousis, Director of the Wealth Management Service, commenting on the new award of the Service, says: "For our Bank, this award is an international recognition with prestige, a reward for the efforts of all of us and encourages us to work for better results in a period of strict supervisory requirements in the field of Wealth Management. It also reflects the successful strategy of Private Banking for the provision of high quality products and services. All of us at Private Banking will continue to offer a comprehensive range of investment options, personalized service and asset management for our clients. We work methodically, we build relationships of trust with our customers and we are present in every next move ".