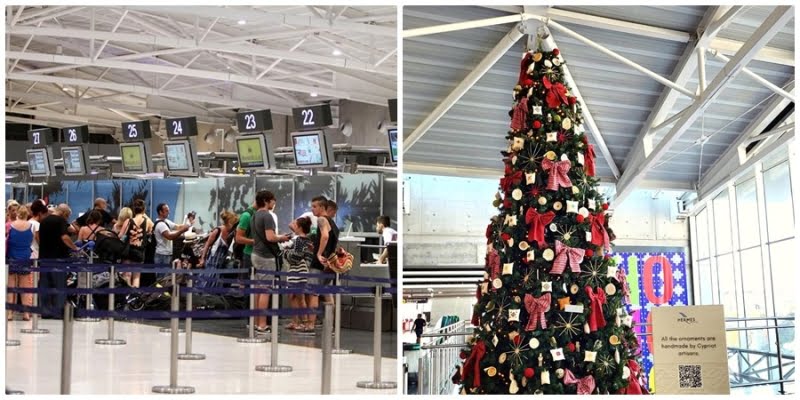 Chisel ornaments, Leukarite embroidery and basketry items adorn the Christmas trees located at the entrances of Larnaca and Paphos airports.
In an announcement by Hermes Airports reports that "the atmosphere is Christmas-like at Larnaca and Paphos airports since Hermes, in collaboration with the Deputy Ministry of Culture and the Cyprus Handicrafts Service, decorated the Christmas tree at the entrance of Larnaca airport with handmade ornaments, inspired by' the Cypriot tradition'.
More than 25 artisans from the Cyprus Handicrafts Service embroidered Leukarite motifs and created chisel ornaments, basket weavers from the Polychorus of Creativity and Culture in Larnaca made stars, experienced sculptors made hand-painted figurines while motifs used in Karpas costumes were transformed into a festive decoration. The aim is to give the passengers a multi-layered picture of the culture of our country.
In addition, "next to each tree there is an inscription with a QR code which the visitor can scan with his mobile phone and be transported on a specially designed website to learn more about the Leukaritek technique, the Phythkiotiko technique, the Cyprus Handicrafts Service and more.
According to the announcement "each' throughout December, various events have been planned at Larnaca and Paphos airports for both passengers and visitors. Among others, the public will have the opportunity to listen to a section of the Sistema orchestra that offers musical education to children of immigrants, refugees or children with limited resources, to enjoy the choir of the Deaf School or to buy items from the Foundation ' Wisdom for Children' reinforcing the foundation's efforts".
Also, "Christmas violin sounds and dancers, will welcome passengers and airport visitors from the beginning of December. Also, at Larnaca airport, interactive workshops have been planned for primary schools in the province, whose students will have the opportunity to listen to favorite Christmas stories, make crafts and enjoy children's Christmas music.
Read also: Impressive images from the Christmas parade in Nicosia (pic+vid)