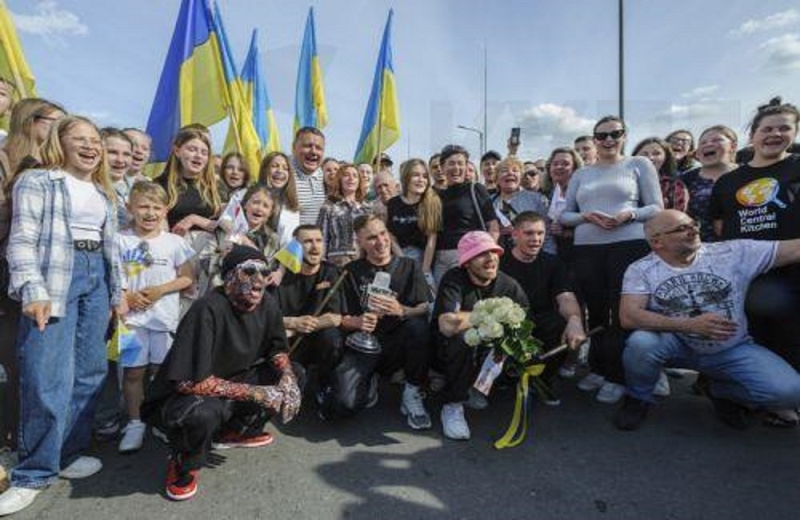 The Kalush Orchestra returned to Ukraine on Monday after winning the Eurovision Song Contest. Soldiers and women & # 8211; praised in the winning song "Stefania" & # 8211; welcomed the band members on the border with Poland.
The frontman of the band Olech Psyuk was offered flowers in the colors of the Ukrainian flag (yellow and blue), before he hugged his partner. The Kalush Orchestra then presented an improvised rendition of the song "Stefania", which won first place at this year's international competition in Turin, Italy.
With its triumph on Saturday, the Ukrainian band gave the Ukrainians a boost of morale after 12 weeks of war.
Ukrainian soldiers watching the Eurovision Song Contest greeted the Psyuk's victory and call for help in besieged Mariupol and those trapped in the Azovstal steel plant.
President Volodymyr Zelensky hastened to congratulate the Kalush Orchestra, while the residents of the city of the same name were ecstatic. "I love Kalous. My wife and I watched until 1 in the morning. We are happy that we won. I was jumping. "I was in seventh heaven," said Peter Yogan, 74, on Sunday. "But I also want to end this war as soon as possible. "This will be an even bigger victory." Support for the international community in Ukraine following the Russian invasion in February.
The song "Stefania", which combines hip-hop with traditional sounds, was a tribute to the frontman's mother of the band Oleh Psiuk. Although he was in 4th place in the ranking after the verdicts of the committees, he jumped to the top with the votes of the public.
KYPE/APE-MPE/Reuters >