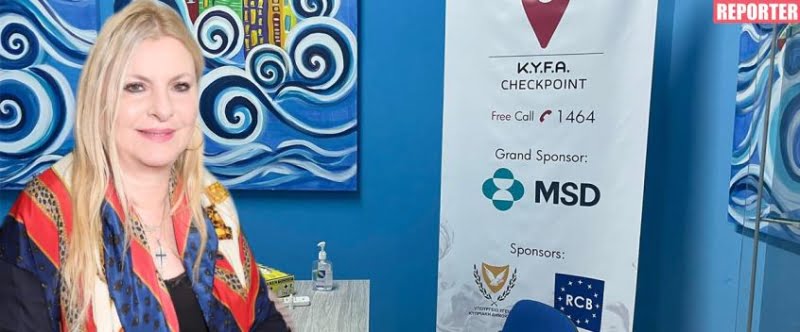 "A person was diagnosed with HIV and told his best friend, who they worked together. His best friend told them at their workplace and as a result they bullied him a lot and forced him to leave. But he couldn't face the bullying they did to him and it started with his best friend and now he left Cyprus".
These are the words of the woman who has associated her name with the struggles for the rights of HIV-positive people. She is the woman who, since 2000, has been fighting against the establishment and the narrow minds of society, to change the way of thinking, to break down taboos, to dispel myths and situations.
Her name, Stella Michailidou. A name known in medical circles and beyond, since for 25 years it has been fighting to give people who are HIV positive a better future. And the reason is simple. She wants to help our fellow human beings who are in need.
She has not experienced this in her family, as many have believed for so many years. This, however, is no excuse for not fighting, tooth and nail, with all the means at her disposal, to change perceptions, to make society detach itself from its antiquated perceptions and understand that everything that is heard on this particular subject, they are nothing but myths, which the evolution of technology has destroyed.
The taboos that created the need for the existence of HIV/AIDS
The fact that any discussion about HIV/AIDS is a taboo and thus it was a topic that no one informed about, let alone claimed for the people affected, was the reason that led Ms. Michailidou to establish the KYFA.
"KYFA is a Non-Governmental Organization, founded in 2000, by old and new volunteers. We operate offices, on a daily basis some hours, because it is on a voluntary basis. There is counseling, legal, psychological support. Also, there is the checkpoint established in 2017, which was established and trained by trained staff, i.e. a psychologist and a nurse. For their training, doctors came from abroad, from the Athens Infection Center, and trained them. He was here for two weeks.
We saw that it was a subject that no one wanted to deal with. It was not like all the other issues, that everyone runs to deal with it and we saw that there was a gap in asserting the rights of people with HIV".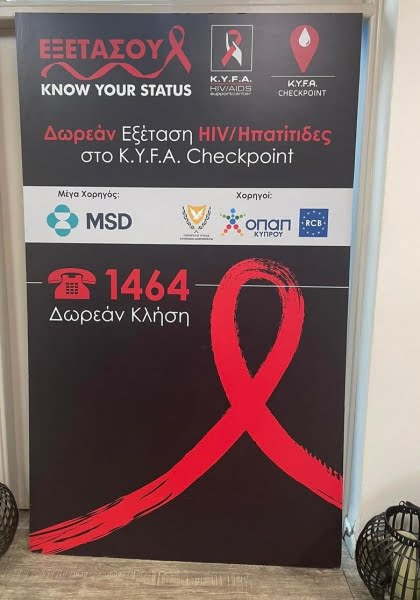 The services provided by KYFA
"There is the checkpoint, which operates twice a week, in the afternoons 4:30-7:00. Here, they come by appointment and when someone is diagnosed, they are immediately put on medication and become non-contagious and undetectable. Thus, there is a reduction in harm to the community because one becomes immediately non-contagious. HIV is a virus that affects the immune system. When they don't take the medication, they go to AIDS and they will get sick. Today, when someone receives their treatment, they become non-contagious and undetectable.
We also have our line, 1464, which is open and people can call at any time, ask for any information they want or any complaint they want to make. Through our line, they can call and book their appointment and come here, anonymously and for free. Without an appointment, one cannot come here and be examined. We did not train volunteers, to have only trained staff sampling.
In 2019 we also bought the mobile unit and by the time we had the grand opening and started at festivals etc, the coronavirus pandemic caught up with us. We had been to some festivals, but then he cut us off for two years. We started, again this year. We went to Lofou, Germasogeia, the beer festival and wherever else they asked us. Now on December 1st we will take her to a college and then we will take her to an avenue. We went to both Nicosia and Larnaca and now we want to promote the information campaign more. Wherever we go, we give leaflets to the world".All these years that Ms. Michailidou fights for the rights of these people, they have been marked with several stories. Stories of people, sometimes different, sometimes the same, with a common denominator is the protagonists' need for acceptance.
"There was a case where the baby was diagnosed first and then the mother. The child was 3 years old and after a respiratory infection, he was kept in a clinic and constantly tested. They couldn't find the cause of the infection and in the end they did an HIV test and it was diagnosed positive. He was three years old. This meant that the mother was also HIV positive. She was tested and tested positive. I will not forget that the baby was hospitalized in Makareio and the mother in Grigorio because she had an infection and was in a bad condition and I went and saw them because she stayed in for two months. When he came out, he came here and hugged me and said "thank you for being with us".
I remember two other cases, now deceased, who decided not to take their medication. Despite the advice we gave them, they didn't want to take the medicine, so they got sick and went to AIDS and ended up. They wanted not to drink them, but this is a big mistake. Medication must be adhered to, as it is now a chronic condition and can be treated with two pills a day. There is no low life expectancy, a person can live with the virus.
Now HIV-positive girls can get pregnant. Last year we had 40-50 births from HIV-positive girls. The mother takes medication during her pregnancy and when the children are born, they receive some drops to eliminate the virus.
I also experienced cases where there was stigmatization. One person was diagnosed HIV positive and told his best friend, who they worked together. His best friend told them at their workplace and as a result they bullied him a lot and forced him to leave. I remember he was fired and I made a problem with the company and they rehired him. But, he could not face the bullying they did to him and it started with his best friend and now he left Cyprus. There are many cases that left Cyprus when they were diagnosed as HIV-positive and have gone to Greece, because there is no marginalization and stigmatization there.
We had a case of a girl who was fired when it was found out that she was HIV-positive. But they didn't tell her that they would fire her for this reason, they found other reasons, that there will be a staff reduction, etc. That's why most HIV-positive people don't say it and it's their right".
Discrimination in medical care
Another, big chapter for HIV-positive and AIDS patients is medical care, since there are many testimonies, that they were kicked out of a hospital because of their medical history.
"They tell them to go to Gregorio, which is the clinic that receives them. It happened many times. Why should this be done? Now with the National Health Service, HIV-positive people have the right to go to any doctor they want. There is an international protocol, which stipulates that when a patient enters the room, the doctor and nurses must treat him as HIV-positive and take precautions. The patient may not yet know that he is HIV positive".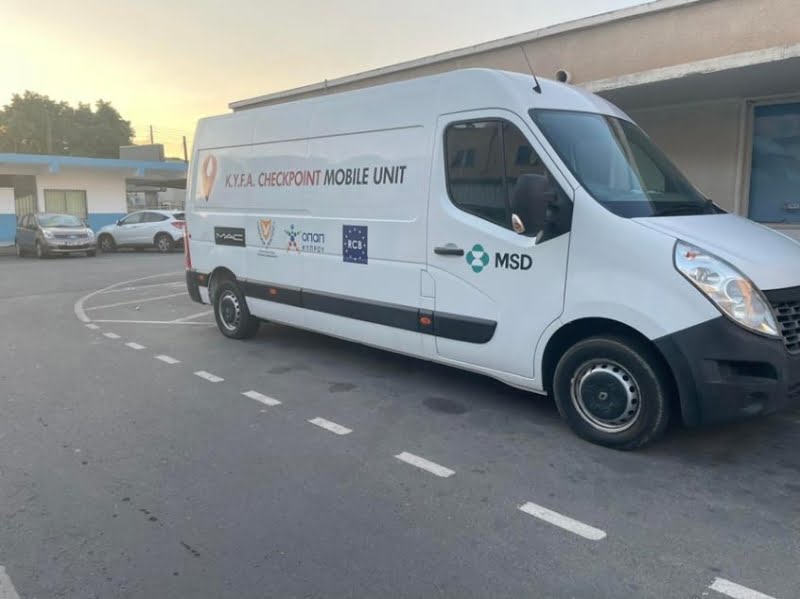 Great struggle to claim the self-evident
The situation that prevails in Cyprus and the attitudes, which are deeply rooted and even influence policies, testifies to the fact that in order to gain even the obvious, Ms. Michailidou and KYFA as an organization, had to fight with fire and iron to obtain them.
"KYFA was founded in 2000 and in 2002 we started fighting for the HIV positive benefit. An allowance that in Greece is 650 euros. In Cyprus, from 2000 to 2018, I fought personally with articles, with letters, with contacts to promote this aid. There are people who get a very low salary or who do not work, it depends on their health condition. There are also cases that were diagnosed several years ago, were taking pills, and other organs were affected.
We had meetings in the Parliament, with the Presidents of the Republic, with ministers, with MPs. We managed in 2018 to receive the allowance and it was 300 euros. For the last two years, I have been fighting to be given an increase for this amount and an additional 50 euros was given. It is an insignificant amount, but we are trying to make this amount 100. It is a travesty for them to give only a 50 euro increase, since they know that many HIV-positive people have financial problems.
What we didn't understand is that this is an issue that concerns us. Those who think that it will not touch them, are willfully blind. In my life I saw people make fun of HIV positive people and it happened to them in their family. You shouldn't make fun of anyone. Some people think that it only has to do with sexual orientation, it is not so. This is a myth, that's why I say it can touch anyone, regardless of gender, religion, sexual identity.
When you claim human rights, you also find those who are against it. There is a prejudice surrounding this condition and personally as Stella I had experienced situations like "why are you fighting? Does it happen in your family?" There is no such thing, but I had heard it even from a minister. I'm dealing with this issue because no one else was.
Everyone needs to understand that we need to get ahead of things and not wait for them to come to us. We have had opponents in the past who were in positions of functionaries in the public sector. We fight the establishment, with what we claim. We want to change the way of thinking and behavior regarding HIV in Cyprus. We also had betrayals from people we helped and that was something that hurt us a lot."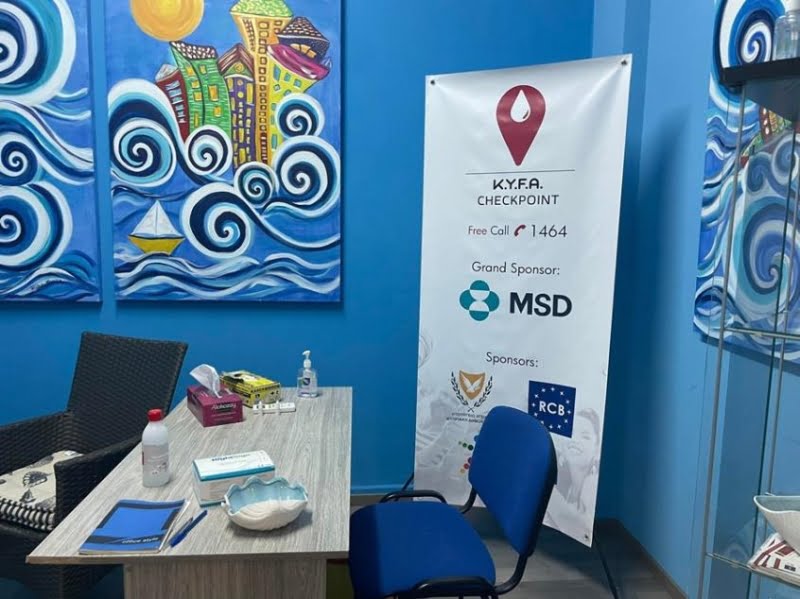 Difficulty in finding sponsors
The myths that have been created around this specific disease have resulted in insecurity and fear, especially for large companies that could sponsor the awareness campaigns.
"It's very difficult to get donors to support HIV campaigns because they have sex and sexual identity in mind and that it's only through sexual contact that someone can get infected. Something that is not true and was overturned many years ago. Abroad, several large companies worldwide support the HIV/AIDS issue and fund NGOs to do information campaigns and do what we do here with the checkpoint. Big names, businessmen, singers, actors abroad support HIV/AIDS campaigns and in Greece the same and it is easier for NGOs to find resources to support their programs.
We we have very good support from the general director of the Ministry of Health. She supports our programs and has personally helped many HIV-positive people, and we thank her very much for this specific issue, which she is aware of.
In recent years we have had permanent sponsors, apart from the Ministry of Health, OPAP and our big sponsor, the MSD company.
It is also difficult to find volunteers who want to get involved and help. But apart from that, what is important for people to know is that everything is done confidentially. They will not be photographed, no information will be released. It is very difficult to enlist volunteers, in terms of psychological support, etc., to help in events as well. It is not an easy matter for someone to come help. These things happen in Cyprus, it is not like that abroad".
The coronavirus pandemic
Although one would expect that with the coronavirus pandemic and quarantine, there would be a decrease in HIV cases, the recorded numbers prove that the exact opposite happened.
"We have received many calls to our line asking for details. We were closed for several months and when we opened last summer, we diagnosed ten people in one month. We've had tremendous growth. It seems that with incarceration, people gave more importance to sexual intercourse.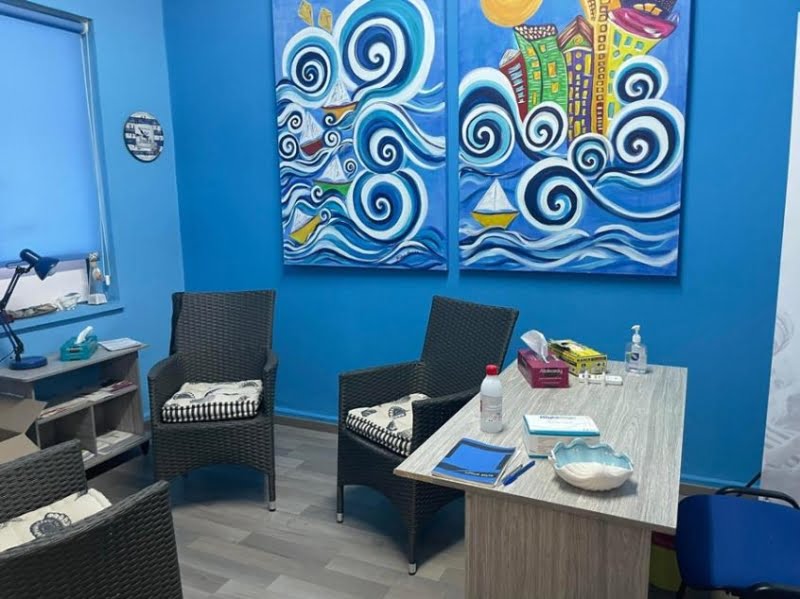 The next actions of KYFA
"We have the World Day against HIV/AIDS, on December 1, when we will do a live link on the avenue Makareiou in Limassol and we will be handing out information brochures, with a condom. At the same time, our mobile unit will be going to festivals, for audits and we will be going to colleges to hand out leaflets. We will also make the red ribbon, which will be six meters long.
Now we are making the calendar and the money will be vouchers, which will then be given to our fellow HIV positive people. We usually give to the girls, who also have children. If we find someone in need, we will give them a voucher. We have about 5,000 euros worth of vouchers for Christmas and if they also need financial help, we give it to them. If there are cases that need financial help throughout the year, we will give it to them."
A message with recipients all
"Yes, your concerns It can touch any of you. Those around you, your family, your friends."
"When I found out I had AIDS I told my brother to find a cremation place"
"When I was diagnosed with Aids they forced me to resign… Friends abandoned me"
"They left an HIV-positive woman with blood on her head, they kicked her out"-Increase in HIV cases
< b>A new strain of HIV was discovered in Cyprus-"It has not been identified elsewhere"