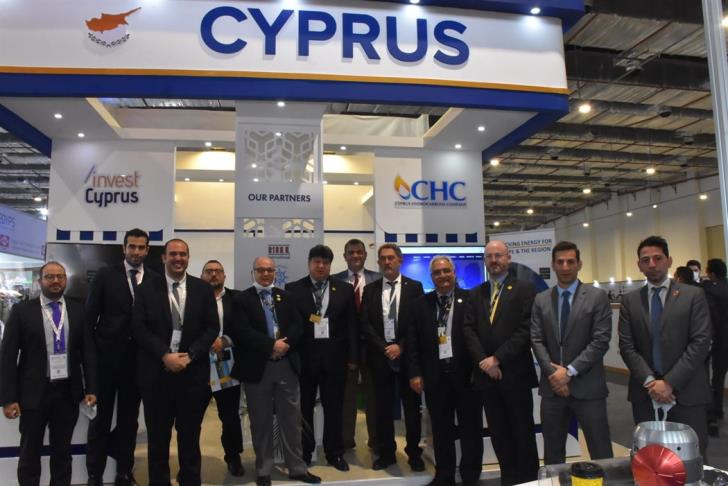 The participation of Cyprus in the 5th & nbsp; was particularly successful. Egyptian Petroleum Show (EGYPS), one of the most important events in the field of Oil, Gas and Energy in the wider region of the Middle East and North Africa. The event, which took place in Cairo between February 14-16, was sponsored by the President of the Arab Republic of Egypt, Abdel Fattah El Sisi. The Cypriot mission was co-organized by Invest Cyprus and the Cyprus Hydrocarbon Company (EYC) with the participation of private companies and organizations in the Multimarine Services, Hill International, Atlas Offshore and Cyprus Marine and Maritime Institute (CMMI).
The presence with a Cypriot pavilion in this important regional event is part of the importance that our country attaches to highlighting its role in regional energy issues and the participation in the event, which hosted more than 450 exhibitors and 260 specialized speakers, was particularly beneficial. for the members of the Cypriot delegation. The exhibition attracted more than 30,000 visitors, from local and international companies, and was intended to inform participants about the future requirements of Mediterranean projects and strategic priorities in the field of oil and gas, as well as the emphasis on the energy transition. It is worth noting that the Minister of Energy, Trade and Industry, Natasa Peleidou, attended the inaugural meeting of the EGYPS and was invited by President Abdel Fattah al-Sisi to cut the ribbon of the opening of the exhibition held in in his presence, and then welcomed the Egyptian President to the Cyprus pavilion.
The Cypriot delegation had the opportunity to highlight the prospects of our country in the energy sector, but also the participants to explore the possibility of possible business collaborations. As stated by Dimitris Fessas, Acting Director General of EYK, "Cyprus' participation in one of the most important events in the region in terms of energy, confirms the leading role of our country in a highly competitive and ever-changing energy environment, and also promotes The ongoing initiatives of the Cypriot government for cooperation at regional level ".
For his part, Sarris Dimitriou, Promotion Officer of Invest Cyprus, stated that the energy sector in Cyprus in recent years has attracted significant investments . "We believe that the developments are such that in the coming years we will see significant investments related to the energy sector and especially to the energy transition, and this is something that was confirmed by the interest shown for our country during our presence in EGYPS" .