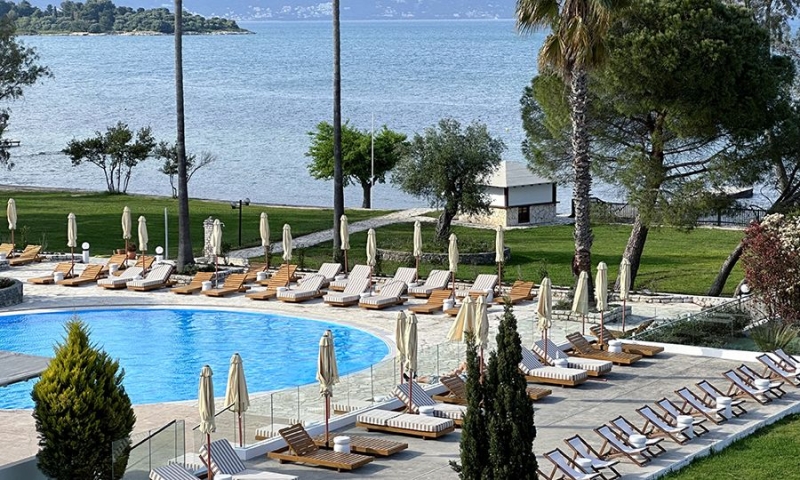 Simply a gem surrounded by the turquoise waters of picturesque Corfu, Kerkyra Blue Hotel N' Spa through an amazing transformation has now officially been reborn as a 5-star hotel. With the complete renovation of all areas and rooms of the hotel, ideal conditions of comfort and luxury have been created for the visitor.
The renewed aesthetic of the hotel has been carefully designed to offer a flawless combination of charm and comfort, highlighting Kerkyra Blue Hotel N' Spa as the ideal destination for couples and families looking for a peaceful escape near the sea, after a full of aromas and colorful sergeants in the narrow cantons of Corfu.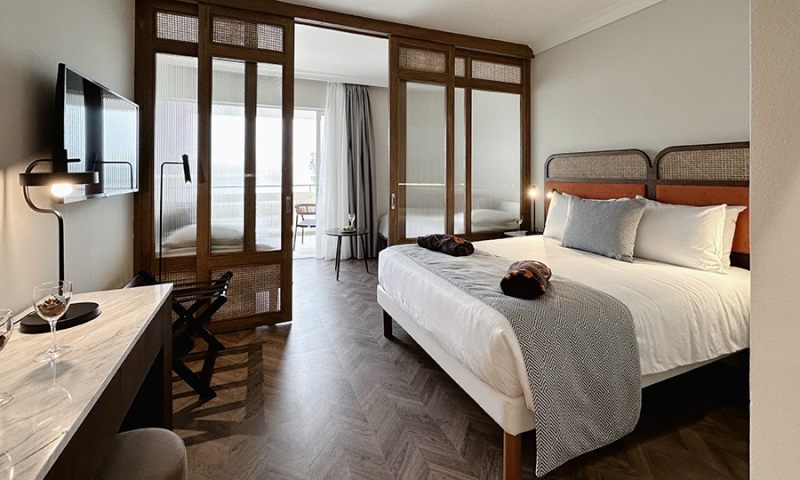 The history of Kerkyra Blue Hotel N' Spa is closely intertwined with Ionian mythology. According to legend, a beautiful nymph named Corfu, daughter of the river god Asopus, fell in love with the sea god Poseidon. Their love was so strong, that Poseidon decided to take her to a beautiful island just for her, which he named Corfu, after his beloved.
The mythological event that translates into love of creation and devotion inspired the creation of Kerkyra Blue Hotel N' Spa. For this very reason, from the moment the visitor enters the hotel, he feels that he is entering a mythical world of magical beauty and unrepeatable peace, where the colors and textures of the sea are reflected around, with a palette of blue, green and earthy tones spread everywhere harmoniously.
With 240 rooms and suites which include Deluxe Studios with independent living areas and outdoor terraces, with Superior Family Rooms, with 4 restaurants and 3 bars and a brand new spa with hammam, sauna and specially designed outdoor areas where relaxing massages are provided, the Kerkyra Blue Hotel N' Spa has been transformed into the ultimate definition of luxury and comfort.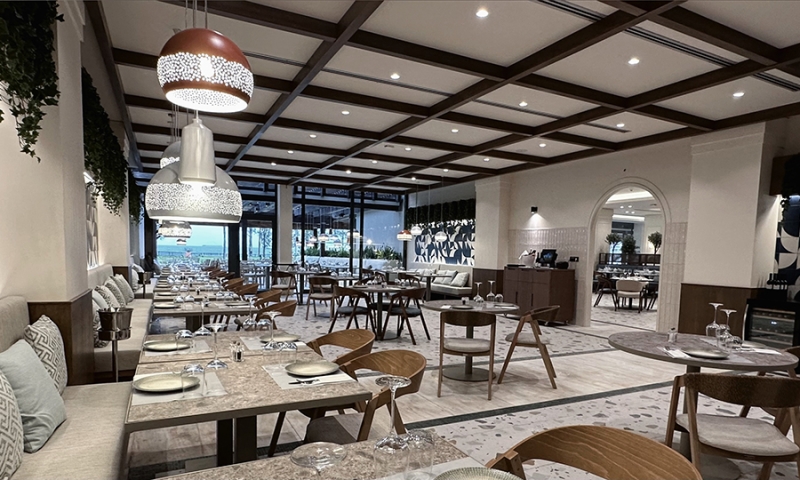 When it comes to food, Kerkyra Blue Hotel N' Spa offers a range of excellent culinary options for all tastes. From fresh seafood and traditional Greek dishes to international cuisine inspired creations there is something for everyone. Specifically at Naiada All Day Dining, guests can travel their palates with a premium all-inclusive trip from around the world, tailored to every taste, while the Japanese restaurant Fiki > Japanese Fusionoffers unique recipes made with authentic ingredients found only in the most remote Japanese villages. At the same time Alati Greek Flavors serves the best homemade recipes and the most loved traditional Greek dishes, using local products and aromatic herbs, while A Mano Snakeria offers a variety of handmade dishes pasta, handmade pizzas freshly baked in the Italian wood oven.
However, for a completely complete experience of luxurious enjoyment, the unique Premium All Inclusive is available which, among other things, includes a rich buffet with (Breakfast, Lunch and Dinner) or a set menu for dinner in the a la carte restaurants, a chef's welcome in the room, upon arrival, free Wi-Fi in all areas sunbeds and umbrellas at the pool and beach, and many other amenities.
In any case, it is not only the food that makes Kerkyra Blue Hotel N' Spa stand out. The hotel's spa is a haven of relaxation, offering a range of treatments and specialized treatments that enhance renewal and rejuvenation. The range of options is huge and includes, among other things, professional massages, face and body treatments or Greek signature treatments.
For families with children, the hotel provides a range of rich activities and modern, safe facilities for children's entertainment such as a playground, and a specially designed family pool, which combined with the beach, located just a stone's throw from the hotel , take off the fun and joy under the bright sun of Corfu.
The completely renovated and reborn 5-star Kerkyra Blue Hotel N' Spa, a member of the elegant collection of Louis Hotels, is for Corfu the definition of imprint of the myth, a magical oasis that travels the senses with its rich history, stunning sea views and impeccable service.
This makes it the ideal choice for families looking for a relaxing, luxurious, comfortable and unforgettable holiday on the island of Corfu, to the sounds of mandolins and guitars in the place where myth comes to life and magic becomes reality.
Visit www.kerkyrablue.com to book and experience its magic.
About Louis Hotels
Louis Hotels, member of the Louis Group, is one of the leading hotel groups in the south-eastern Mediterranean. Louis Hotels has over 80 years of experience in the hotel industry with 24 hotels and resorts for every type of holiday in Cyprus and the Greek islands.
< iframe width='300px' height='500px' src='https://www.adstorebluebird.cy/api/banner/ServeBanner?zoneId=2734' frameborder='0' scrolling='no'>