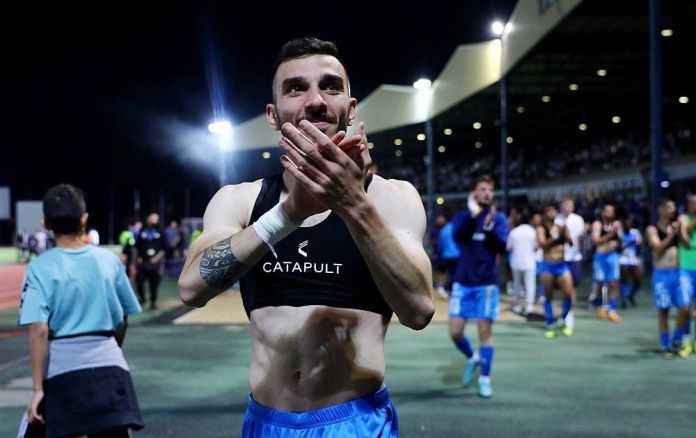 In his great victory over APOEL in the top derby, with which he embraced the championship, Apollon had several protagonists. In addition to the scorers, special mention can be made of Jovanovic for his saves to Souza and Natel at the start of the match, as well as to Hambo, for the decisive phase of 66 & # 8242; and his rebound with his head on the line, which prevented the tie at 2-2.
The largest stone from & # 8217; all, however, to get the three-pointer that equals & # 8230; half a title, put it by Giannis Pittas. Not only for his goal with which he opened the score, but mainly for & # 8217; this.
APOEL had put the Limassolians in & # 8230; ropes at the beginning of the match and pounded them. With every opportunity he missed, the more he leaned his psychology towards him and he had reached the absolute momentum, to the extent that most of them considered the lead of the guests to be a matter of time. In his first phase, however, Apollo opened the scoring, thanks to Pitta's executive skill.
It was extremely difficult to catch the head – under the pressure of Karo – in Dignini's cross. Had to & # 8230; turned his head as much as he needed to to send the ball into the net and did so with complete success and timing, scoring a goal that changed the flow and history of the match, but -as it seems- of the entire league.
If the importance of his goal does not convince many of the above, the fact that he played in the other two goals of his team, probably leaves no room for questioning how much catalytic was the presence of Pitta in the victory-title. Ten minutes after the 1-0, he was the one who gave (with one after a long ball) a great pass to Dabo, from whose effort came the mistake of Michael and the 2-0 of Maurias. And in the third goal, of Yanga at 75 & # 8242 ;, the international ace gave the assist to the scorer, with a well-balanced ball.
You do not need & # 8230; Papas to tell us that in the apparent conquest of the championship by Apollon, Pittas has a huge contribution, especially since with ten goals he is the first scorer of the team. However, with what he did in Tsirio, he certified that the 2021/22 championship, which except & # 8230; will unexpectedly end up in the blue and white trophy case, it will undoubtedly have its stamp.