& nbsp & nbspphilenews & nbsp; & nbsp;
The independent candidate for the presidency of the Republic, Nikos Christodoulidis, met with the President of EDEK Marino Sizopoulos and the Secretariat of EDEK.
Mr. Christodoulidis developed his ideological and political framework and the main policy axes exchanged views on issues of concern to Cypriot society and answered questions from members of the EDEK secretariat.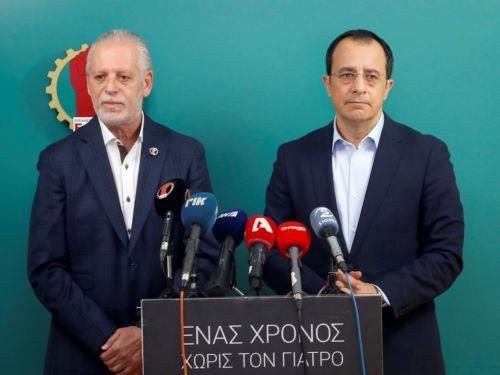 In his statements, Nikos Christodoulidis expressed the hope that the dialogue will continue, emphasizing that any decisions taken through the procedures of the collective bodies of EDEK will be fully respected.
READ ALSO: & nbsp;
Agree that they disagree on presidential Averoff – Sizopoulos & nbsp; DISY for N. Christodoulidis: To give explanations to the Alarms Joint announcement of five candidates for the debates < Answering a question regarding the different approach regarding the Cyprus issue , Mr. Christodoulidis stated that of course it was one of the issues discussed during the meeting , adding that "a possible cooperation does not invalidate either the autonomy of EDEK, or any other party, or the autonomy of my own independent candidacy".
For his part, Mr. Sizopoulos noted that" in the context of a collaboration, there can be no absolute identification ", adding that its exploratory contacts EDEK with candidates for the presidency of the Republic aim precisely to demonstrate what are the convergences and what are the discrepancies in all issues, so that the final decision can be made by the collective bodies a.