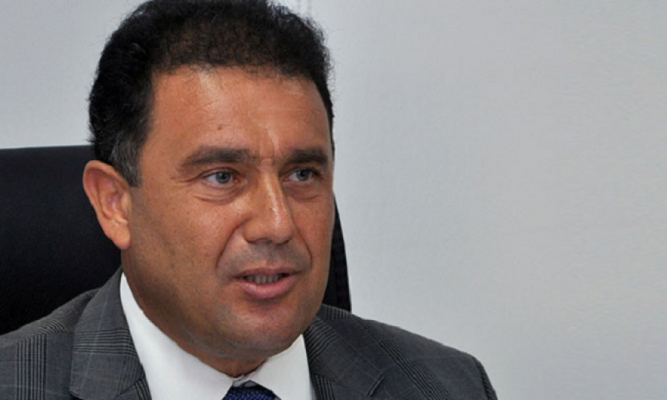 The next day, Prime Minister Ersan Saner travels to Ankara on Friday to conclude talks on a "financial and fiscal co-operation agreement" between Turkey and the pseudo-state for 2021 and to sign the relevant "protocol".
According to the GTP, the Turkish Cypriot press reports that "Advisor to the Prime Minister" Omer Kioseoglu and "Deputy Finance Minister" Cengiz Tsoli are already in Ankara to complete the technical work.
The "protocol" is expected to include Turkey's support for the pseudo-state budget and the implementation of infrastructure projects with Ankara's contribution, which will also cover the pandemic.
Mr Saner said their first priority during the meetings would be to secure vaccines, but would also put on the table what they would do for the economy after the pandemic. He pointed out that efforts have already begun to overcome the difficult period in tourism and higher education and in this context the amount of vaccines that are coming is important.
The development of each sector of the economy was discussed in Ankara with the Turkish Vice President, Fuat Oktay, and the representatives of the Turkish economic platform. They also met with the President of the Ankara Chamber of Commerce and the President of the Turkish Chambers and Stock Exchanges Association.
The delegation of the platform included the president of the Turkish Chamber of Commerce, Turgay Deniz, the "president" of the Turkish "Chamber of Industry", Janan Avuduk, the "president" of the Turkish "Association of Construction Contractors", Jafar Gurdjieff and the "president" of the T / C "hoteliers' association", Dimag Tsiagner.
During the meeting with Fuat Oktay, issues related to the improvement of the infrastructure in the organized industrial zone in the occupied territories and the management systems under the supervision and suggestions of Turkey, as well as the support of conference tourism.
They also discussed the co-operation of Turkish and Turkish construction contractors and the acceleration of work on "e-government", with the aim of reducing the bureaucratic processes facing the "real sector of the economy", which must recover after the end of the pandemic.
Representatives of the platform told the illegal "Bayrak" that they also asked for more vaccines in order to make the vaccinations as fast as possible so that tourism and "universities" could reopen soon.
Meanwhile, "Finance Minister" Dursun Oguz said that the prevailing perception that there will be cuts in "public" salaries is wrong, arguing that there will be no new cuts in salaries.
The payment of salaries, he said, will be done normally after a domestic loan of 150 million TL as well as with a medium-term loan of 200 million.
Asked to comment on a statement by Erhan Arikli, the "Minister of Economy and Energy" that "March will be a nightmare for the economy", Mr. Oguz said that such statements should be avoided.