The List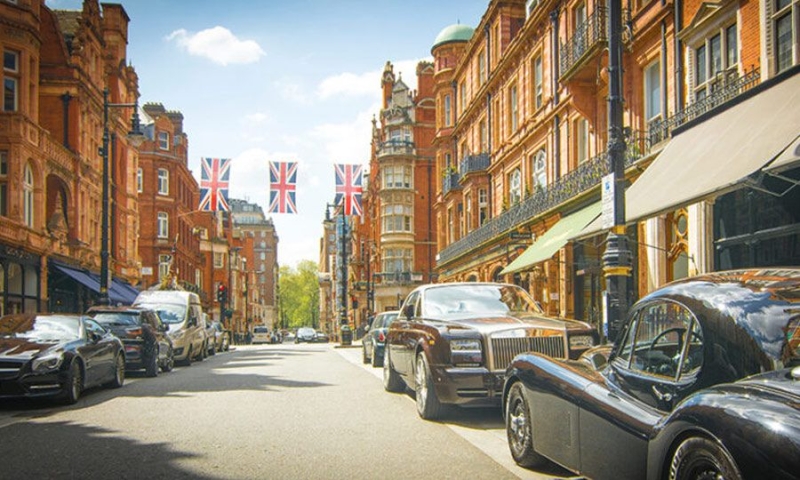 < p>"The party's over" for London's rich, says the Sunday Times, as its 2023 Rich List shows the number of Britain's billionaires fell this year for the first time since the 2007-2008 financial crisis.
Nevertheless, this year's Rich List shows that eight tycoons of Greek origin and their families, who have their permanent residence in Britain, hold a fortune greater than that of King Charles.
The richest of the Greeks in London, but also one of the winners of the year is Alkis David and the Leventis family of Coca Cola. According to the Times, their wealth rose by £593m to £2.786bn, putting them in 63rd place among the country's richest, up from 80th last year.
Next is the Lazari family, who operate in property through Lazari Investments, and saw their wealth rise by £375m to £2.5bn (72nd this year, up from 81st last year). Christos Lazaris immigrated from Cyprus to London at the age of 16, with 20 pounds in his pocket. "I always felt the grass was greener somewhere else and I was too young to think about it," he once said. He started by washing dishes in restaurants, while at the same time saving money to study design. The women's clothing brand he created was very successful, but in 1978 Lazaris decided to turn to real estate. After his death, the family business, which has grown into a real estate empire in London, passed into the hands of his three children, Len (Leonidas), Nikolas and Andri.
John Christodoulou, in 74th place, has taken his £2.45bn fortune from real estate (which has actually increased by £100m in the last year). Christodoulou was nine years old when his family immigrated to Britain, following the Turkish invasion of Cyprus. He left school at the age of 16 and took his first steps in jewelry, but today he is one of the largest real estate owners in London's Canary Wharf, owning, among other things, two five-star hotels.
Telis Mistakidis saw his fortune drop by £91m to £2.422bn, dropping him to 75th on the list, down from 71st last year. The Thessaloniki-based former "king of copper" may have left Glencore, but he retains a stake in the commodities giant.
Chris Rokos, founder of hedge fund firm Rokos Capital, increased his fortune by £250m to £2bn and improved his position in the ranking (86th from 104th last year). The Greek-born but British-born manager was, in 2002, among the founding executives of Brevan Howard Asset Management, which took its name from the initials of their surnames. After making billions of dollars for Brevan Howard clients in his ten years at the hedge fund, in 2015 he launched his own firm.
The Sunday Times cites Stelios Hadziioannou as an example of a billionaire who fell through the cracks. . However, the Greek Cypriot founder of EasyJet only lost £68m in the year, with his £1.741bn fortune keeping him firmly in 101st place on the list.
Duty Free tycoon Robert Miller and his daughter, Marie-Chantal, who is married to Pavlos Glyksburg, suffered the biggest losses. The family's fortune fell by £617m to £1.583bn, putting them in 116th place on the list, down from 79th last year.
The Logothetis family's fortune remained stable at 660 million pounds. With interests in shipping, real estate and aviation, among other things, the family came 251st, down from 246th on last year's list.
All of them, however, are richer than England's King Charles, which according to the Times has a fortune of 600 million pounds sterling and is in 263rd place on the list.
A little further down, in 286th place on the list, the Zohonis family has again entered the Rich List, as it has a fortune of 500 million sterling, from listed company PZ Cussons, which makes Imperial Leather and Carex soaps among others.
The end of a golden age
According to the Sunday Times, this year there are 171 billionaires in Britain, six fewer than last year. Their combined wealth rose by £30,734 to £683.856bn, but at a time when inflation in the country is running at 4.5%, it's clear that in real terms, London's cronies have become somewhat poorer.
This is a significant change after more than a decade, which was the golden age of wealth in Britain. During this time, the club of the country's billionaires was expanding and their fortunes were growing higher and higher. "The question was not if the boom would end, but when — and what it would mean for the rest of us," notes the Times. "This time has come. The party is over and it's time to get drunk."
"The years of cheap, cheap money inflated the value of our companies and made it easier to expand," one retail billionaire, who spoke on condition of anonymity but has seen his Rich List fortune dwindle, told the paper. "A lot of us got a lot out of it. The recession never came and I don't believe it will. It's time to get back to work, put our heads down and frankly, be a little more sensible," he added.
This is a new environment, shaped by the end of ultra-low interest rates, the bursting of a second tech bubble and concerns about the banking industry.
And while news of the decline in billionaire wealth may pleases some at a time of growing inequality, the Sunday Times reminds us that the 'pain' of the cross has implications for everyone. "Members of the Rich List do not operate in a vacuum: Cautious billionaires and multi-millionaires are less likely to start new businesses that create jobs, help boost growth and boost public finances," the paper notes.
And when the shares of the billionaires' companies fall, insurance funds and other investors also suffer losses.
However, Britain's richest man this year is Gopi Hinduja and his family. Following the death of his elder brother Sri a few days ago, Indian-born Gopi heads the family business empire, which has interests in industry, finance, energy and IT.