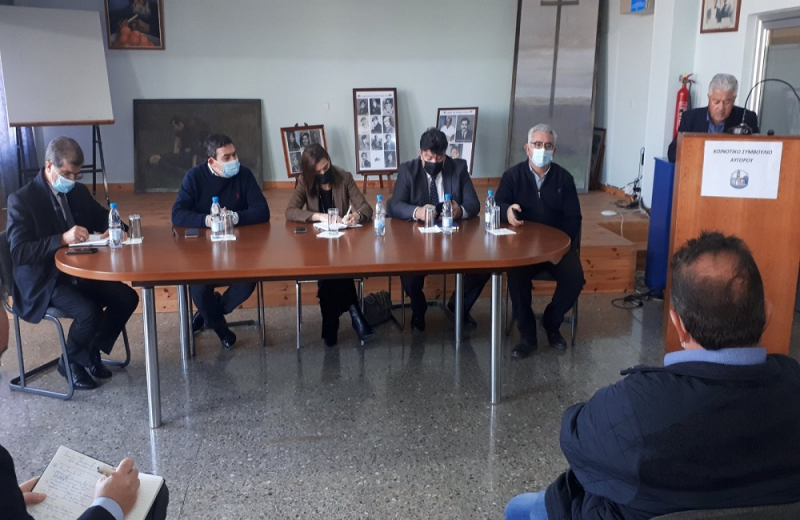 The Minister of Energy, Trade and Industry, Mrs. Natasa Pileidou, accompanied by the Director General of the Ministry, Mr. Marios Panagidis, and the Director, Mr. Technos, visited the handicraft areas of the British bases (Dachaki Achnas, Ormidia and Xylotympou) today. the colleague of the Minister Mrs. Miranda Lysandrou.
Present at these visits were Mr. K. Hatzigiannis – Chairman of the Parliamentary Committee on Trade and Mr. Th. Tsiolas – G.D. General Directorate of Development of the Ministry of Finance.
The purpose of the visits was to examine the problems faced by companies in these areas and to exchange views to promote the required solutions.
The CCCI and the Chamber of Famagusta were represented at the meetings and recorded the issues mentioned.
In this context, a meeting was held at the community council of Avgoros, with the participation of community leaders of affected communities in the area.
The topics discussed are:
The expansion of craft areas.
The creation of new craft areas.
The high energy cost.
Competition from products from the occupied, to which you do not pay VAT
Promoting the circular economy, green growth and subsidizing photovoltaic installations.
The high cost of rent in craft areas.
Improving the bureaucratic procedures of the British bases.
The restrictive measures set by the British bases for development.
Increase in the amount of sponsorships in these areas.
For her part, Ms. The Minister showed understanding of the problems and stated that he would take all the necessary actions in order to solve the various problems that exist in the industrial area. In addition, he stated that in the coming months the new sponsorship plan for the installation of photovoltaics in businesses will be announced.