Submit applications until May 10, 2023
Wargaming, an online video game developer and publisher, announces the launch of five new offline internships in cutting-edge technology fields, including Data Science, Data Analytics, Data Engineering, Graphic Design and Web/UX Design.
The programs will start around the end of June and will take place at Wargaming's offices in Nicosia, with the aim of providing participants with the necessary skills and knowledge needed to succeed in fast-growing areas of technology. Led by experienced professionals, the courses will offer hands-on training, exercises based on real events and expert guidance. They are an ideal opportunity for both newcomers and experienced professionals looking to expand their skills and stay ahead of technology industry developments.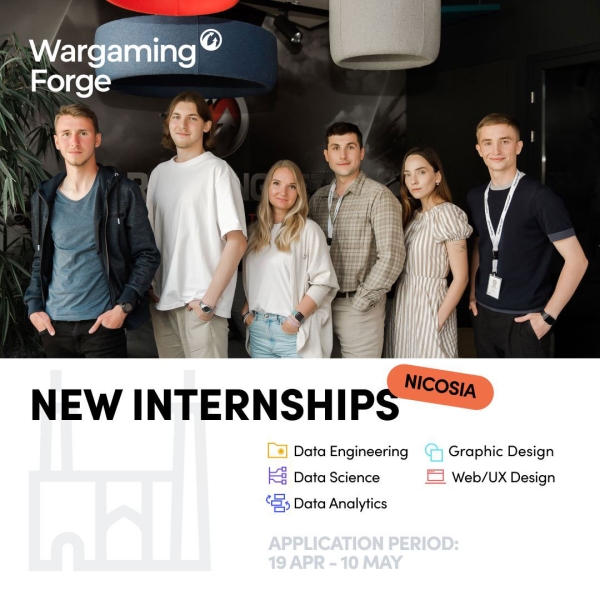 Each program will last six months, apart from the Web/UX Design exercise which will last three. Participants enrolled in the internship programs will receive comprehensive training in essential skills that will help them succeed in the online video game industry.
If you are ready to turn your passion into career, you can apply for the program you are interested in here: https://wgforge.wargaming.com/.
Last day for applications: Wednesday, May 10, 2023.
About with Wargaming
Wargaming is an award-winning online video game development and publishing company based in Nicosia. Since its founding in 1998, it has grown into an industry leader with 16 offices worldwide, including studios in Chicago, Prague, Shanghai, Tokyo, Vilnius and Belgrade. Millions of players participate in its games, among which the free-to-play World of Tanks, World of Warships and World of Tanks Blitz stand out. 
About Wargaming Forge
Wargaming Forge is a career program for beginners seeking to train in game development and gain employment in the industry. Established in 2017, the courses and practical training programs are supervised by industry professionals. With the necessary guidance and instruction, professionals prepare young talent to succeed in the Gaming industry, focusing on cultivating applicable skills and scripting the development of real events. It is worth noting that Wargaming offers full-time employment opportunities to students and interns who stand out through the programs. In fact, so far, 192 graduates of the programs have already joined the company's team.
Official website: wgforge.wargaming.com
< iframe width='300px' height='500px' src='https://www.adstorebluebird.cy/api/banner/ServeBanner?zoneId=2734' frameborder='0' scrolling='no'>