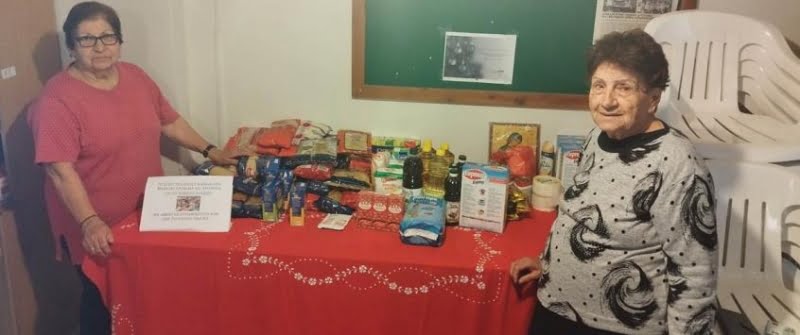 The phone rang again a few days before Christmas. On the opposite line is the voice of Mrs. Katia Louka, an ageless 87-year-old, who, together with 75-year-old Stavroula Filippou, keep the EKYSY home in Kaimakli standing and help our needy fellow human beings. The first thought that came to mind was that this year many of our fellow human beings will be going through difficult times and need the basics for their Christmas table.
Like every year for the last three years, so and this year, we visited the home of EKYSY to highlight their work and the acts of volunteerism they have been performing for decades. They are the Santa Clauses of dozens of families in their area, since two to three days before the holy days of Christmas, they offer packages of love to our needy fellow human beings.
Unfortunately, year after year, in the last three years, these needs have skyrocketed, and from the approximately fifty packages of love offered in 2019, last year they reached seventy, and this year there will be even more. To succeed, they need the support of all of us. Knowing that everyone has contributed to a family having a plate of food during these holy days, their hearts become calmer and more peaceful.
In fact, when you hear the stories that these two women live and see every day, you feel the need to help their work in any way possible. "When people are sad they come here and we offer what we can. Either he needs a bed or he wants sheets, blankets and of course food. We have people who come in very regularly and ask for help. For example we have a person who asks for a bottle of oil or when lemons were expensive he came and asked for a lemon because he didn't have any to put in his food. The examples are many. We have a girl who passes by here and begs us not to forget her at Christmas, because she tells us she is in great need. We shudder when we hear this, because it seems that the world is in great need".
There are many examples, such as a family with three orphans and a mother with cancer who need support, but also another family that has two disabled children. "They get an allowance, but whatever they get, it's not enough for the needs that exist. We have an orphan child whom we have been supporting since he was nine years old and today he is fifteen. We have another girl who is a single parent who works, she gets 1000 euros a month, she gives 400 for rent and 300 for a loan, and she has 300 euros left to spend".
"A woman comes, brings food and also puts money under it"
The contribution of people every Christmas and Easter is very big, mainly from the ordinary citizens, the day laborers. Besides, thanks to these people, the EKYSY house manages to deliver love packages to our fellow human beings in need. Last year alone, food was offered to seventy families for Christmas, while both Ms. Katya, as well as Ms. Stavroula, they think that this year they will need much more.
"Most of the people who come to donate are ordinary people, but we also call people we know and ask for their support. We have a lady who sees it in the newspaper every year and comes first and brings us food and puts money in the bag. She is a lady of eighty years. The Papagianni supermarket in Kaimakli also helps us a lot, which supports our efforts over time," said Mrs. Katia.
For her part, Mrs. Stavroula added that "last year we made seventy packages of love, this year apparently there will be more. We have information about some who need help and are too embarrassed to ask for it, and we support them. In some cases we go and get them and they write on the packages anonymously or we get them at night and then we call them to open the door to get it. We have been doing this at night for a long time. We used to go undercover and take it so we wouldn't make people feel bad and embarrassed because they want help."
And they themselves are not sitting idly by, waiting for the help they need for the project to come. them, but they phone acquaintances and friends to support them.
As Ms. Katia explained, "people we know send money, declaring themselves anonymous, because they don't want to be seen. We keep this money in a secret fund and use it for emergencies, such as in case we don't have enough food that people bring. Also with this hidden fund last year we bought seven stoves and we hired an electrician who went to houses and installed them, without the owners knowing that they were a gift from the EKYSY house. The electrician would go and they would tell him I didn't order a stove and we told the electrician to tell them it was a gift".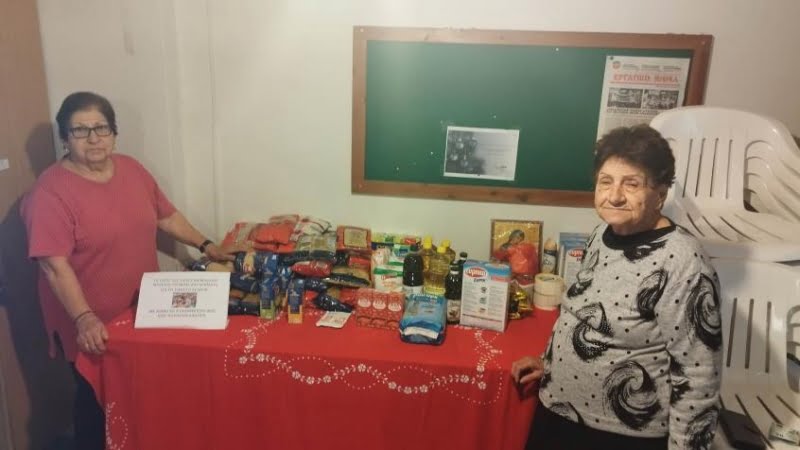 "To open their cupboards"
Ms. Katia also wanted to send some messages to the world, so that they love volunteering and that everyone should contribute to the vulnerable groups of our fellow citizens.
"Since our young years we have been dedicated to volunteering. I also tell my children that the best thing in the world is charity. When my husband passed away, I was 29 years old and left with two children. My girlfriends supported me to find my feet. My own story and the support I received led me to help other people too, to offer. We also receive a lot of help from other girls in the area who come here to the EKYSY home and help us, either with the production of sweets, or in other ways".
He also emphasized that, "people should be close to their fellow man. To open his cupboards, take what he has inside and give it to those in need. No house should be left without meat and other things at Christmas. We will collect things until the 20th of the month and on the 22nd we will give the love packages".
Ms. Stavroula in turn said that, "people should be volunteers and support the his fellow man. It is the greatest blessing there is to give without wanting anything in return. We are here all day and when we go home we feel a peace and a rest for our contribution, as if we didn't work".