The Cyprus Football Federation presents the report on the use of the VAR in the 17th and 18th games of the Cyta Championship.
Recently, the report from the 1st to the 14th match was presented, while for the 15th and 16th matches, the data will be published when the matches are completed (postponed matches are pending).
According to the data analyzed by the Chairman of the Arbitration Committee of the KOP Milorat Majic and the competent department of the Federation, in the 12 matches that took place in the 17th and 18th round, a total of 67 phases were checked.
The 13 phases concerned a possible red card, 26 were phases for a possible penalty and 28 were cases for a goal.
Of the 67 phases in which the test was performed, the VAR had to intervene in both. Both were offside cases and took an average of 120 seconds to handle.
In the matches in question, in some cases the referees did not have to go to On Field Review.
The refereeing committee of the KOP has found in the twelve matches a wrong decision by a referee in which the VAR did not intervene incorrectly.
Of the 12 matches, in 9 the referees in the VAR were Cypriots and in 3 foreigners.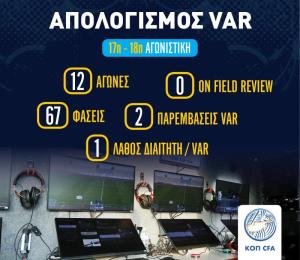 Like this:
Like Loading …