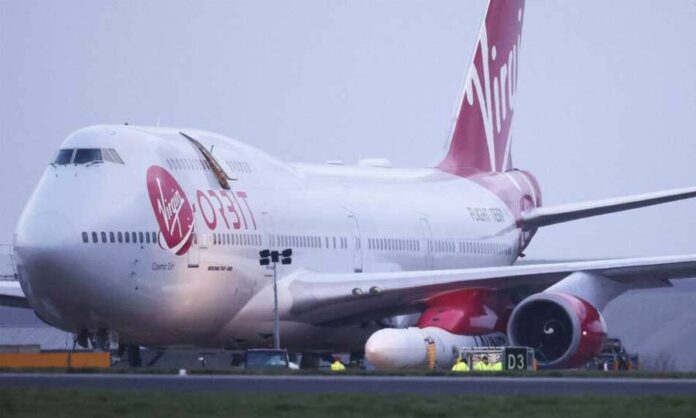 Billionaire's space technology company failed to secure private capital to keep operating
The Virgin Orbit Holdings group, founded by billionaire Richard Branson, filed for bankruptcy yesterday. The reason is simple and obvious: although it made efforts to secure private capital to be able to continue operating, the space technology company was unable to do so, and it was preceded by a failed rocket launch in January. The bankruptcy comes just two years after Virgin Orbit first began operations at a valuation of nearly $3 billion.
"We believe the bankruptcy process is the best method for us to move forward to identify and finalize the sale of the company's assets with the greatest possible benefits," said Virgin Orbit CEO Dan Hart. The company, which was spun off from space tourism group Virgin Galactic in 2017, launches satellite missions into orbit using rockets launched from a modified Boeing 747 plane. Virgin Orbit, based in Long Beach, Calif., filed to sell the of its assets in a Delaware court a few days after announcing the layoff of about 85% of its 750 employees in total.
Richard Branson's company was also hit by the folding of innovative investments in start-up companies
Virgin Orbit recorded assets of about $243 million and total debt of $153.5 million as of September 30 last year. It went public in December 2021 through the special purpose vehicle method and raised $255 million less than expected. On Monday, that is at the beginning of this week, it was valued at 65 million dollars at the close of trading of its stock.
In yesterday's trading, its share price plummeted by 24% after the filing for creditor protection became known, and was trading at just 15 cents on the dollar. The company's sixth mission in January using the main Launcher One rocket was Britain's first rocket launch. However, it failed to reach orbit, sending its payload of commercial and defense research satellites into the ocean. The accident forced the company to halt operations and lay off almost all of its employees in March to save cash.
It is worth mentioning that Virgin Orbit's business model is related to the launch of small rockets, the which is done with a notification, which is not far in time from the process. The missile can be launched from anywhere, even for tactical military purposes, filling a need that became particularly visible with the outbreak of the war in Ukraine. Richard Branson's company was also hit by the folding of innovation investments in start-ups, which fell 50% annually in 2022 to almost $21.9 billion, according to VC firm Space Capital, as the cost of capital has increased.
source: Reuters/ECONOMY