15 May 2022 INSIDER • GOAL • IN-CYPRUS • PROPERTY • CYPRUS-IS • CAREER LIKE • GOING OUT • XRYSES SYNTAGES • ACTIVE • PHILGROUP NEWS & nbsp; SOCIETY & nbsp; INSIDER & nbsp; OPINIONS & nbsp; GOING OUT & nbsp; CULTURE & nbsp; SPORTS & nbsp; AUTO & nbsp; GOOD LIFE & nbsp; USEFUL & nbsp; PRINTED EDITION & nbsp;
ΑΡΧΙΚΗΕΙΔΗΣΕΙΣΠΟΛΙΤΙΚΗΤΟΠΙΚΑΠΑΡΑΣΚΗΝΙΟMEDIAΕΛΛΑΔΑΚΟΣΜΟΣΕΠΙΣΤΗΜΗΠΕΡΙΒΑΛΛΟΝΤΕΧΝΟΛΟΓΙΑΣΥΝΕΝΤΕΥΞΕΙΣΧΡΥΣΕΣ ΕΤΑΙΡΕΙΕΣΚΟΙΝΩΝΙΑΕΙΔΗΣΕΙΣΚΥΠΡΟΣ ΤΟΥ ΧΘΕΣΑΝΑΓΝΩΣΤΗ ΕΧΕΙΣ ΛΟΓΟΕΠΙΣΤΟΛΕΣΣΥΝΕΝΤΕΥΞΕΙΣΔΗΜΟΦΙΛΗ ΣΤΟ INTERNETVIDEOSΑΦΙΕΡΩΜΑΤΑADVERTORIALINSIDERΕΠΙΧΕΙΡΗΣΕΙΣΚΥΠΡΟΣBRAND VOICECAPITALFORBESBLOOMBERG OPINIONΠΡΩΤΑΓΩΝΙΣΤΕΣΚΑΥΤΗ ΓΡΑΜΜΗΧΡΥΣΕΣ ΕΤΑΙΡΕΙΕΣΚΑΡΙΕΡΑΑΠΟΨΕΙΣΑΡΘΡΑ ΣΤΟΝ "Φ"ΠΑΡΕΜΒΑΣΕΙΣ ΣΤΟΝ "Φ"ΤΟ ΜΗΝΥΜΑ ΣΟΥ ΣΚΙΤΣΑΟ ΚΟΣΜΟΣ ΤΟΥ TWITTERGOING OUTTHINGS TO DOCINEMAΜΟΥΣΙΚΗΕΣΤΙΑΤΟΡΙΑBAR/CAFETV ΟΔΗΓΟΣΤΗΛΕΟΡΑΣΗΠΟΛΙΤΙΣΜΟΣΚΥΠΡΟΣΚΟΣΜΟΣΚΡΙΤΙΚΕΣΕΚΔΗΛΩΣΕΙΣΠΡΟΣΩΠΑΑΘΛΗΤΙΚΑΠΟΔΟΣΦΑΙΡΟΜΠΑΣΚΕΤΠΑΡΑΣΚΗΝΙΑΕΛΛΑΔΑΔΙΕΘΝΗΑΛΛΑ ΣΠΟΡΑΠΟΨΕΙΣΣΚΙΤΣΟVIDEOSAUTOΝΕΑΠΑΡΟΥΣΙΑΣΗΑΠΟΣΤΟΛΕΣΑΓΩΝΕΣΚΑΛΗ ΖΩΗΥΓΕΙΑΔΙΑΤΡΟΦΗΕΥ ΖΗΝΑΣΤΡΑΧΡΥΣΕΣ ΣΥΝΤΑΓΕΣΣΥΝΤΑΓΕΣ ΣΕΦΒΗΜΑ ΒΗΜΑΧΡΗΣΙΜΑΦΑΡΜΑΚΕΙΑΓΙΑΤΡΟΙΑΕΡΟΔΡΟΜΙΑΛΙΜΑΝΙΑΤΗΛΕΦΩΝΑΟΠΑΠΚΑΙΡΟΣΣΥΝΑΛΛΑΓΜΑΛΑΧΕΙΑAPPSΠΡΟΣΦΟΡΕΣΕΝΤΥΠΗ ΕΚΔΟΣΗ ΠΟΛΙΤΙΚΗΤΟΠΙΚΑΠΑΡΑΣΚΗΝΙΟMEDIAΕΛΛΑΔΑΚΟΣΜΟΣΕΠΙΣΤΗΜΗΠΕΡΙΒΑΛΛΟΝΤΕΧΝΟΛΟΓΙΑΣΥΝΕΝΤΕΥΞΕΙΣΧΡΥΣΕΣ ΕΤΑΙΡΕΙΕΣ ΕΙΔΗΣΕΙΣΚΥΠΡΟΣ ΤΟΥ ΧΘΕΣΑΝΑΓΝΩΣΤΗ ΕΧΕΙΣ ΛΟΓΟΕΠΙΣΤΟΛΕΣΣΥΝΕΝΤΕΥΞΕΙΣΔΗΜΟΦΙΛΗ ΣΤΟ INTERN ETVIDEOSΑΦΙΕΡΩΜΑΤΑADVERTORIAL ΕΠΙΧΕΙΡΗΣΕΙΣΚΥΠΡΟΣBRAND VOICECAPITALFORBESBLOOMBERG OPINIONΠΡΩΤΑΓΩΝΙΣΤΕΣΚΑΥΤΗ ΓΡΑΜΜΗΧΡΥΣΕΣ ΕΤΑΙΡΕΙΕΣΚΑΡΙΕΡΑ ΑΡΘΡΑ ΣΤΟΝ "Φ"ΠΑΡΕΜΒΑΣΕΙΣ ΣΤΟΝ "Φ"ΤΟ ΜΗΝΥΜΑ ΣΟΥ ΣΚΙΤΣΑΟ ΚΟΣΜΟΣ ΤΟΥ TWITTER THINGS TO DOCINEMAΜΟΥΣΙΚΗΕΣΤΙΑΤΟΡΙΑBAR/CAFETV ΟΔΗΓΟΣΤΗΛΕΟΡΑΣΗ ΚΥΠΡΟΣΚΟΣΜΟΣΚΡΙΤΙΚΕΣΕΚΔΗΛΩΣΕΙΣΠΡΟΣΩΠΑ ΠΟΔΟΣΦΑΙΡΟΜΠΑΣΚΕΤΠΑΡΑΣΚΗΝΙΑΕΛΛΑΔΑΔΙΕΘΝΗΑΛΛΑ ΣΠΟΡΑΠΟΨΕΙΣΣΚΙΤΣΟVIDEOS ΝΕΑΠΑΡΟΥΣΙΑΣΗΑΠΟΣΤΟΛΕΣΑΓΩΝΕΣ ΥΓΕΙΑΔΙΑΤΡΟΦΗΕΥ ΖΗΝΑΣΤΡΑΧΡΥΣΕΣ ΣΥΝΤΑΓΕΣΣΥΝΤΑΓΕΣ ΣΕΦΒΗΜΑ ΒΗΜΑ ΦΑΡΜΑΚΕΙΑΓΙΑΤΡΟΙΑΕΡΟΔΡΟΜΙΑΛΙΜΑΝΙΑΤΗΛΕΦΩΝΑΟΠΑΠΚΑΙΡΟΣΣΥΝΑΛΛΑΓΜΑΛΑΧΕΙΑAPPSΠΡΟΣΦΟΡΕΣ ΕΠΙΧΕΙΡΗΣΕΙΣ ΚΥΠΡΟΣ BRAND VOICE CAPITAL FORBES BLOOMBERG OPINION ΠΡΩΤΑΓΩΝΙΣΤΕΣ ΚΑΥΤΗ ΓΡΑΜΜΗ GOLDEN CAREER COMPANIES
EXCLUSIVE COOPERATION
TOGETHER
Next Previous Columbia Resort Unique experience overlooking the Mediterranean HOME • INSIDER • BRAND VOICE • Columbia Beach Resort: Unique experience overlooking the Mediterranean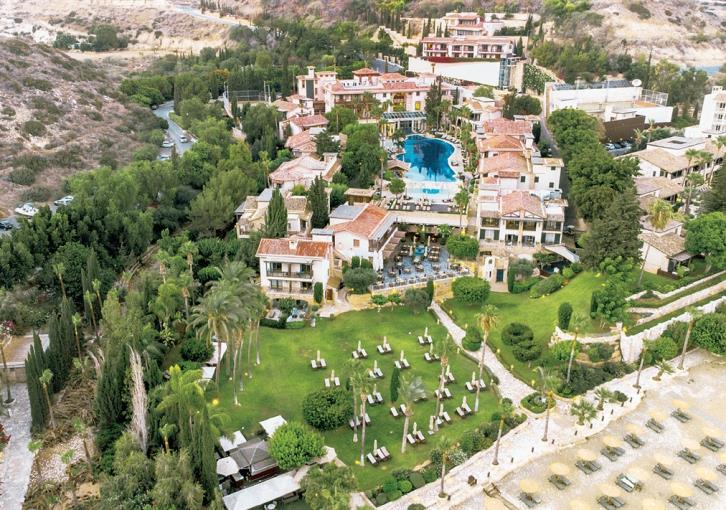 Enjoying for everyone in a quiet haven of unparalleled luxury
Anchored on the enchanting beach of Pissouri and left in the embrace of the white rocks of Cape Aspro, Columbia Beach Resort is unreservedly a quiet haven of unparalleled luxury .
Inspired by traditional Cypriot architecture harmoniously combined with modern touches, it makes a unique all-suite five-star resort./p>
Columbia Beach Resort's 169 suites – spanning Junior, Executive, Family Suites, 1 and 2 Bedrooms, and exclusive Eagle's Nest Suites with private private pool. Unique as you are, each of the Resort Resort's exclusive suites offers not only great comfort and elegant design but also lovely terraces with relaxing views of the gardens, the pool or the sea.
Here, there is luxury for everyone. Ideal for couples, the Junior Suites are modern and spacious with luxurious marble bathrooms, a living room and a private balcony that can accommodate up to three people. The spacious Executive Suite can accommodate up to four people, while the One- or Two-Bedroom Family Suites offer extra comfort. is breathtaking with some of them having their own private pool, promising absolute luxury!
Guests can explore the hotel's lush greenery and enjoy refreshing drinks and delicious snacks at the two large swimming pools.
Every experience at Columbia Beach Resort is guaranteed to be unique, with enjoyable dining options, in elegant outdoor areas, beautiful and spacious terraces overlooking the Mediterranean Sea.
Good food is a key element of any stay at Columbia Beach Resort.
Its talented chefs use the gastronomic wealth of Cyprus and choose the best ingredients from around the world to create unique dishes that will take you on a journey.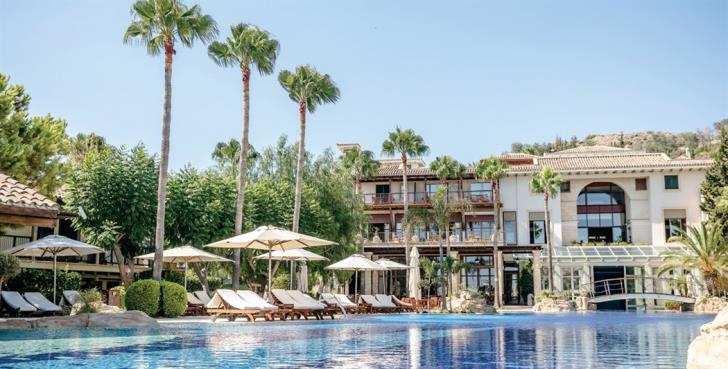 Cape Aspro Restaurant offers a more relaxed choice in a stunning location overlooking Pissouri Bay. Choosing the best seafood on the island, Executive Chef Polis Papageorgiou created small dishes designed for guests to share. Here you can enjoy fresh seafood and sushi platters along with refreshing cocktails.
During the summer months Cape Aspro also offers Street Eats options – collections of small dishes cooked on a barbecue under the starry sky.
>
Bacchus Restaurant invites all guests to enjoy a glamorous and luxurious fusion dinner, with dishes inspired by Mediterranean and Asian cuisine. Bacchus is also the place where guests are invited to enjoy their daily rich breakfast, full of sweet and savory options.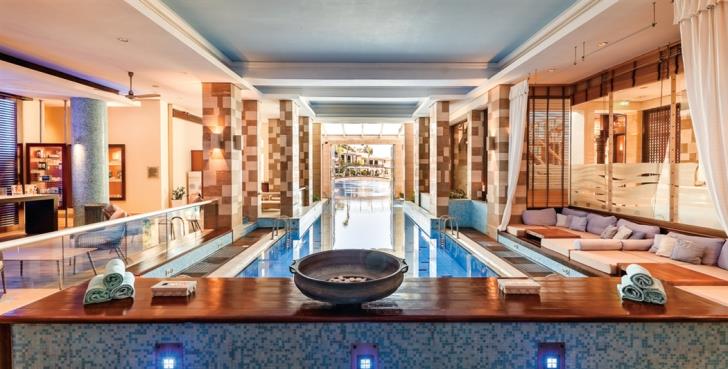 Gardens and the turquoise sea, Apollo Tavern offers a traditional Cypriot dining experience in a beautiful rustic setting.
Open for both lunch and dinner, the creative chef serves dishes inspired by Eastern Mediterranean cuisine, including favorite dishes such as moussaka, souvlaki and sieftalia, along with plenty of fish and seafood. For those who want to try everything, there is a delicious appetizer menu that offers a wide variety of small dishes that you can share with each other.
The weekends are made even more delicious, with the Apollo Tavern Brunch Club menu being served from 11am to 3pm. On the menu you can find both savory and sweet options, as well as vegetarian and vegan dishes. For those who prefer to spend their day by the pool or by the sea, Cape Aspro Pool Bar, Poseidon Pool Bar and Beach Bar offer excellent choices in salads and snacks as well as a wide range of refreshing drinks. In the main building you will find the Eros Cocktail Bar, with its large and comfortable terrace offering romantic afternoons overlooking the pool and the sea. On the menu you will find many options for drinks and cocktails as well as a snack menu specially designed for light meals.
Speaking of absolute tranquility, the luxurious Hébe Spa, named after the Greek goddess of youth Ibi, promises you an unforgettable relaxing experience in its award-winning facilities, with special massage areas, an indoor pool, jacuzzi and sauna. For the more athletic types, the Spa features two fully equipped gyms, two tennis courts, a squash court and a fitness studio. No matter how you decide to spend your day, Hebe Spa guarantees that you will feel completely refreshed.
Their specially trained therapists offer unique treatments tailored to your needs, always using high quality products. Whether you are a mom-to-be looking for a relaxing day or planning the perfect Hen's party, you can take advantage of the special packages prepared by Hebe Spa for every occasion.
With the family-friendly facilities and nature on its doorstep, it is no coincidence that Columbia Beach Resort is so popular with families. Your kids can make new friends and gain new skills at The Den Kids Club and Cub Life Creche, or you can spend valuable time with them on water sports, cycling or nature tours.
It is worth mentioning that Columbia Beach Resort as a member of "Small Luxury Hotels of the World" has been included along with 26 other world leading hotels in the "Considerate Collection" of SLH, a community of sustainable luxury hotels that prove that luxury can be compatible with sustainability and environmental protection.
Finally, a unique chapel awaits wedding and christening ceremonies and five-star conference facilities are available for your next corporate meeting.
CONTACT DETAILS
www.columbiaresort.com
bookings@columbiaresort.com
25 833 000
Columbia Beach Resort, Pissouri Bay, Cyprus