POWER BY:
00:25 Thursday
28 April 2022 INSIDER • GOAL • IN-CYPRUS • PROPERTY • CYPRUS-IS • CAREER LIKE • GOING OUT • XRYSES SYNTAGES • ACTIVE • PHILGROUP NEWS & nbsp; SOCIETY & nbsp; INSIDER & nbsp; OPINIONS & nbsp; GOING OUT & nbsp; CULTURE & nbsp; SPORTS & nbsp; AUTO & nbsp; GOOD LIFE & nbsp; USEFUL & nbsp; PRINTED EDITION & nbsp;
< i class = "line5">
ARCHIKIEIDISEISPOLITIKITOPIKAPARASKINIOMEDIAELLADAKOSMOSEPISTIMIPERIVALLONTECHNOLOGIASYNENTEFXEISCHRYSES ETAIREIESKOINONIAEIDISEISKYPROS OF CHTHESANAGNOSTI HAVE LOGOEPISTOLESSYNENTEFXEISDIMOFILI IN INTERNETVIDEOSAFIEROMATAADVERTORIALINSIDEREPICHEIRISEISKYPROSBRAND VOICECAPITALFORBESBLOOMBERG OPINIONPROTAGONISTESKAFTI GRAMMICHRYSES ETAIREIESKARIERAAPOPSEISARTHRA IN "F" INTERVENTION IN "F" MESSAGE YOUR SKITSAO WORLD TWITTERGOING OUTTHINGS TO DOCINEMAMOUSIKIESTIATORIABAR/CAFETV ODIGOSTILEORASIPOLITISMOSKYPROSKOSMOSKRITIKESEKDILOSEISPROSOPAATHLITIKAPODOSFAIROMPASKETPARASKINIAELLADADIETHNIALLA SPORAPOPSEISSKITSOVIDEOSAUTONEAPAROUSIASIAPOSTOLESAGONESKALI ZOIFGEIADIATROFIEF ZINASTRACHRYSES SYNTAGESSYNTAGES SEFVIMA VIMACHRISIMAFARMAKEIAGIATROIAERODROMIALIMANIATILEFONAOPAPKAIROSSYNALLAGMALACHEIAAPPSPROSFORESENTYPI EDITION POLITIKITOPIKAPARASKINIOMEDIAELLADAKOSMOSEPISTIMIPERIVALLONTECHNOLOGIASYNENTEFXEISCHRYSES COMPANIES EIDISEISKYPROS OF CHTHESANAGNOSTI HAVE LOGOEPISTOLESSYNENTEFXEISDIMOFILI THE INTERN ETVIDEOSAFIEROMATAADVERTORIAL EPICHEIRISEISKYPROSBRAND VOICECAPITALFORBESBLOOMBERG OPINIONPROTAGONISTESKAFTI GRAMMICHRYSES ETAIREIESKARIERA ARTICLES IN "F" INTERVENTION IN "F" MESSAGE YOUR SKITSAO WORLD OF TWITTER THINGS TO DOCINEMAMOUSIKIESTIATORIABAR/CAFETV ODIGOSTILEORASI KYPROSKOSMOSKRITIKESEKDILOSEISPROSOPA PODOSFAIROMPASKETPARASKINIAELLADADIETHNIALLA SPORAPOPSEISSKITSOVIDEOS NEAPAROUSIASIAPOSTOLESAGONES YGEIADIATROFIEF ZINASTRACHRYSES SYNTAGESSYNTAGES SEFVIMA STEP FARMAKEIAGIATROIAERODROMIALIMANIATILEFONAOPAPKAIROSSYNALLAGMALACHEIAAPPSPROSFORES ENTERPRISES LTD BRAND VOICE CAPITAL FORBES BLOOMBERG OPINION PROTAGONISTS HOT LINE GOLDEN CAREER COMPANIES
EXCLUSIVE COOPERATION
TOGETHER WITH
Powered by
Next Previous Department Work: Positive culture for safety at work HOME • INSIDER • CYPRUS • Department of Supervision Work: Positive culture for safety in …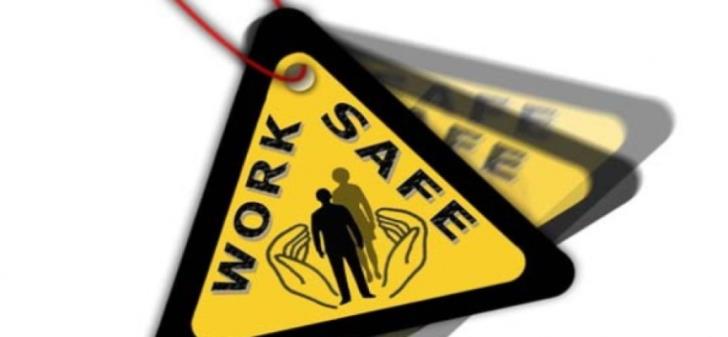 & nbsp & nbspInsider/ΚΥΠΕ & nbsp; & nbsp;
For the effective implementation of Occupational Safety and Health (OSH) systems, it is necessary to build a positive safety and health culture based on which the right to a safe and healthy working environment is respected at all levels, where Governments, employers and Workers are actively involved in ensuring a safe and healthy work environment, the Labor Inspectorate said in a statement.
The International Labor Organization (ILO) has established April 28 as World Labor Day Occupational Safety and Health, with the aim of further promoting the issue of prevention of occupational accidents and occupational diseases at international level.
This year's World Occupational Safety and Health Day 2022 is entitled & nbsp; "Building a Positive Safety and Health Culture – Let 's all work together".
to highlight the issue of participation and social dialogue to create a positive safety and health culture.
The Department of Labor Inspection & nbsp; emphasizes that the crisis created by the COVID-19 pandemic has highlighted the need to implement Occupational Safety and Health (OSH) systems, both nationally and operationally, which will provide the basis for Existing risks as well as any unforeseen events. and business level, is vital to protecting the working environment and ensuring the safety and health of workers.
Through an effective social dialogue, the Communication continues, Governments and the social partners are actively involved in all phases of decision-making processes on OSH issues.
"This is important for the development and review of policies and regulatory frameworks to address existing and new OSH challenges and implement an OSH management system in the workplace. "With the effective implementation of such a system, the company will be able to absorb unforeseen threats and face new risks, while at the same time continuing to protect employees from occupational risks, thus ensuring the continuity of business activity," he added. p>
In order to build a positive safety and health culture at the company level, it is stated, the commitment of the management at all levels of the hierarchy and the universal participation of the employees is required.
In a workplace with a positive occupational safety and health culture, it is noted, employees feel comfortable expressing their concerns about potential risks and management is willing to work with them to find appropriate, effective and sustainable solutions. This requires open communication and dialogue based on trust and mutual respect. cultivating a culture of safety and health in the general population.
The poster and related information material prepared by the ILO on the theme of World Occupational Safety and Health Day 2022 are available at: & nbsp; https://www.ilo.org/global/topics/safety-and-health-at-work/events-training/events-meetings/world-day-safety-health-at-work/WCMS_836801/lang–en /index.htm. & nbsp; & nbsp;