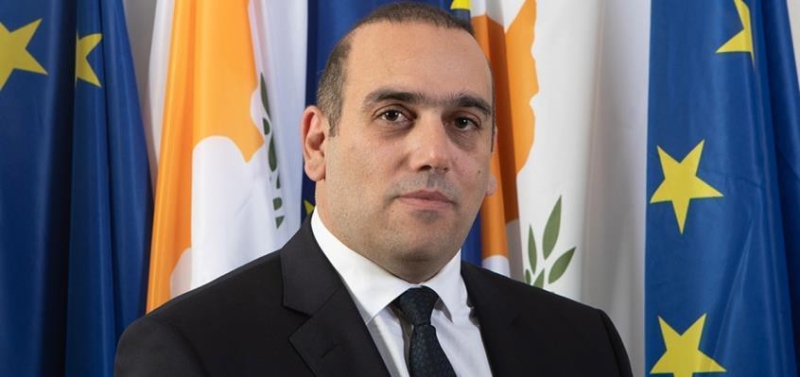 "As a government we can be proud that all the large, important and long-awaited road projects that citizens and local communities have been asking for and demanding for decades are on track for implementation, said today the Minister of Transport, Communications and Works, Yannis Karousos, during the his visit to the under-construction Astromeritis-Evrichou highway.
Mr. Karousos was at the construction site together with the Deputy Director of Public Works, Eleni Kaskiris, the Mayor Evrychos, Xenakis Xenophontos, the Mayor Koutrafas, Frixos Georgiou, the Mayor Astromeritis, Ari Konstantinou, the Mayor Kakopetria, Giannakis Iakovides, the Mayor Korakos , Angelos Karamanis, and Andreas Kitromilidis, President of the Union of Communities, for the inspection of the start of the works, where he noted that the construction works are according to the schedules.
"The Ministry of Transport, Communications and Works currently has under its supervision projects with total budgets exceeding 1.8 billion euros", added the Minister, noting that among them are the Polis-Paphos road which is under construction, the Limassol highway – Saitta which is under construction, the Nicosia Ring Road, as well as the Astromeritis – Evrychou highway, "which includes the longest bridge we will have in Cyprus, 750 meters long", as noted by Mr. Karousos.
< p>He also mentioned that the above budget also includes the upgrading of the road networks of Larnaca – Dekelia and Deryneia – Sotiras, the project concerning Dierona and Arakapa and their union with Germasogeia, noting that the projects that "unite the mountainous areas with urban centers, are necessary if we want to fight urbanism, helping citizens to live in the countryside and especially in mountainous areas".
In addition, the Minister highlighted the success of Cyprus at the recent European Council of Transport Ministers in relation to the Trans-European networks, where "Palaichori – Nicosia will be connected up to Agros and Kyperounda, thus passing on the map of the Trans-European network, so that someone from Limassol can , through the mountainous regions and via the motorway to come to Nicosia, is a great success for Cyprus, as well as the fact that the city of Larnaca has been designated as a central urban center for the purposes of co-financing the Trans-European Transport Networks".
For his part, the President of the Community Council Koutrafas welcomed the start of work while thanking Mr. Karousos and the Ministry "for keeping their promise", for a project that, as he said, "will help to maintain communities their world".
Finally, the President of the Evrychos Community Council, Xenakis Xenophontos, said that "today is a historic day for a the entire valley and for all the communities in the area, which are affected by the highway". He expressed his satisfaction with the progress of the project and thanked the Minister of Transport, the Department of Public Works and those who worked for the start of the works.