POWERED BY:
09:26 Sunday
22 May 2022 INSIDER • GOAL • IN-CYPRUS • PROPERTY • CYPRUS-IS • CAREER LIKE • GOING OUT • XRYSES SYNTAGES • ACTIVE • PHILGROUP NEWS & nbsp; SOCIETY & nbsp; INSIDER & nbsp; OPINIONS & nbsp; GOING OUT & nbsp; CULTURE & nbsp; SPORTS & nbsp; AUTO & nbsp; GOOD LIFE & nbsp; USEFUL & nbsp; PRINTED EDITION & nbsp;
ΑΡΧΙΚΗΕΙΔΗΣΕΙΣΠΟΛΙΤΙΚΗΤΟΠΙΚΑΠΑΡΑΣΚΗΝΙΟMEDIAΕΛΛΑΔΑΚΟΣΜΟΣΕΠΙΣΤΗΜΗΠΕΡΙΒΑΛΛΟΝΤΕΧΝΟΛΟΓΙΑΣΥΝΕΝΤΕΥΞΕΙΣΧΡΥΣΕΣ ΕΤΑΙΡΕΙΕΣΚΟΙΝΩΝΙΑΕΙΔΗΣΕΙΣΚΥΠΡΟΣ ΤΟΥ ΧΘΕΣΑΝΑΓΝΩΣΤΗ ΕΧΕΙΣ ΛΟΓΟΕΠΙΣΤΟΛΕΣΣΥΝΕΝΤΕΥΞΕΙΣΔΗΜΟΦΙΛΗ ΣΤΟ INTERNETVIDEOSΑΦΙΕΡΩΜΑΤΑADVERTORIALINSIDERΕΠΙΧΕΙΡΗΣΕΙΣΚΥΠΡΟΣBRAND VOICECAPITALFORBESBLOOMBERG OPINIONΠΡΩΤΑΓΩΝΙΣΤΕΣΚΑΥΤΗ ΓΡΑΜΜΗΧΡΥΣΕΣ ΕΤΑΙΡΕΙΕΣΚΑΡΙΕΡΑΑΠΟΨΕΙΣΑΡΘΡΑ ΣΤΟΝ "Φ"ΠΑΡΕΜΒΑΣΕΙΣ ΣΤΟΝ "Φ"ΤΟ ΜΗΝΥΜΑ ΣΟΥ ΣΚΙΤΣΑΟ ΚΟΣΜΟΣ ΤΟΥ TWITTERGOING OUTTHINGS TO DOCINEMAΜΟΥΣΙΚΗΕΣΤΙΑΤΟΡΙΑBAR/CAFETV ΟΔΗΓΟΣΤΗΛΕΟΡΑΣΗΠΟΛΙΤΙΣΜΟΣΚΥΠΡΟΣΚΟΣΜΟΣΚΡΙΤΙΚΕΣΕΚΔΗΛΩΣΕΙΣΠΡΟΣΩΠΑΑΘΛΗΤΙΚΑΠΟΔΟΣΦΑΙΡΟΜΠΑΣΚΕΤΠΑΡΑΣΚΗΝΙΑΕΛΛΑΔΑΔΙΕΘΝΗΑΛΛΑ ΣΠΟΡΑΠΟΨΕΙΣΣΚΙΤΣΟVIDEOSAUTOΝΕΑΠΑΡΟΥΣΙΑΣΗΑΠΟΣΤΟΛΕΣΑΓΩΝΕΣΚΑΛΗ ΖΩΗΥΓΕΙΑΔΙΑΤΡΟΦΗΕΥ ΖΗΝΑΣΤΡΑΧΡΥΣΕΣ ΣΥΝΤΑΓΕΣΣΥΝΤΑΓΕΣ ΣΕΦΒΗΜΑ ΒΗΜΑΧΡΗΣΙΜΑΦΑΡΜΑΚΕΙΑΓΙΑΤΡΟΙΑΕΡΟΔΡΟΜΙΑΛΙΜΑΝΙΑΤΗΛΕΦΩΝΑΟΠΑΠΚΑΙΡΟΣΣΥΝΑΛΛΑΓΜΑΛΑΧΕΙΑAPPSΠΡΟΣΦΟΡΕΣΕΝΤΥΠΗ ΕΚΔΟΣΗ ΠΟΛΙΤΙΚΗΤΟΠΙΚΑΠΑΡΑΣΚΗΝΙΟMEDIAΕΛΛΑΔΑΚΟΣΜΟΣΕΠΙΣΤΗΜΗΠΕΡΙΒΑΛΛΟΝΤΕΧΝΟΛΟΓΙΑΣΥΝΕΝΤΕΥΞΕΙΣΧΡΥΣΕΣ ΕΤΑΙΡΕΙΕΣ ΕΙΔΗΣΕΙΣΚΥΠΡΟΣ ΤΟΥ ΧΘΕΣΑΝΑΓΝΩΣΤΗ ΕΧΕΙΣ ΛΟΓΟΕΠΙΣΤΟΛΕΣΣΥΝΕΝΤΕΥΞΕΙΣΔΗΜΟΦΙΛΗ ΣΤΟ INTERN ETVIDEOSΑΦΙΕΡΩΜΑΤΑADVERTORIAL ΕΠΙΧΕΙΡΗΣΕΙΣΚΥΠΡΟΣBRAND VOICECAPITALFORBESBLOOMBERG OPINIONΠΡΩΤΑΓΩΝΙΣΤΕΣΚΑΥΤΗ ΓΡΑΜΜΗΧΡΥΣΕΣ ΕΤΑΙΡΕΙΕΣΚΑΡΙΕΡΑ ΑΡΘΡΑ ΣΤΟΝ "Φ"ΠΑΡΕΜΒΑΣΕΙΣ ΣΤΟΝ "Φ"ΤΟ ΜΗΝΥΜΑ ΣΟΥ ΣΚΙΤΣΑΟ ΚΟΣΜΟΣ ΤΟΥ TWITTER THINGS TO DOCINEMAΜΟΥΣΙΚΗΕΣΤΙΑΤΟΡΙΑBAR/CAFETV ΟΔΗΓΟΣΤΗΛΕΟΡΑΣΗ ΚΥΠΡΟΣΚΟΣΜΟΣΚΡΙΤΙΚΕΣΕΚΔΗΛΩΣΕΙΣΠΡΟΣΩΠΑ ΠΟΔΟΣΦΑΙΡΟΜΠΑΣΚΕΤΠΑΡΑΣΚΗΝΙΑΕΛΛΑΔΑΔΙΕΘΝΗΑΛΛΑ ΣΠΟΡΑΠΟΨΕΙΣΣΚΙΤΣΟVIDEOS ΝΕΑΠΑΡΟΥΣΙΑΣΗΑΠΟΣΤΟΛΕΣΑΓΩΝΕΣ ΥΓΕΙΑΔΙΑΤΡΟΦΗΕΥ ΖΗΝΑΣΤΡΑΧΡΥΣΕΣ ΣΥΝΤΑΓΕΣΣΥΝΤΑΓΕΣ ΣΕΦΒΗΜΑ ΒΗΜΑ ΦΑΡΜΑΚΕΙΑΓΙΑΤΡΟΙΑΕΡΟΔΡΟΜΙΑΛΙΜΑΝΙΑΤΗΛΕΦΩΝΑΟΠΑΠΚΑΙΡΟΣΣΥΝΑΛΛΑΓΜΑΛΑΧΕΙΑAPPSΠΡΟΣΦΟΡΕΣ ΕΠΙΧΕΙΡΗΣΕΙΣ ΚΥΠΡΟΣ BRAND VOICE CAPITAL FORBES BLOOMBERG OPINION ΠΡΩΤΑΓΩΝΙΣΤΕΣ ΚΑΥΤΗ ΓΡΑΜΜΗ GOLDEN CAREER COMPANIES
EXCLUSIVE COOPERATION
TOGETHER WITH
Powered by
Next Previous Inflation-accuracy: Cocktail unsuitable for the vulnerable HOME • INSIDER • CYPRUS >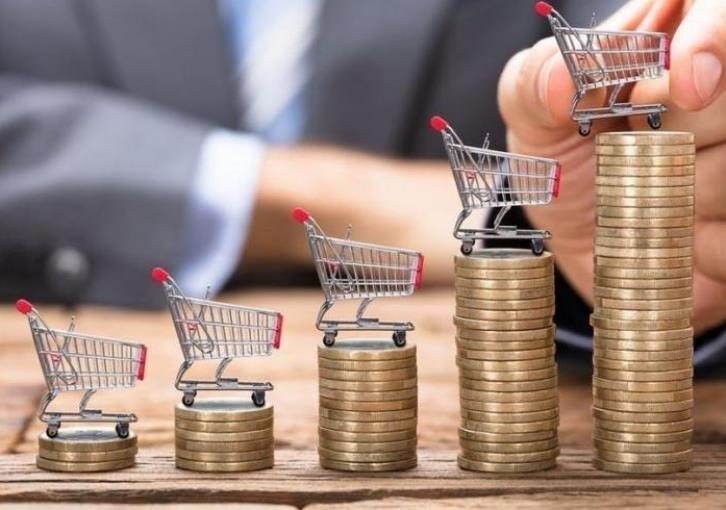 Του Πανίκου Χαραλάμπους *
With the war in Ukraine in its third month and the predictions of its end ominous, the key question now for ordinary citizens is where prices will go and what the impact will be on their standard of living. Particularly vulnerable and small to medium-sized households.
The puzzle distinguishes three basic goods, the price of which determines the standard of living of low- and middle-income households. These are oil, natural gas and consequently electricity and cereals. Prices for all three products have skyrocketed and unfortunately it seems we have not yet seen the tip of the iceberg.
Oil $ 103.6
forecasts for each of these goods are as follows:
The European Commission in its spring forecast released a few days ago, estimates that oil prices will remain high until 2023. In particular, the Commission predicts that the price of oil will move to 103.6 dollars/barrel in 2022 and at $ 93.5/barrel in 2023, compared to $ 70/barrel at the beginning of 2022, a price close to the two-year average of 2018 – & nbsp; 2019.
At the same time, OPEC shows no intention of increasing its production to help decompress prices. In its latest monthly report, the Organization of the Petroleum Exporting Countries estimates that growth in oil demand will be lower than originally forecast due to the war in Ukraine and the resurgence of the Omicron coronavirus variant in China and lockdowns. Therefore, it does not consider it appropriate to increase its production.
OPEC expects that world consumption will exceed the limit of 100 million barrels per day in the third quarter of the year and that the total average demand will be marginally increased compared to that of 2019.
ALSO READ: & nbsp; Accuracy, commodity prices and wages (tables)
At their third meeting, OPEC member states and other oil-producing countries, including Russia, agreed to continue modest output growth of 432,000 barrels per day. The new increase that will be implemented from June is essentially part of the plan to gradually increase production close to pre-pandemic levels.
Natural gas at € 100
With regard to gas, the European Commission predicts that prices will remain high throughout 2022 and will continue until 2025.
According to its latest forecasts, gas prices by the end of next winter will be at 100 euros per megawatt (MWh), while they will remain significantly higher than the average of recent years for the future. From the summer of 2023, their de-escalation to 75 euros/MWh is foreseen and a further progressive reduction thereafter. However, by the summer of 2025, they are not expected to fall below the 50 euros/MWh that was before 2020.
Electric shock
A similar increase is observed in the prices of electricity. According to the European Commission report, electricity prices have risen sharply as retail electricity price inflation rose from negative rates in the first quarter of 2021 to 34.3% in the first quarter of 2022. >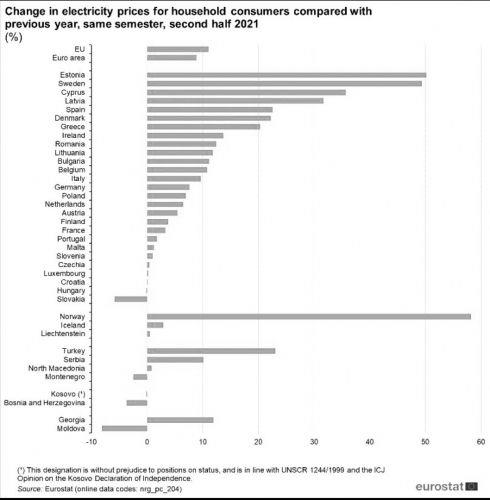 Τα σιτηρά
Cereal prices continue to rise. Since the beginning of the year, wheat prices have risen by 60%, mainly due to the inability of war-torn Ukraine (which is the 6th largest producer of grain in the world) to export products. Added to the wheat export crisis was India's decision to ban exports, fearing shortages and a food crisis. Corn prices also recorded a significant increase of 34% this year. Egypt, Kazakhstan, Kosovo and Serbia have also decided to ban wheat exports.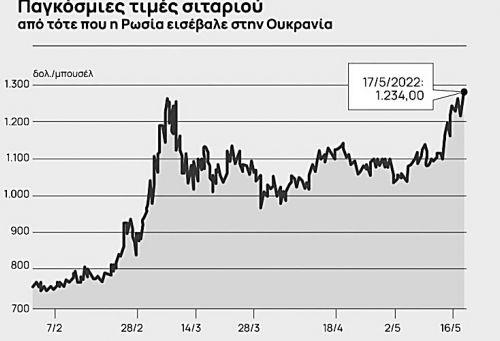 According to a study by George Atsalakis, associate professor at the Technical University of Crete and Vassilis Tsoumbris, data analyst at the same university, the price of wheat per metric ton will be close to $ 390, with a price range between $ 340 to $ 480 by early 2023. In their study they note that in July 2021 the price was $ 197 and on 21/3/2020 the price was $ 376, ie it increased by 91% over a period of 8 months.
Prices in Cyprus
In Cyprus, the Harmonized Index of Consumer Prices in April 2022 increased by 8.6% compared to April 2021, while compared to the previous month it increased by 3.1%. For the period January – & nbsp; April 2022, there was an increase of 6.4% compared to the corresponding period last year.
Compared to April 2021, the categories Housing, Water Supply, Electricity and LPG (20.9%), Transport (17.5%) and Food and Non-Alcoholic Beverages (12.0%) showed the largest changes. Compared to March 2022, the largest changes were recorded in the categories Transport (7.8%) and Housing, Water, Electricity and LPG (7.1%). The largest change in the economic categories compared to both April 2021 and the previous month was observed in the Energy category with percentages of 33.6% and 8.9% respectively.
For the period January – & nbsp; April 2022 compared to the same period last year, the largest changes were observed in the categories Housing, Water Supply, Electricity and LPG (16.5%), Transport (12.4%) and Food and Non-Alcoholic Beverages (8.9%).
Growth down – up inflation
The effects on the Cypriot economy will be wider. The picture of what will happen this year and next year (if the situation does not worsen), is given by the recent forecasts of the European Commission. According to the spring forecast, after a strong recovery of 5.5% in 2021, economic activity in Cyprus is expected to slow down in 2022 to 2.3%, due to the negative effects of the Ukrainian crisis and rising inflation./p>
According to the Commission, although in 2022 the Cypriot economy started from a strong base, the invasion of Ukraine and the relevant sanctions imposed are expected to have an impact, especially on tourism and exports of services, as Russia is a major market in these two areas. GDP is expected to grow by 3.5% in 2023.
Inflation in 2022 is expected to reach 5.2%, mainly due to the increase in energy prices. In 2023, inflation will be around 2.7%.
In the labor market, a temporary increase in unemployment to 7.8% is expected this year due to reduced economic activity, while for 2023 it will continue its downward trend to 7.3%.
On coals and Europe
The European Commission's forecasts for Europe are also ominous. The Commission downgraded its growth forecast for the 19 euro area countries to 2.7% from 4% it had forecast just last February. He predicts, in fact, that in 2023 growth will slow down further to 2.3%. & nbsp; & nbsp;
Inflation will rise to 6.1% this year and will be reduced to 2.7% next year. Before the war, the Commission expected prices to rise by 3.5% in 2022 and 1.7% in 2023.
Despite slower growth, unemployment in the Eurozone is expected to fall further, in 7.3% of the workforce this year and 7% in 2023 from 7.7% in 2021.
Were the most appropriate measures decided by the European Union?
With the effects of the European Union's measures against Russia now affecting every household and almost every business and all member states, the question of whether the measures should have been different is growing and the suspicion is growing.
In Cyprus, for example, we have heard both the President of the Republic and the Minister of Foreign Affairs stress that it is not possible to take measures that affect those who receive them more than those to whom they are addressed. In Cyprus, the tourism sector has been mainly affected, as it is estimated that 800 to 900 thousand tourist arrivals will be lost. 800 thousand from Russia due to the & nbsp; flight ban and 100 thousand from Ukraine due to the war.
The second source of the negative effects comes from the accuracy of the fuel and consequently of the electricity, for the production of which oil is used. In Cyprus, fuel and electricity are a significant part of the cost of producing products and providing services and usually the effects are chain. We are a country almost completely dependent on oil, compared to other countries in the south and especially in northern and central Europe that use gas for electricity and heating. They are also countries with developed public transport with the result that the use of the private car in them is limited.
At this point let me argue that this dependence of Central and Northern Europe on gas is also the reason why it has been excluded from EU measures against Russia. In fact, according to analysts, this dependence has created a false foundation, from which measures against Russia began.
A recent FT article, authored by renowned columnist Martin Wolf, raises three key questions about the effectiveness and, above all, the correctness of European measures. The columnist cites the work of Olivier Blanchard, a former chief IMF economist, and Jean Pisani-Ferry, a French economist, outlining the three challenges – & nbsp; questions the EU faces. make better use of sanctions to deter Russia, while reducing the adverse effects on the EU economy. "
According to the analysis, the embargo on Russian oil does not affect Russia's revenues, as they will be increased by 45% compared to 2021 and by 181% compared to 2020, due to increases in fuel prices. The measure affects EU countries more than Russia, they say. "everything in oil."
They suggest that the most effective way to reduce Russia's revenue is not an embargo, but a punitive tax or duty. They also note that the imposition of tariffs would generate revenue that could be used to help those who are experiencing real income losses today.
Both analysts stress that the impact on Europe's consumers is inevitable increase purchases of purchasing power to vulnerable households and enable them to decide how to spend it. "
* Journalist
panicoscharal. j@gmail.com