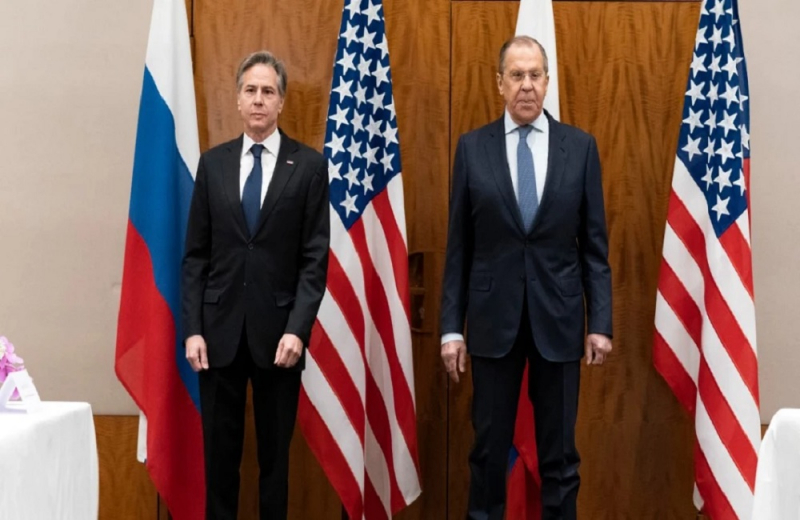 Instead of escalating the already tense situation over the Ukrainian crisis, Moscow and Washington reiterated their terms during today's talks in Geneva between their foreign ministers, Sergei Lavrov and Anthony Blinken.
The impasse appeared before the start of talks with Russia to set as a "red line" the withdrawal of NATO forces from Bulgaria and Romania . For his part, US Secretary of State Anthony Blinken demanded the release of two American citizens detained in Russia, as well as evidence that Moscow was not preparing to boot Ukraine .
Each side appeared relentless and there was no result from the meeting, something that Russian counterpart Sergei Lavrov discounted before sitting at the table of dialogue with Anthony Blinken.
The US Secretary of State clarified, however, that Washington 's response will be "solid, quick and fierce" in case of a Russian invasion of Ukraine . He added that the United States would continue to seek a diplomatic solution to the crisis.
Anthony Blinken arrived in Geneva on a brief tour of Kiev to reassure the Ukrainian leadership of Western support, and Berlin, where he, along with Germany , France and the United Kingdom , gave assurances of the alliance bloc.
The Blinken set to Lavrov over the affairs of two American citizens, Paul and Trevor Willie Reed, who are in detention in Russia and reiterated the call of Washington for their release. According to the US Secretary of State , Whelan and Reed "were tourists in Russia, arrested and convicted without credible evidence." "We ask Russia again to do the right thing and let them return home," Blinken said .
Russia sentenced Whelan – who holds US, British, Canadian and Irish passports – for espionage in June 2020 and sentenced him to 16 years in prison . He denied the allegations and said he had been the victim of a fraudulent operation against him.
Reid was sentenced to nine years in prison after he was found guilty of endangering the lives of two police officers in Moscow while drunk on a visit to the Russian capital in 2019. He denied the charges and the United States called his trial "theater of the absurd." ».
Hours before the crucial meeting of the two superpowers in Geneva , serious questions were raised both inside the US and among their allies, the distinction made by US President Joe Biden between a sweeping military invasion and a possible "minor attack". Russia v. Ukraine.
Kiev's reaction was strong. In a statement issued yesterday afternoon, Ukrainian President Volodymyr Zelensky said: "We want to remind the great powers that there are no minor invasions, no small nations ." Earlier, a senior Ukrainian official told CNN that the US president "gave the green light to Putin to invade ."
Later yesterday, the US president withdrew from his previous statements about a "minor attack", sending a stern warning to Moscow that "any movement of Russian forces on Ukrainian territory will be considered an invasion."
War ".
Kiev-Moscow relations are strained by the international media, citing their correspondents in the region, writing that Moscow is ready to invade Ukrainian territory. British newspapers such as the Guardian and the Daily Mail report that Russia has already deployed more than 100,000 troops on the border, although it denies the allegations.
For his part, Kremlin strongman Vladimir Putin has argued that Ukraine should never join the Atlantic Alliance and called on NATO to back down by abandoning military activity in Eastern Europe. However, the Ukrainian army is on alert with Russia having already deployed about 127 thousand troops on the border, according to the British newspaper "Daily Mail".
British troops are ready to assist Ukraine's neighbors, NATO allies , to bolster their security forces amid a threat of Russian invasion. In the Atlantic Alliance , however, talks are under way to strengthen the British military presence in Estonia , Latvia , Lithuania and Poland .
Britain has already deployed 830 troops in Estonia as part of its eastern presence in the country. There are also 140 British troops in Poland as well as another 100 in Ukraine.
"The British presence in the area could be further increased based on plans being discussed by the British Department of Defense," the Times of London reported.
Yesterday, US Secretary of State Anthony Blinken stressed after his contacts in Berlin with British, French and German officials that, if Moscow is allowed to invade Ukraine, it would drag Europe into dangerous waters.
On the same wavelength as Blinken , his German counterpart, Analena Berbock, made it clear that the Berlin government would not be left alone in the event of a Russian invasion of Ukraine. In addition, the "Green" Berbock did not rule out the imposition of measures "that will have financial consequences for ourselves."
In Britain, British Foreign Secretary Liz Tras called on Putin to "back out of Ukraine before making a huge strategic mistake" that would lead to a huge loss of life.