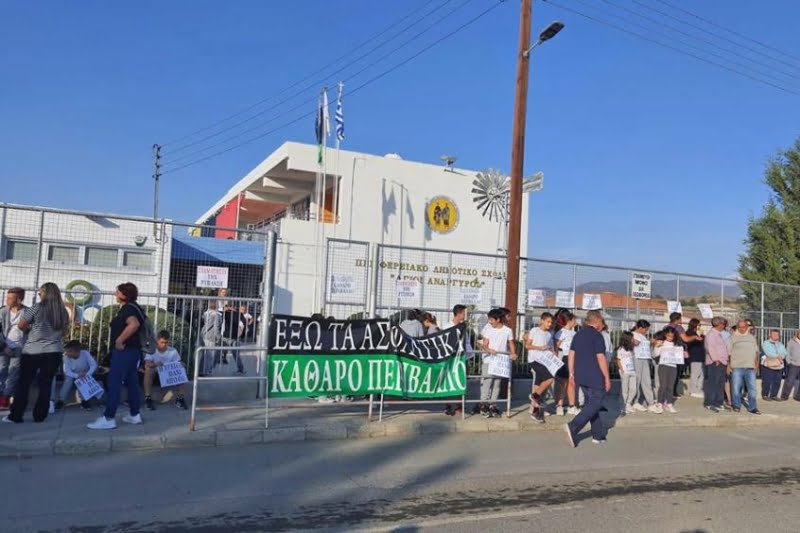 On Monday morning, residents of the communities of Moni, Monagroulli, Pyrgos and Asgata staged a protest, demanding the removal of the asphalt plants operating in their area, citing serious health effects.
Holding banners and placards, with slogans such as "Out with asphalt. Clean environment", "Our health above all" and "Stop the pollution", the protestors gathered at the entrance of the primary school of Agioi Anargyro Moni – Monagrulli.
In their speeches, the community leaders of the four communities stated that the residents are outraged by the operation of the two asphalt factories in the area, speaking of strong and suffocating smells, especially in the morning hours, which cause respiratory problems, discomfort and shortness of breath throughout the during the day.
They also noted that, while there have been strong protests since 2019 about one factory, the second one has also been operational in the process, and both work together from the early hours of the morning until late at night.
At the same time, they criticized the competent state services for procrastination in making decisions to solve the problem.
The four communities demand the immediate closure of the factories and their relocation to other places, far away from their area and other populated areas, expressing at the same time their readiness to proceed with more powerful mobilizations.
Related letter, dated October 31, from made by the Presidents of the four community councils to the Minister of Agriculture, Rural Development and Environment.