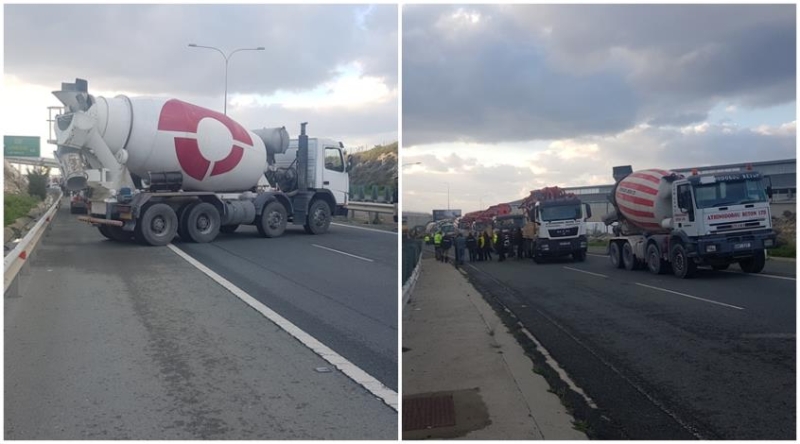 The section of the Paphos – Limassol highway that was closed and in both directions due to a protest event, it opened shortly before 9:00 a.m. and traffic is proceeding normally, as announced by the Police.
The concrete manufacturing and quarrying companies of Pafos staged a protest from 7:00 am and a two-hour work stoppage, cutting off the highway traffic, at the height of the Anatoliko industrial area, while the protestors held placards with slogans such as "You are mocking us ten ten years", "Warning strike" and "Paphos remains without inert materials".
The President of the All-Cyprus Association of Concrete Builders and President of the European Association of Quarries Antonis Latouros, said that the companies in the sector are complaining about the lack of quarrying materials in the existing quarrying zones of the Pafos district and especially in the community of Androlykos.
As he said, the reserves in the existing quarry zone have been exhausted and his colleagues have started the effort for some expansions since 2007, to add that they have reached "five".
He said that the Akama Local Plan would include a new quarry zone, which started with a larger area while "it has shrunk three times". Last June, he continued, they came up with a final plan "and we were assured by everyone that it would go into the Akama Local Plan." in Androlykou" he added.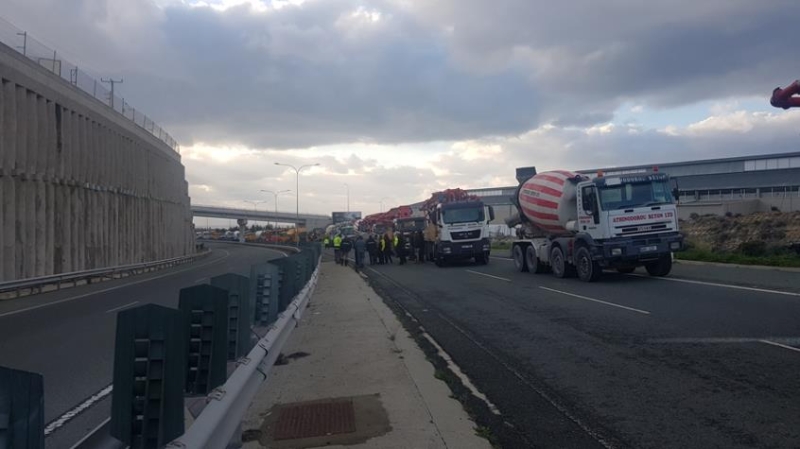 Additionally, he said that in Europe the maximum distance that inert materials are transported is 50 kilometers to reduce pollution. You won't see a quarry 100-150 kilometers from Paris or Berlin, he said, adding that in Cyprus "they want us to transport the materials from other provinces and not have quarry zones in Paphos".
"For us this is unacceptable," he said, noting that the Association's policy is "to be self-sufficient in quarrying materials in all provinces".
Mr. Latouros noted that a similar problem is being faced in the free Famagusta. "We are here today to protest because this industry provides this necessary good," he said.
Christos Athinodorou, speaking on behalf of the concrete manufacturing and quarrying companies of Paphos, reported that they have run out of quarrying materials in the province. He referred to projects such as the breakwaters, the expansion of the port in Latsi and the highway in the city of Chrysochous, to note that tons of inert materials are needed "and we have nothing".
He also spoke about&nbsp "hollow promises" of Ministers while referring to the Government, he said that he will announce the Akama Local Plan, which does not contain a quarry zone.
"While our agreements with the Minister of Agriculture were that the&nbsp ;150,000 meters, to become 300,000 meters so as not to disturb a bat called the night owl, then we were further reduced to 200,000 meters so that there was no chance of disturbing a bat." Unfortunately, he continued, "we are surprised to see that they have completely abolished the quarry zone". ;λεισαν τον αυτοκινητoδρομο, δ ιαμαρτυρorθηκαν οι λατoμοι (pics)" />