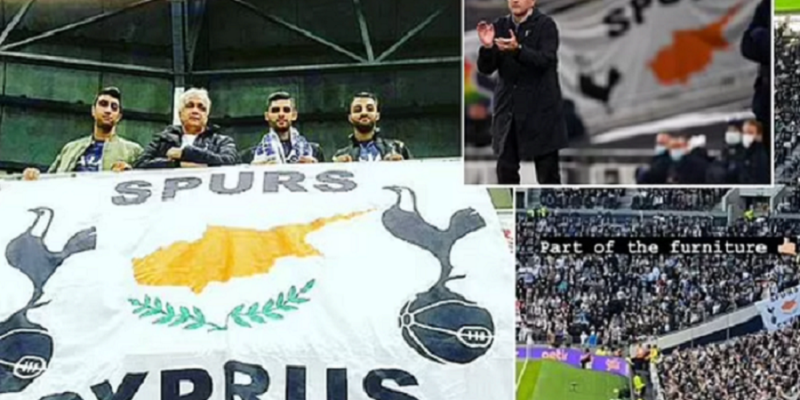 Strong reactions from Cypriots and other Tottenham fans in Britain were caused by the club's decision to ban the placing of the Cypriot flag by fans in the stands of Tottenham Hotspur Stadium.
The decision, which was communicated to the British Cypriot owners of the flag , caused a sensation, as this particular flag has been a point of reference at the home of the Spurs, but also at away matches of the team, for almost two decades.
As announced on January 20 by the three relatives who own the flag, the association notified them of the decision to ban, citing a flag with a "political" background, which is prohibited by the regulations.
The three Cypriot Tottenham fans rejected the club's argument as "nonsense", stressing that "the Cypriot flag is 100% not a political flag".< /p>
The Cypriot flag even has its own account on Twitter and Instagram, which the administrators used to publicize the problem.
The reactions of the rest of the club's fans both on social media and and on online forums it was so intense that 64 minutes after the announcement from the 'Spurs Cyprus Flag' accounts, the club informed the three Cypriots that the ban was being lifted.
In the same forums, the assessment made by many fans as to the reason for Tottenham's initial decision is that from this year the team has as a new sponsor a well-known Turkish food and meal delivery company.
Tottenham's communication officer asked by CYPE referred to the club's policy on flags on the pitch. This policy states that "the Association has always considered that a football game is a time to primarily show loyalty to a football team".
"A football game is not the appropriate place to display flags of any politics. or religious affiliation or anything that could possibly be considered inflammatory – this could include national flags during times of political conflict, campaigning or issues,' it added.
About' of this the Spurs spokesman added to KYPE that "we recognize that this policy is open to interpretation and therefore we will allow the flag in the stadium while we reassess the policy".
Source: KYPE