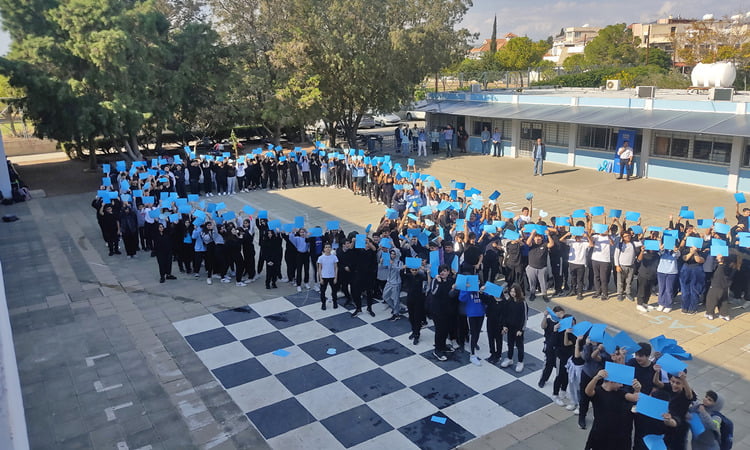 < /p>
A big blue ribbon for Movember was formed by the students of Chirei Gymnasium – Aiming to raise awareness for prostate cancer prevention
Download the CYPRUS TIMES APP! HERE for Android and HERE for iOS
To raise awareness for prostate cancer prevention and as part of the Movember events, male and female students of Tsirei Gymnasium formed a large blue ribbon.
The action took place in the morning in the school yard with the representative of Europa Uomo Cyprus, Stelios Kyriakou, congratulating the management, the teachers, the students and the parents' association for their initiative, which is being organized for the second year.
"It is very important that we, as Europa Uomo, support these efforts of young people," he said, adding that young people are our future, "we invest in them, because if we don't create a culture among young people, I think we won't have a future in dealing with diseases".
The management, the teachers, the students, the school's parents association have raised a lot of awareness in all matters of volunteering and social welfare, the assistant director of the Tsireio Gymnasium, Fotini Kleanthos, also mentioned. "Whatever the children do, they do it with our advice, but they feel it, want it and desire it, and we are proud of these children," he added.