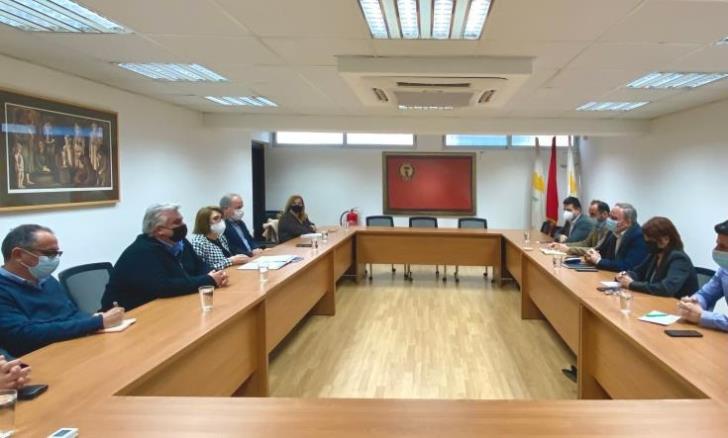 Insider / ΚΥΠΕ
PEO and AKEL are together in the struggles to ensure a minimum wage for all employees, but also basic labor rights, said today the Secretary General of AKEL, Stefanos Stefanou, after a meeting with the leadership of PEO.
The meeting took place at the AKEL offices, in the context of PEO's contacts with the political parties, in order to inform them about the basic issues that concern the employees today.
In her statements after the meeting, G.G. of PEO, Sotiroulla Charalambous, stated that the main topic was the course of the discussion on the minimum wage. "PEO fights for issues that will bring forward all employees. "In this context, the debate that has begun on the minimum wage is very important," he stressed.
He explained that the minimum wage should be established in such a way that where there are collective agreements, it should be clarified that the minimum wage for each industry is who is defined in them.
Particular emphasis was placed on the problems of thousands of employees, especially young people, who are employed on personal contracts, which, as such, do not even guarantee basic rights. "A framework and a minimum wage must be agreed upon, as well as basic rights," Charalambous said, in order to tackle the phenomenon of low-wage workers being driven to the brink of poverty.
For his part, the General Secretary of AKEL, Stefanos Stefanou, stated that a constructive discussion took place with the leadership of PEO "on a very important issue, which has to do with the quality of work and life of employees." "We fully share the positions of PEO and we are together in this struggle, so that there are arrangements that take all employees forward," he added. He said that AKEL contributes to addressing the problems with specific proposals, in order to give perspective for quality of work and life to employees.
He also said that households are under a lot of pressure due to the Government's socio-economic policies, due to accuracy, as well as due to the pandemic and stressed that the joint AKEL and PEO struggles concern both the institution of the minimum wage and the regulation conditions in the workplace, as well as other rights, such as the ATA.